After eleven days of the Key West Literary Seminar (four days of workshop with the incomparable and generous Mary Morris sandwiched between two weekend seminars) I made my way home to Omaha on Sunday night. It's certainly nice to be home after what was quite a trip.
The theme this year was The Dark Side, which covered mostly crime and mystery novels, with some tangential works picked up along the way. While I'm not really a reader of mysteries, there were quite a few presenters who are, or might be, household names–Scott Turow, Carl Hiassen, Joyce Carol Oates, Lee Child, Michael Connelly. The high points for me came when Percival Everett, Malla Nunn, Gillian Flynn, Attica Locke, and John Banville/Benjamin Black were on stage. There was an undercurrent of writing race in historical fiction that developed in the second session that was much more thought-provoking and touching to me, although Carl Hiassen's Florida Freak Show standup routine in the first session was certainly a highlight too. I don't know why I would have thought any different, but folks who write about murder all day certainly seem to have an active sense of humor.
The books I came out really wanting to read are I Am Not Sidney Poitier and God's Country by Percival Everett,  A Beautiful Place to Die by Malla Nunn, Ordinary Grace by William Kent Krueger, and Gone Girl by Gillian Flynn. There were more, of course, but these the most.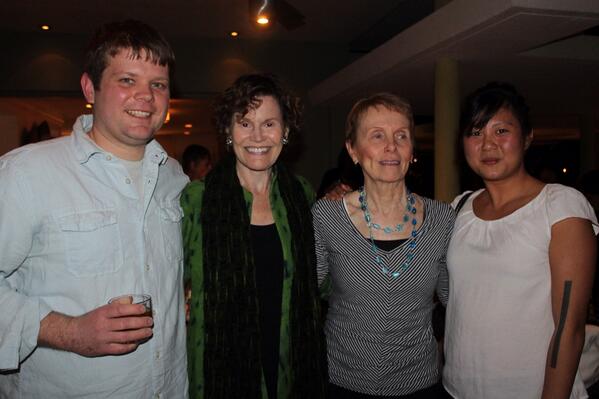 One of the highlights was visiting the elegant home of Judy Blume for a cocktail party during the week. She's quite a hostess. (She also tweeted me the next day.) This invite was part of winning the Marianne Russo Award, so Christine Shan Shan Hou and Liz Gordon (the other two award winners) and I could hobnob with a few of the visiting writers and benefactors of the seminar, including Peyton Evans, who selected my work for the award. It was nice to be able to thank certain people in person.
Another big feature of winning the Russo Award–along with having my bio and photo listed in the artful seminar book–was that I read from my work on stage during the seminar's final session, a selection from "On the River, Down Where They Found Willy Brown." A few years have passed since I'd last read in public, out loud, or been on a mic for that matter, but I really wasn't all that nervous to be up on stage at the San Carlos institute. Actually, it was a lot of fun. After the cycles my writing life has taken the last five years–with a moderate high followed by a couple year lull–I really appreciated the opportunity to get up there and present my writing to an audience. I felt ready this time around, much more so than before, and am looking forward to any more success that I might luck into.
Thanks to Nathan, Christine, Dustin, Liz, Nick, Sam, and Sandy for being great house and/or roommates, and to everyone in the Mary Morris workshop, and to Amina, Carol, Mary, Melissa, Paula, Shannon, and Tim for joking around at events and between sessions. And, of course, I'm very grateful to Miles Frieden and Arlo Haskell (current and associate/future directors) for their support. This was my third trip to KWLS, so it should be obvious what I think of the community of writers and artists they've built down there.
I've mentioned it many times before, but it's highly recommended that any interested writer (or teacher, or librarian) apply for financial aid to attend the seminar. KWLS is an awesome experience, they give out a ton of aid ($300k in the last six years, I guess, which is huge) and there's no application fee to apply. Give it a shot. Next year's theme is How the Light Gets In: Literature of the Spirit.