You are currently browsing the tag archive for the 'West Branch' tag.
I've been working on a few new short stories lately, but the majority of May was devoted to beginning the initial drafting process for Part 5 of my novel The Hyphenates of Jackson County—the final section of the book. It's all kind of a big mess right now, but it's good to get into it. This always happens after I spend a couple months in revision, and this time was no different. The writing comes tough, in small amounts, 500-1000 words a day. It's mostly blocking scenes, organizing notes, working out important descriptions and finding where symbolism might emerge. It takes a while to build some momentum and get a feel for how this part of the story should be told.
The narrative style I use is pretty steady throughout the book—third-person, through the point-of-view of my main character Jacob Bressler, although I'm experimenting with some brief first-person sections, too—but the main issue comes from the time scope of the book. The present-time thread of the novel takes place over three years, from 1917-1919, or starting when the United States declares war on Germany in 1917 and ending with the Red Summer and Omaha Race Riot of 1919. It's not a huge amount of time for a novel, gratefully, although there is a lot going on, and it's a challenge to account for the lost, un-narrated time between parts. Particularly in first drafts, I think I pay too much attention to what's happened in the time gaps, instead of just getting into the action at hand. A lot of that will be eliminated soon enough, most of it in the initial edits. But it makes things a little clunky and difficult in the first draft.
Anyway, I'm really excited to be this close to finishing a draft of my first novel. I hope to be done with a rough version of Part 5 by the end of the summer. And since I've been editing the other parts as I've gone along, there isn't a tremendous amount of work yet to be done, relatively. (I've been working on the book for about two years now.) If all goes well, I should have a decent draft of The Hyphenates of Jackson County finished by Spring 2012. Here's hoping anyway. It's not like I'm on deadline or anything.
In other news this past month:
-"The Current State of the Universe" is featured in the new issue of The Cincinnati Review. The story won their Schiff Prize for Prose last year, and I'm very excited to make it into this journal.
-Prairie Schooner accepted my review of David Philip Mullins' Greetings from Below for publication. This will be my third review for PS, where I'm also currently a senior fiction reader.
-On cue, my second review for Prairie Schooner—of Nadifa Mohamed's Black Mamba Boy—appears in our current summer issue. Check it out. It's a pretty good one. (The issue, I mean. (The review is okay too.))
-In April we learned that Kwame Dawes was coming in as the new Editor of Prairie Schooner; in May we learned that Managing Editor James Engelhardt was leaving. James secured a position as the acquisitions editor for University of Alaska Press, and leaves for Fairbanks early in June. (Actually, today I think.) I owe a great debt to James for all he's done for my editing and reviewing career, if I can call it that. James took me on as a reader after I received my MA from Creighton. I was looking to maintain some involvement in the literary world, and volunteering for Prairie Schooner has been a great anchor for me. After a year-and-a-half, I made my way up to a senior reader position; PS accepted my first book review, after some editorial help from James; my first two trips to AWP came with funding assistance from PS as well. I feel very grateful for what Prairie Schooner has done for me, in giving me the opportunity to work, particularly as someone who isn't otherwise involved in the English Department at the University of Nebraska—and I owe much of that gratitude do James, I believe. Best of luck to him and his family on their Alaskan adventure! (And additional thanks for the fact that now, when I think of Alaska, I won't think of Sarah Palin.)
-Nicole and I celebrated our fifth anniversary in San Francisco!
-This blog featured a longish post about researching the lynching of Will Brown, and coming across a great NPR feature about the execution of Willie McGee and his granddaughter's quest to find out the truth about him many decades later.
Dispatch from The Hyphenates of Jackson County
"Jacob returned to Omaha the same morning President Wilson arrived from St. Paul. It was only partly coincidental it happened that way. Jacob was planning on coming back to Omaha that week anyway, to visit his friend Reinhold Bock, and then he read in the papers that Wilson was to arrive by train to the Union Station early Monday morning, before giving a speech on the League of Nations that afternoon. A parade route was planned out where Wilson's car would meander the city. When Jacob read this, he went down to the station in Lincoln and got a ticket to Omaha for the next morning. He bought himself a suitcase too, at the store there that sold them. It was something simple, with cardboard sides, that didn't lock. It wouldn't have to last forever. Jacob didn't know what he was going to do—he had no plan for the next year, or month, or for the next three days for that matter—but he wanted to see the president. He'd find a spot on Scandal Flats and wait for Wilson's car to pass by. It felt like it would be significant to do that. Jacob didn't know why. He just felt he needed to see the man. He needed to see the man as a man, that was it."
Personal Rejection Notes, Requests for More, and Other Nice Versions of No Thanks
West Branch for "On a Train from the Place Called Valentine"; Southeast Review and Conjunctions for "Attend the Way"; Missouri Review for "Shame Cycle."
Just Finished
The Cailiff's of Baghdad, GA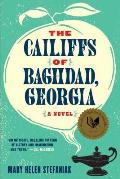 by Mary Helen Stefaniak. An excellent historical novel about racism and confronting the Other in depression-era Georgia, with a detour to the more famous Baghdad in ancient times. Very well done.
Quarantine by Rahul Mehta. I really enjoyed this collection—which revolves around the lives and loves of second-generation, homosexual, Indian-Americans—and will be reviewing it.
Now Reading
The Names by Don DeLillo.
Up Next
The Call by Yannick Murphy.
(Note: This isn't a baseball entry.)
For the past month or so I've been toying with point-of-view in my novel, first going from a close third-person to first-person narrated by Jacob Bressler, my lead character. I'm not really sure what my goal for doing this was. Something just didn't sound right with the "voice" telling the story and I wanted to try something different. Some of the feedback I've received from potential agents spoke to Hyphenates being a book focused on history and setting, rather than story and character, and I'm trying to break that hold. So I figured that Jacob could tell his story more succinctly, since it's all he would care about. He wouldn't obsess over Omaha history or factoids of the era as much as I do, certainly, and sometimes it's easier to slip those lovelies in while in third-person. I needed a more discerning eye. It's like how you don't realize how embarrassing something is until you say it out loud to another person, or post it in online. But once you open your mouth, you can see things so much more clearly and objectively.
The experiment didn't really work. Conventional wisdom says that novels shouldn't be written exclusively, or even largely, in first-person, and I think that's probably good advice. Around page fifty of the rework, it got pretty annoying to keep seeing and hearing that "I" all over the place. To be unable to break out of Jacob's voice even for a minute is a problem, especially since
he's the focus of the book. But, even though I'm now in the process of reworking it back into third-person, I do think the exercise was worthwhile. It helped me see cuts and edits, and gaps where new work is needed, that weren't apparent before. While it seemed acceptable to have a third-person narrator go into a page-and-a-half diatribe on the condition of organized labor in Omaha in 1917, having Jacob do the same was absolutely ridiculous. There were more than a few instances of this, where the scholarly, professorial voice would dominant for longish periods—and they all needed to be cut. The writing is much cleaner now, more focused and edgy in a way similar to my contemporary-set fiction.
I'd only made it through about a quarter of what I have drafted in the transition to first-person rework, but it may be worthwhile to push through the rest of it, even though I know that I'll want it in third-person eventually. (I'll probably want this.) I have used this technique in spots for the last year or so anyway, in fact, trying to tie the narration as closely to Jacob's experience as I could. So much of the writing, especially in Part II, has already been rewritten, for my own benefit, in Jacob's first-person. There's just so much good that comes from writing around things like this. I imagine it's similar to filmmakers shooting a scene from ten different angles, hoping to get one that looks and sounds and feels right. The dispatch below is a part I wrote new while in Jacob's first-person, and it's something I don't think the third-person narrator could have come to. So there's that.
Dispatch from The Hyphenates of Jackson County
"The bank was open when I left the saloon, it was two o'clock, but I still didn't go there and ask for a job. The weather was nice. Again I walked downtown, but it was boring this time. No women brushed against me. My clothes disgusted them, my face was filthy. I waited out the day and then returned to the Courthouse lawn in the evening to sleep. It was warm and I'd been safe there the night before. I knew at what time to cops would come to roust me, and would make it a point to leave before they came out with their cudgels. It seemed simple. But I was arrested anyway, after midnight, for vagrancy, and put in the overnight with the drunks and other indigents. I wasn't disappointed to be arrested, however, after I was released. At least there was black coffee this way, and in the morning a bowl of white beans with a couple pieces of fat. Otherwise I wouldn't have eaten that morning. The whole night I wished that I'd gone to the bank that day, however. There was plenty of time for regrets in the overnight, because the drunks couldn't keep quiet. I thought of everyone I might have wronged in my life up to this point. Any pocket of guilt that had been waxed over was reopened. I thought of you that night, Evie, and why it was you had to leave Jackson those many years before. I thought you took off on your own. It never occurred to me that they'd run you and your mother off. Not until they ran me off too."
Personal Rejection Notes, Requests for More, and Other Nice Versions of No Thanks
Southern Humanities Review and Hayden's Ferry for "Attend the Way"; Electric Literature for "On a Train from the Place Called Valentine"; and West Branch for "The First Night of My Down-and-Out Sex Life."
Now Reading
Bad Marie by Marcy Dermansky.
Just Finished
One of Ours by Willa Cather. A really great, Pulitzer Prize-winning novel set mostly in Central Nebraska and Lincoln, in the late 1910s. I was lucky to pick this up at the National World War I Museum in Kansas City this fall and it's become a fantastic resource for me. The focus of the book is even a family named Wheeler! (I've gone over this before, I know. Indulge me.) The final third of the book, when Claude goes over to fight in the war, is pretty sentimental and Cather panders more than a little bit to jingoistic reactionism in these parts. But overall I really enjoyed the book. Cather has never disappointed. Plus, as an added bonus, there are a bunch of good old-timey ideas for home gardens in Nebraska, for all you green-thumbs out there. We're going to try growing gourd vines up our pergola trellis this summer, and we have Cather to thank for that.
The Best American Comics 2010, edited by Neil Gaiman, Jessica Abel and Matt Madden. My favorites include "The Lagoon (Hiding in the Water)" by Lilli Carré, "The Alcoholic" by Jonathan Ames and Dean Haspiel, "Asterios Polyp" by David Mazzucchelli, "The War on Fornication" by Peter Bagge, "The Flood" by Josh Neufeld, and "Fiction versus Nonfiction" by Chris Ware. Ware also had a lengthy section of his ongoing series "Acme Novelty Library" reprinted, which I had seen some of before. In 2007 he gave a standing-room-only lecture at the Sheldon in Lincoln that Nicole and I attended, and a comics pamphlet featuring some of the comic reprinted here was given out as an example of his work. It was pretty cool to get the work then and is outstanding to see the longer version reprinted in a Best American. To make it even better, the comic is set in 1950s Omaha and uses the old Omaha World-Herald building (where Nicole worked when as first moved here) as a backdrop. There have been quite a few notable artists who have come out of Omaha in the last decade, but none of them have really attained giant-status in their field like Chris Ware has. It's something that should really get more local recognition than it does.
Rivers Last Longer by Richard Burgin. A solid literary thriller with meta-fictional treasures abound. I'm currently writing a review on this now.
Up Next
Greetings from Below by David Philip Mullins.
Last week on Memorial Day, on the way home from a Schneider family reunion in East Iowa Amish country (Nicole's side), we stopped at Forest Lawn Cemetery in north Omaha. For a long while now I've been meaning to find the grave of Tom Dennison, who plays a major role in my historical novel-in-progress, The Hyphenates of Jackson County.
The Forest Lawn website has an awesome database that helped immensely with this. (There's also a walking tour of the cemetery, for anyone interested in Omaha history.) Of course, when we followed a whim and decided to stop after a day's driving, we didn't have any of the necessary information, but it didn't really matter. We found it anyway, after an hour of walking and deductive reasoning. (Nicole is especially adept at graveyard searches. We usually end up in cemeteries on our vacations and are seldom disappointed. Some of our favorites include the Cimètiere Notre Dame-des-Neiges in Montreal (in a snow storm!), the Key West Cemetery, and many of the solitary headstones we came across while on our fern-thick honeymoon in the Green Mountains of Vermont.)
Over the months anticipating a visit to Dennison's grave, I had these ideas in my head of a massive tomb, or an iron-doored, stained-glass mausoleum. As the longtime Boss of a wide-reaching political machine, Dennison was massively wealthy, so it stood to reason that he would have erected a memorial to celebrate himself. Forest Lawn, as the final resting place to many of Omaha's founding fathers and first families, is home to many extravagant mausoleums and statues. I'd even worked up this day-dream where people would go to Dennison's grave and take a shot of bourbon in some archaic ceremony of patronage. The reality, however, was much different from what I'd expected, as there is merely a large family headstone denoting the Dennison name, and then three smaller markers for Tom, his first wife Ada, and one shared by two sons who, presumably, died in their infancy. It was all very simple. No last words, no statues, no inscriptions.
I'd like to find out more about this, as there seems to be a story here. On the one hand, Dennison typically dressed simply, he came from very humble beginnings and was by most accounts a quiet, private man. So it isn't out of the realm of possibilities that he would eschew a flamboyant mausoleum. But on the other hand, there were over a hundred cars in his funeral procession, a fact suggesting that his interment was anything but quiet and private. I hypothesized that perhaps the original gravestones were damaged, destroyed or vandalized—and the simple markers were replacements—but I have no evidence to support this. It was strange, too, that none of his children who survived to adulthood were buried there either, which goes against much of what I've learned about his private life. Maybe they'd moved away from the area by then. If anyone knows about this, I'd love to hear from you.
Dispatch from The Hyphenates of Jackson County
"Word among those hanging on along the streets, afterwards, was that Tom Dennison had summoned the enforcers to reestablish control after the uprising, and that he'd been slow to give the order because he was vacationing in California and had to be wired with the news. They said that he was on a yacht off the coast of San Diego and they had to wait until he returned to harbor. Johann didn't believe these stories, he speculated that Dennison was probably in his office downtown, or his mansion west of Benson, that he'd tried to keep things in control but couldn't. Johann interpreted the delay as yet another breach in the Old Man's armor—and, after what they'd witnessed from the bathroom window of the Potsdamer, more than a few of their friends agreed with him."
Personal Rejection Notes, Requests for More, and Other Nice Versions of No Thanks
New England Review for "The Current State of the Universe"; Mid-American Review, West Branch, and Yale Review for "Attend the Way."
Just Finished
By Night in Chile by Roberto Bolaño. If you like the following things, this book is probably not for you: quotation marks, paragraph breaks, chapter breaks, short simple sentences.
Otherwise, this is really an engrossing read. Some great sections involving European priests who use falconry as a means to stop pigeons from defecating on cathedrals and on the intersection of artistic patronage and military authoritarianism in Chile.
Netherland by Joseph O'Neill. This is one of my favorite books, now, and I highly recommend it. The best writing about cricket I've ever encountered, which makes this sound like a lesser accomplishment than it really is, since I don't recall reading about cricket ever before. There was a lot of talk about this being a post-9/11 novel with echoes of The Great Gatsby, but I didn't really find these elements that central to the story.
Now Reading
Roscoe by William Kennedy.
Up Next
The Lonely Polygamist by Brady Udall.