You are currently browsing the tag archive for the 'The Hyphenates of Jackson County' tag.
I've been working on a few new short stories lately, but the majority of May was devoted to beginning the initial drafting process for Part 5 of my novel The Hyphenates of Jackson County—the final section of the book. It's all kind of a big mess right now, but it's good to get into it. This always happens after I spend a couple months in revision, and this time was no different. The writing comes tough, in small amounts, 500-1000 words a day. It's mostly blocking scenes, organizing notes, working out important descriptions and finding where symbolism might emerge. It takes a while to build some momentum and get a feel for how this part of the story should be told.
The narrative style I use is pretty steady throughout the book—third-person, through the point-of-view of my main character Jacob Bressler, although I'm experimenting with some brief first-person sections, too—but the main issue comes from the time scope of the book. The present-time thread of the novel takes place over three years, from 1917-1919, or starting when the United States declares war on Germany in 1917 and ending with the Red Summer and Omaha Race Riot of 1919. It's not a huge amount of time for a novel, gratefully, although there is a lot going on, and it's a challenge to account for the lost, un-narrated time between parts. Particularly in first drafts, I think I pay too much attention to what's happened in the time gaps, instead of just getting into the action at hand. A lot of that will be eliminated soon enough, most of it in the initial edits. But it makes things a little clunky and difficult in the first draft.
Anyway, I'm really excited to be this close to finishing a draft of my first novel. I hope to be done with a rough version of Part 5 by the end of the summer. And since I've been editing the other parts as I've gone along, there isn't a tremendous amount of work yet to be done, relatively. (I've been working on the book for about two years now.) If all goes well, I should have a decent draft of The Hyphenates of Jackson County finished by Spring 2012. Here's hoping anyway. It's not like I'm on deadline or anything.
In other news this past month:
-"The Current State of the Universe" is featured in the new issue of The Cincinnati Review. The story won their Schiff Prize for Prose last year, and I'm very excited to make it into this journal.
-Prairie Schooner accepted my review of David Philip Mullins' Greetings from Below for publication. This will be my third review for PS, where I'm also currently a senior fiction reader.
-On cue, my second review for Prairie Schooner—of Nadifa Mohamed's Black Mamba Boy—appears in our current summer issue. Check it out. It's a pretty good one. (The issue, I mean. (The review is okay too.))
-In April we learned that Kwame Dawes was coming in as the new Editor of Prairie Schooner; in May we learned that Managing Editor James Engelhardt was leaving. James secured a position as the acquisitions editor for University of Alaska Press, and leaves for Fairbanks early in June. (Actually, today I think.) I owe a great debt to James for all he's done for my editing and reviewing career, if I can call it that. James took me on as a reader after I received my MA from Creighton. I was looking to maintain some involvement in the literary world, and volunteering for Prairie Schooner has been a great anchor for me. After a year-and-a-half, I made my way up to a senior reader position; PS accepted my first book review, after some editorial help from James; my first two trips to AWP came with funding assistance from PS as well. I feel very grateful for what Prairie Schooner has done for me, in giving me the opportunity to work, particularly as someone who isn't otherwise involved in the English Department at the University of Nebraska—and I owe much of that gratitude do James, I believe. Best of luck to him and his family on their Alaskan adventure! (And additional thanks for the fact that now, when I think of Alaska, I won't think of Sarah Palin.)
-Nicole and I celebrated our fifth anniversary in San Francisco!
-This blog featured a longish post about researching the lynching of Will Brown, and coming across a great NPR feature about the execution of Willie McGee and his granddaughter's quest to find out the truth about him many decades later.
Dispatch from The Hyphenates of Jackson County
"Jacob returned to Omaha the same morning President Wilson arrived from St. Paul. It was only partly coincidental it happened that way. Jacob was planning on coming back to Omaha that week anyway, to visit his friend Reinhold Bock, and then he read in the papers that Wilson was to arrive by train to the Union Station early Monday morning, before giving a speech on the League of Nations that afternoon. A parade route was planned out where Wilson's car would meander the city. When Jacob read this, he went down to the station in Lincoln and got a ticket to Omaha for the next morning. He bought himself a suitcase too, at the store there that sold them. It was something simple, with cardboard sides, that didn't lock. It wouldn't have to last forever. Jacob didn't know what he was going to do—he had no plan for the next year, or month, or for the next three days for that matter—but he wanted to see the president. He'd find a spot on Scandal Flats and wait for Wilson's car to pass by. It felt like it would be significant to do that. Jacob didn't know why. He just felt he needed to see the man. He needed to see the man as a man, that was it."
Personal Rejection Notes, Requests for More, and Other Nice Versions of No Thanks
West Branch for "On a Train from the Place Called Valentine"; Southeast Review and Conjunctions for "Attend the Way"; Missouri Review for "Shame Cycle."
Just Finished
The Cailiff's of Baghdad, GA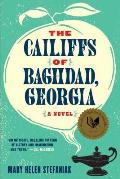 by Mary Helen Stefaniak. An excellent historical novel about racism and confronting the Other in depression-era Georgia, with a detour to the more famous Baghdad in ancient times. Very well done.
Quarantine by Rahul Mehta. I really enjoyed this collection—which revolves around the lives and loves of second-generation, homosexual, Indian-Americans—and will be reviewing it.
Now Reading
The Names by Don DeLillo.
Up Next
The Call by Yannick Murphy.
These past couple weeks I've begun work on drafting the final section of my novel, The Hyphenates of Jackson County. Since I began the book, I knew the story would end with the events surrounding the Omaha Race Riot of 1919 and the lynching of Will Brown outside the Douglas County Courthouse, and in some ways I've been working backward from that point in my mind, figuring out both how such a thing came to happen and why it's a part of the story I'm telling.
There's quite a bit that's been written about what happened in downtown Omaha on September 28, 1919–first-hand accounts, timelines of events, conspiratorial explanations for its cause, a Grand Jury investigation–but surprisingly little has been written about whether or not the accusation of rape that led to Will Brown's brutal lynching was true or not, or somewhere in-between. This is so for a variety of reasons. Foremost, there was never anything resembling a trial that would have brought some of the details of the case to light; Brown was lynched a mere three days following his arrest. Beyond that, there was a fire at the police station years later that destroyed any police record of the event, and Will Brown wasn't from the Omaha area, and he didn't have family here that would remember or memorialize him. I imagine any of his friends would deny any connection to him after the riot, out of fear. Also, as is common, no one really wanted to talk about the incident after it happened, particularly in the intervening years. So the truth remains something of a mystery. Which is where the historical fiction writer comes in, I guess.
During my preparation for writing this final part of the book, I came across an NPR feature from last spring that is really quite enlightening, horrifying, and sad. I feel compelled to share it here, and strongly urge you to take a listen. I'm not sure if Bridgette McGee-Robinson–the granddaughter of a man, Willie McGee, who was accused of raping a white woman and subsequently executed in an electric chair–unearths a lot more information than she already knew before she sought out to find the truth about her grandfather, but the story illustrates so well why such things happened. Most likely, Willie McGee had an ongoing sexual relationship with woman for quite some time, and once that relationship was found out, it was easier for her to damn McGee than it would have been to suffer the stigma attached to a white woman who willingly carried on with a black man. It's the pull of propriety that caused the whole thing to happen like it did. For the jurors (all white) to admit the possibility that a white woman had sex with a black man consensually would turn their society upside-down, of course. McGee was originally kept from being lynched by the National Guard, and if it wasn't for that, the affair and its dirty, deconstructing realities would have disappeared much more quickly and completely, as was the case with Will Brown's murder.
But history doesn't always stay buried like it's supposed to, and that's what makes this feature so interesting to me–in particular, that it's a family historian, the granddaughter of an executed prisoner, who brings the story back into our field of vision and gives the accused a second chance at some kind of redemption. It's amazing how far-reaching the impact of such injustices reach. But there were spouses involved in this case, and kids, and eventually grandkids too. That this can become a trauma that stretches generations makes perfect sense–and there would be a tangential shame attached to the plaintive woman's lineage too, I'd imagine–but maybe it's something that gets lost in all the drama of courtrooms, jail cells, and electric chairs. Even if the families never talked about what happened to so-and-so, there would be a gap in the line.
In doing research on my own family I've often come across gaps in the lineage, or points when a branch on the family tree stops. The family records don't often go back that far. People just want to remember the good things, so the bad seeds are left out of the family history. It's understandable, and I'm sure we all do something similar in our own families. However, a gap can be extremely disappointing if it so happens that that gap, that bad seed, was your great-great-grandfather, and there's now no way to track down their history, or even their name, much less what they did to shame everyone so much. I've had particular trouble compiling information on the Wheeler line beyond a few generations. I have no real reason to suggest that the reason for this lack of information is something bad, I just don't know. Although my great-great-grandfather, Squire H.P. Little, was stabbed to death in the streets, in 1918, by a man he was supposed to arrest. The assailant "had had some trouble with his wife," according to The Democrat of Caruthersville, Mo. People talk about that, though. Maybe it's just that they were too poor to really keep track of their lineage, and only the census bureau or the WPA cared enough to write these things down otherwise. More than likely, that's the explanation.
As I mention above, nothing is really known about the family of Will Brown, but his relations are out there somewhere still, even if there are no direct descendants.
Here is a link to the NPR story: My Grandfather's Execution.
For the past few months I've been working on a rewrite of my novel. A lot of the process has been interesting and fun. It's kind of nice to open up long-settled writing and start playing with things like point-of-view, voice, and structure again. Of course, there are some not-so-fun aspects too. Probably the worst, at least emotionally, is figuring out if you're at the point when a rewrite is necessary, or not. I doubt anyone really wants to take on such a large project that's essentially redoing work you thought was done, work you may be pretty proud of. There's so much emotional turmoil that comes with starting over. You start thinking of wasted months, years, the thousands of words that have already been thrown out. And that's before you start reconsidering POV and structure, the rhythm and tone. It's questioning your very way of being. It's a painful threshold to cross. As I've been working through this, I wondered how others might confront this problem. Please comment if you have some tips or ideas, or what might be some helpful reading. I'd love to hear them.
In the meantime, here's how I've handled it.
Generally my revision process is tied closely to my submission cycle, especially with short stories. The main thinking here is that, after a dozen rejections, you should have an idea of how a story is being received. Even if editors aren't sending back hand-written notes or requests to see more work, such silence can still mean something. After a while, the feedback and notes, or lack thereof, point to a course of action. From there, you can ascertain whether the piece needs some tweaking or an overhaul. (Or maybe a trash can.)
With short stories, getting positive notes helps point me to what stories are hot or close. I keep close track of them. I may let it roll unchanged then, or it may push me to take a really hard look at what may be a winning revision, knowing that it's on the verge of acceptance. For the novel, it's harder because the piece is so much larger. But feedback from agents can be invaluable, if you know how to read what they're saying. I think the most common cause of an agent rejection is that they don't connect on a personal level with the material, which can really mean anything. So, is it just that, a missed connection with an individual, or is there a more serious problem with the manuscript. How do you know? This is where volume comes into play. Getting a bunch of rejections can be a good thing, if there's feedback involved. If you keep hearing the same thing over and over, that's probably a sign of what the problem is. It's pretty simple.
With my current novel, I'd received feedback from a half-dozen agents. This isn't a ton, but all of them gave pretty specific reasons why they felt the book wasn't right for them. Some of them were kind of dubious of my going from a collection of edgy, contemporary stories to writing a historical novel. I wondered if there's something about historical fiction that precludes it from being edgy, but realized that that probably wasn't the problem. It was the way my book was structured, the way I was trying to shelter my protagonist from doing bad things—which is a problem, since I have trouble writing "nice guys"—and the way I sometimes allowed the history to overpower the story and how this also put a dry, scholarly slant to the narrative voice. (And a lot of this came from my having to figure out the history too. It was hard to understand the scope and structure of the story while I was still learning new, game-changing things about the history I'm dealing with. I put a lot of stock in the idea that we think best through writing. It just took me a lot of words to grasp these ideas.) I couldn't see these problems without my clutch of rejection notes, which is the larger point here. It sucks to struggle through a stack of rejections, but this is why I've always enjoyed the process of submitting stories. I've been pretty lucky to get some nice feedback from editors and agents—that's a big part of it—but the process is such a great motivator, conscience, and teacher as well. It makes you be honest with yourself about what's actually on the page, the quality of the work, and what more you'll have to wring out of it to make the story a success.
I'm not sure if there's any other way for me to write besides building out of a series of failures. Maybe I'm too prideful to see my mistakes until well after I've made them. Maybe this is how it is for everyone. In any event, I think the rewrite of Hyphenates is turning out well. This new series of stets, scribbles, false starts, and mistakes is progressing nicely.
Dispatch from The Hyphenates of Jackson County
"It was liberating to sit on the stoop early in a May evening, in those middle-spring hours when it was warm enough for Jacob to roll up his shirtsleeves and let the air hit his skin again. It was one of the main promises of spring, that there would be more of these nights to come, barefoot and comfortable, reclined in a sturdy chair. No mosquitoes yet, no bearing-down evening swelter. The whole world was green in those hours, breezy and clear."
Personal Rejection Notes, Requests for More, and Other Nice Versions of No Thanks
New England Review and CutBank for "On a Train from the Place Called Valentine"; Copper Nickel and Third Coast for "These Things That Save Us." And, of course, "The Housekeeper" was published on Flatmancrooked last week!
Now Reading
The Sun Also Rises by Ernest Hemingway.
Just Finished
Bad Marie by Marcy Dermansky. An interesting study of the anti-hero as filtered through French cinema. It's pretty good! Highly recommended for all fans of movies set in Paris, or for anyone who has named their first-born child after the heroine of their favorite French film.
Up Next
Greetings from Below by David Philip Mullins.
(Note: This isn't a baseball entry.)
For the past month or so I've been toying with point-of-view in my novel, first going from a close third-person to first-person narrated by Jacob Bressler, my lead character. I'm not really sure what my goal for doing this was. Something just didn't sound right with the "voice" telling the story and I wanted to try something different. Some of the feedback I've received from potential agents spoke to Hyphenates being a book focused on history and setting, rather than story and character, and I'm trying to break that hold. So I figured that Jacob could tell his story more succinctly, since it's all he would care about. He wouldn't obsess over Omaha history or factoids of the era as much as I do, certainly, and sometimes it's easier to slip those lovelies in while in third-person. I needed a more discerning eye. It's like how you don't realize how embarrassing something is until you say it out loud to another person, or post it in online. But once you open your mouth, you can see things so much more clearly and objectively.
The experiment didn't really work. Conventional wisdom says that novels shouldn't be written exclusively, or even largely, in first-person, and I think that's probably good advice. Around page fifty of the rework, it got pretty annoying to keep seeing and hearing that "I" all over the place. To be unable to break out of Jacob's voice even for a minute is a problem, especially since
he's the focus of the book. But, even though I'm now in the process of reworking it back into third-person, I do think the exercise was worthwhile. It helped me see cuts and edits, and gaps where new work is needed, that weren't apparent before. While it seemed acceptable to have a third-person narrator go into a page-and-a-half diatribe on the condition of organized labor in Omaha in 1917, having Jacob do the same was absolutely ridiculous. There were more than a few instances of this, where the scholarly, professorial voice would dominant for longish periods—and they all needed to be cut. The writing is much cleaner now, more focused and edgy in a way similar to my contemporary-set fiction.
I'd only made it through about a quarter of what I have drafted in the transition to first-person rework, but it may be worthwhile to push through the rest of it, even though I know that I'll want it in third-person eventually. (I'll probably want this.) I have used this technique in spots for the last year or so anyway, in fact, trying to tie the narration as closely to Jacob's experience as I could. So much of the writing, especially in Part II, has already been rewritten, for my own benefit, in Jacob's first-person. There's just so much good that comes from writing around things like this. I imagine it's similar to filmmakers shooting a scene from ten different angles, hoping to get one that looks and sounds and feels right. The dispatch below is a part I wrote new while in Jacob's first-person, and it's something I don't think the third-person narrator could have come to. So there's that.
Dispatch from The Hyphenates of Jackson County
"The bank was open when I left the saloon, it was two o'clock, but I still didn't go there and ask for a job. The weather was nice. Again I walked downtown, but it was boring this time. No women brushed against me. My clothes disgusted them, my face was filthy. I waited out the day and then returned to the Courthouse lawn in the evening to sleep. It was warm and I'd been safe there the night before. I knew at what time to cops would come to roust me, and would make it a point to leave before they came out with their cudgels. It seemed simple. But I was arrested anyway, after midnight, for vagrancy, and put in the overnight with the drunks and other indigents. I wasn't disappointed to be arrested, however, after I was released. At least there was black coffee this way, and in the morning a bowl of white beans with a couple pieces of fat. Otherwise I wouldn't have eaten that morning. The whole night I wished that I'd gone to the bank that day, however. There was plenty of time for regrets in the overnight, because the drunks couldn't keep quiet. I thought of everyone I might have wronged in my life up to this point. Any pocket of guilt that had been waxed over was reopened. I thought of you that night, Evie, and why it was you had to leave Jackson those many years before. I thought you took off on your own. It never occurred to me that they'd run you and your mother off. Not until they ran me off too."
Personal Rejection Notes, Requests for More, and Other Nice Versions of No Thanks
Southern Humanities Review and Hayden's Ferry for "Attend the Way"; Electric Literature for "On a Train from the Place Called Valentine"; and West Branch for "The First Night of My Down-and-Out Sex Life."
Now Reading
Bad Marie by Marcy Dermansky.
Just Finished
One of Ours by Willa Cather. A really great, Pulitzer Prize-winning novel set mostly in Central Nebraska and Lincoln, in the late 1910s. I was lucky to pick this up at the National World War I Museum in Kansas City this fall and it's become a fantastic resource for me. The focus of the book is even a family named Wheeler! (I've gone over this before, I know. Indulge me.) The final third of the book, when Claude goes over to fight in the war, is pretty sentimental and Cather panders more than a little bit to jingoistic reactionism in these parts. But overall I really enjoyed the book. Cather has never disappointed. Plus, as an added bonus, there are a bunch of good old-timey ideas for home gardens in Nebraska, for all you green-thumbs out there. We're going to try growing gourd vines up our pergola trellis this summer, and we have Cather to thank for that.
The Best American Comics 2010, edited by Neil Gaiman, Jessica Abel and Matt Madden. My favorites include "The Lagoon (Hiding in the Water)" by Lilli Carré, "The Alcoholic" by Jonathan Ames and Dean Haspiel, "Asterios Polyp" by David Mazzucchelli, "The War on Fornication" by Peter Bagge, "The Flood" by Josh Neufeld, and "Fiction versus Nonfiction" by Chris Ware. Ware also had a lengthy section of his ongoing series "Acme Novelty Library" reprinted, which I had seen some of before. In 2007 he gave a standing-room-only lecture at the Sheldon in Lincoln that Nicole and I attended, and a comics pamphlet featuring some of the comic reprinted here was given out as an example of his work. It was pretty cool to get the work then and is outstanding to see the longer version reprinted in a Best American. To make it even better, the comic is set in 1950s Omaha and uses the old Omaha World-Herald building (where Nicole worked when as first moved here) as a backdrop. There have been quite a few notable artists who have come out of Omaha in the last decade, but none of them have really attained giant-status in their field like Chris Ware has. It's something that should really get more local recognition than it does.
Rivers Last Longer by Richard Burgin. A solid literary thriller with meta-fictional treasures abound. I'm currently writing a review on this now.
Up Next
Greetings from Below by David Philip Mullins.
-For my birthday this week, Nicole took me to the National World War I Museum in Kansas City. We had a pretty engaging afternoon there and really enjoyed the experience. None of the exhibits had a ton of specific relevancy to the novel I'm working on—besides general period details—but it's always nice to be immersed in the subjects and obsessions of the era. And for someone who loves history, it's an awesome way to spend an afternoon.
The museum itself is pretty interactive for what is still largely an objects-behind-glass arrangement. There are life-size models of multiple trench scenes, from a well-engineered German one of concrete and lumber, to a French one of mostly sticks collapsing in the mud; a steady soundtrack plays in the background of what it would sound like in the trenches; and a walk-through crater show the devastation caused after a 17-inch howitzer shell explodes on a French farmhouse. There is also a special exhibit on display now regarding the experience of German soldiers in the war, which was interesting. In general, the museum is noteworthy for presenting a more balanced perspective on the war years—rather than tilting too strongly toward an Allies-centric point of view—and this is something I really appreciated. For anyone interested in the era, I highly recommend visiting the museum. And for anyone interested in antique elevators, the ride up in the Liberty Memorial is not to be missed!
-One of the more pleasantly surprising parts of the museum was finding the Willa Cather novel One of Ours (1922) in the gift shop. For a long time I've been looking for sources that depicted the time and place I'm writing about in my novel, and for the most part coming up empty. For some reason it never occurred to me that Cather would have given some treatment to the Great War in her writing. And not only did she write a novel about a family of Nebraskans during the war years, but the surname of the book's protagonist is Wheeler! Beyond that, I feel pretty stupid for not knowing more about this novel, as Cather won a Pulitzer for it too. I've read a few Cather books and some of her short stories–but have always suspected that this wasn't nearly enough, and that my ignorance would come back to haunt me some day. I better get to work rectifying that.
Further: what other novels am I'm not thinking of that are set in Nebraska in the years 1916-1920?
-I've been meaning to post a reflective piece on here regarding my story "The Housekeeper" being selected for publication in the forthcoming Flatmancrooked 4 anthology. However, the story is still a finalist in their current fiction contest and I'm waiting on the results before posting anything more about it.
Dispatch from The Hyphenates of Jackson County
"Jacob knew all the stops would be pulled here on the River Ward in the pursuit of a margin big enough to overcome the rest of the city. They had to win by a landslide here because the other districts were going to swing the other way. There could be no parity in this district that Dennison controlled. Voters on the payroll of the Pendergast machine in Kansas City would arrive throughout the morning to cast their ballots, along with others recruited for this purpose from towns in Iowa like Red Oak, Glenwood, Griswold, and Walnut. Every barroom in the Ward was rented and stocked with liquor. Bootleggers who owed their survival to Dennison saw to these private parties. The booze was reserved for those who held both a slip that proved they'd voted and a card printed with the names of the Square Seven. It was all about mobilization and efficiency, making sure that each and every favor handed down over the past three years was called in during polling hours. If a family received coal over the winter, if their grocery bill or bar tab was covered, if they were granted leniency from a judge—then a car would appear outside their home on Election Day to shuttle them to a poll.
"It was up to Jacob to oversee the operation on Clandish from a polling station in the basement of Mecklenburg's Saloon. When he returned from Iowa, the barroom was already half full of voters and more were coming in all the time. Mecklenburg's would be packed by 6am; nickel beer was discounted down to a penny. It was an amazing operation to watch, its controlled chaos exhilarating. Trucks lined up at the curb, back from Iowa in the middle of the night with two dozen voters packed on their hay-strewn flatbeds. The street cars were running already too, full of Pendergast's men from the train stations, recent arrivals from Kansas City. Johann and Reinhold lined them up inside and meted out the booze. His suitcase still in hand, Jacob stood back and watched it all until it was time to instruct the voters. In groups of ten, Reinhold escorted them to the basement of Mecklenburg's. Jacob and Johann followed them down the steps, into the dug out space under the barroom. There were two rooms separated by a narrow doorway. The basement had been an afterthought, one dug out roughly and bricked in. Jacob recognized the work, a former tunneler himself. A light hung from a rafter, its wire snaked in from a hole drilled in the barroom floor above them."
Personal Rejection Notes, Requests for More, and Other Nice Versions of No Thanks
Cream City Review for "Attend the Way"; Painted Bride for "The First Night of My Down-and-Out Sex Life"; n+1 for "Shame Cycle"; and Barnstorm and Camera Obscura for "You Know That I Loved You." Florida Review and Harvard Review also sent nice notes along after I withdrew manuscripts that had been accepted elsewhere, which is very much appreciated. Plus, "The Housekeeper" was selected as a finalist in the Flatmancrooked Fiction Contest, and will appear in the anthology Flatmancrooked 4, and my review of Nadifa Mohamed's debut novel Black Mamba Boy was selected to appear in a future edition of Prairie Schooner.
Just Finished
Death is Not an Option by Suzanne Rivecca. A very strong collection. I plan on writing a review of this very soon.
Now Reading
One of Ours by Willa Cather.
Up Next
Rivers Last Longer by Richard Burgin.
I've finished a first draft of Part II of The Hyphenates of Jackson County this week. It's pretty exciting to be 2/3 finished with a novel. It's almost unbelievable, but I guess that's what eighteen months of work will get you.
This section, now sitting at 161-pages, was pretty close to be done back in late spring. (That should come down to around 125-pages soon.) However, as discussed in my previous update, there was quite a bit of research that I needed to plow through before I could finish the draft. Even now I'm not so sure that I know quite as much as I should, but that seems to be the nature of historical research. Once you learn something that is truly helpful, it opens another half-dozen related subjects that can be explored—and sometimes seem like they should or must be explored. Even just browsing through a works cited page can be set off a new chain. This being said, it's becoming important to find a stopping point in the research, I think. At least for the moment.
Andrea Barrett spoke about her methods quite a bit when I saw her at the Key West Literary Seminars in 2009, talking about how she feels compelled to read everything she can on a subject before she even begins writing a historical novel or story. It's a compulsion for her, as she explained it, something she can't help. Then you have historical novelists like E.L. Doctorow and Edward P. Jones, both of whom did famously little research for Ragtime and The Known World, respectively.
This, in many ways, has to do with comfort level, I believe. Have I done enough? Do I know enough? Will I be exposed? And, by this, I don't mean to imply that Barrett is insecure and that Doctorow isn't. These are just different strategies they use. Barrett achieves authority through exhaustive research, while Doctorow uses more a general literary technique to express a sense of authority. That is, as his characters feel real to us, as we are drawn to their narratives, we can't help but become convinced that their "historical" stories are real, even if they aren't completely accurate. (Of course, Barrett does this too. It's the magic of all good fiction.)
This kind of dichotomy–the part about not being completely accurate but still writing with authority–didn't seem like it would be okay with Barrett when I saw her speak, as she has background in the sciences. And while I often feel that way too—being that I have faith in the process of research to reveal things as they're needed, if the work is put in—history is so complex that too much accuracy can weigh down a book. It's hard to strike that balance, but I suppose that is the definition of the job, for any writer, to take something complex and make it comprehensible without having to state all the facts.
Thinking of it this way, maybe I do have enough information for now. And it's more a matter of distillation. We'll see. The self-reading and revision begins in earnest on Monday.
-Speaking of research. Reading through some old news articles, I may have found some explanation for why Dennison's family gravesite is so modest—as discussed earlier this year in this post. As stated by an Omaha World-Herald retrospective from Sunday, May 9, 1965:
If [Dennison] had accumulated great wealth, there was no trace of it after his death. The inventory of his estate […] listed 10 thousand dollars in promissory notes ranging from one hundred to 11 hundred dollars. Most of them represented loans to friends, and in many cases they were long past due. Also listed in the estate were two men's watches and several diamonds.
His safety deposit box held "three empty wallets, a memorandum of trust set up for his daughter, a letter from an outstate man asking help in getting a job, some dust and several paper clips." So maybe Dennison was broke by then, and that explains why he wasn't interred in an ornate mausoleum like many of his Omaha contemporaries were.
I'm still a little skeptical of this theory, however. For one, his funeral was one of the largest in city history. But mostly, wouldn't it make sense that a man who made his fortune in organized crime and graft would be able to hide his wealth from the government? Would you expect to find any trace of his wealth? It's not entirely out of the realm of possibility–as Dennison certainly did give away much of his money to needy causes, almost always anonymously–but I'm a little dubious, let's say.
-The review I did of Ben Greenman's collection, What He's Poised to Do, received a couple nice mentions in the last week. On the blog of pioneering literary journal One Story, and on From Your Desks.
Dispatch from The Hyphenates of Jackson County
"There was more traffic downtown but it was limited to the streets, cars full of young men driving in circles. They revved their motors and the barking noise of their mufflers echoed off the porticos of the buildings where their fathers worked. These were high school boys and girls out having fun, all of them Anglos, maybe some college men out to find a girl. Jacob always hated seeing rich kids out playing on a weeknight. He hated being reminded of the leisure they were afforded, these teenagers who drove new speedsters and roadsters of bright yellow and red. Warrens and Scotties and Johns and Toms racing off in ivory suits and straw skimmer hats to a private jazz club hidden in a clump of cottonwoods along the river, an all night juke joint where they could find illicit goods like fried chicken and cold beer. They liked to buy things for their girls with money they made clerking part-time at Daddy's office. And their girls, you couldn't help but notice them, the plumage of a rake's hat. Prim and pretty ones with powdered faces and lips rubbed red with jelly bean guts. Jennifers, Mauds, Bernadettes, Carols. Girls who kept Mother's flask of brandy in the fluff of a gauzy goldenrod dress and would cause a scandal that night when they came home late, hammered, and crashed into the maid's room by mistake."
Just Finished
Black Mamba Boy by Nadifa Mohamed. I'm going to review this. A good book.
Now Reading
All Quiet on the Western Front by Erich Maria Remarque.
Up Next
Death is Not an Option by Suzanne Rivecca.
-I made some progress on some of the peripheral research surrounding the novel in the last couple weeks. Notably, Sister Joy, an archivist with the Servite Sisters, supplied a very informative response to my guess that Tom Dennison's mansion might have been turned into one of the buildings that now make up the campus of Marian High School. (In the comments of this post.) However, as Sister Joy illuminated, this was not the case. I'm still not sure where the Dennison estate stood, but the land where Our Lady of Sorrow Convent would be built was purchased in 1920,
and mass first celebrated in the building in 1925. Dennison was still active in Omaha at the point, and would be for nearly another decade. So my shot in the dark was wrong. I've narrowed it down to either the southwest or southeast quadrant of the intersection, though. And that's something.
I've also been trying to find out more about Dennison's grave site, but Forest Lawn Cemetery has not been as forthcoming as Sister Joy, unfortunately.
-After nearly a month of research, I jumped back into finishing up the drafting of Part II of Hyphenates this week. Even though I'm a little further behind now than I'd hoped to be, it was my goal to finish drafting by the end of the summer and will still meet that soft, self-imposed deadline. Hyphenates Part II has been somewhat more difficult to write than Part I was, with the principal reason being that I'm now working more intimately with the real life characters than I did in the first 125 pages. It's one thing to just search around and make up some backstory for Jacob Bressler—my lead character, who isn't a historical figure, and is only a composite of real people—but it's completely different to do so for Tom Dennison, a well-known figure in regards to political machines and local history, or Josie Washburn, a turn-of-the-century prostitute and madam in Omaha who published one of the initial first-hand account of life in an American brothel. I'm not really comfortable just making it up when it comes to real people, so I needed to go back and get a handle on the history before I moved on.
That being said, it almost always amazes me how consistently research pays off—and this has been one of the most heartening things in writing a historical novel. Whenever there's a gap in the story I'm telling, or some inconsistency in character, there's usually something to be found in an old newspaper or biography or diary that satisfies the gap and shows how the story—both mine and the composite historical record—both makes sense and is fascinating. I won't get into too many specifics, but, in the case of Washburn, I was able to write a scene wherein she gives an anti-Dennison speech in a Little Italy meeting hall at a critical juncture of the story. It's pretty awesome.
-As a consequence of said research needs, I've been spending some quality time in the microfilm room at the downtown Omaha library reading newspapers of 1917 and 1918. This also happens to be the golden age of comics–which leads to many distractions, of course, but also some really great cartoons. Two of the best, and most affecting, are posted. Both are from the Evening World-Herald.
Dispatch from The Hyphenates of Jackson County
"Jacob walked down Pacific with his crew, where traffic had been cut off by the crowds, and he tried to ignore the coalitions around him. Every word spoken by a stranger sounded like an insult to Jacob, some vindictive joke that cut close to his heart. A dozen Russian warehouse workers rested against the hall to eat a quick dinner and they seemed to be talking about Jacob, laughing at him in their native cackle. They wore overalls and denim jackets, floppy felt caps
made heavy with sweat and dust. They bit at sandwiches wrapped in newspaper, hunks of cheese and onion pressed between slices of cottage white with black smears of soot rubbed in from their fingers. A tin cup sat between each of their thighs, brimming over with the sudsy head of a beer. Some boy dug into his parents' secret supply to flit along with a frosted clay jug hugged to his belly, making wisecracks to the men. These were thick-chest serfs whose mouths closed in satisfaction over their food, wiry ones whose clothes puffed over sinewy bodies. The lean ones looked the meanest, lips curling venomously under blood-shot eyes. Jacob thought this as he glanced at them. They were sizing him up, he could tell this. They imagined how much it would take to claim a win in a fight with Jacob and his men. And when one of them whispered something to another, when they leered at Jacob and laughed, he too dreamed how it would go down in a brawl."
Just Finished
Political Bossism in Mid-America by Orville Menard.
Now Reading
Black Mamba Boy by Nadifa Mohamed.
Up Next
Death is Not an Option by Suzanne Rivecca.
Since returning from AWP in early April, I've been preparing to query agents, and I'm happy to report that this week I've finally reached the end of this process—and the beginning of the next phase of actually finding new representation. It's taken much longer than I anticipated, mostly because of a few rewrites that became necessary in these middle stages of editing. (With big thanks to my wife Nicole for helping me to see how the shape/plot arc of Hyphenates Part I was not all it could be.) My first-choice agency requested full manuscripts almost immediately and is now deliberating. Wish me luck! Coincidentally, I received an out-of-the-blue email from a pretty big-time agent at the end of last week requesting some work. That was pretty cool. Maybe I'll be sending him something before long, depending on how my first-choice responds.
It's been somewhat of a weird process the last six months. My first agent left her agency right before Christmas last year, which left me without representation. It was kind of jarring at first, to be let loose like that. I'd probably put too much stock in having an agent, let my sense of self-confidence become too large based upon the fact that, like Don DeLillo, Al Pacinco and A-Rod, I had an agent out there stumping on my behalf. We worked together for over a year on my story collection and, what turned out to be failed, first novel. There were a lot of good things that came from the relationship–such as the idea to switch focus to the historical thread I'm telling with Hyphenates–and I feel much richer for the experience. But it was nice to move on, frankly, to have some free space to work out exactly what I was doing with my books, to dig deeper into myself, and to do so as a writer, rather than as a producer of potential market share. It reminded me of the reasons why I really love doing this, having the chance to indulge daily in the small acts of creation and destruction that eventually tease out a story. These six months have given me the opportunity to refine my projects considerably. And I'm thankful for them. But now, it's time to get back in the game, to pursue book publication with all I've got, and to provide for my family as best as I'm able.
Next week it's back to work on Part II, which is nearly completed in rough draft form. Hopefully by the end of the summer I'll have it in some kind of acceptable shape and can move on to actually finishing the book by the end of this year. Not to jinx myself or anything.
Thanks a ton to all my readers who helped work my manuscripts into shape before I sent them off, sometimes on very short-notice. Amber, Bill, Mary Helen, Nabina, Nicole, Travis—you're the best! And likewise for Jonis, Brent, Gregory, Justin, and Timothy, for giving advice and being advocates on my behalf. All of you are also the best.
-Nicole, Maddie and I were off in Fort Collins last weekend at a wedding. The photos in this post are from the trip.
Dispatch from The Hyphenates of Jackson County
"She was in the same clothes as before, the heavy red dress, torn and dirty by then. Her hair was thin, unpinned and breezy about her face. 'Is that her?' Strauss asked. 'That's the one you were on about last week?' Jacob said, 'Yeah,' still with his hand on the Pfarrer's shoulder, their faces close together as they stared at the girl. She was only twenty yards away from them, steadying herself against the trunk of a locust tree, one of the trees Jacob had slept under his first night in Omaha. 'Her betrothed skipped town,' Strauss said. It was obvious that the girl lived on the street now, that her family had turned its back on her, or she'd gone crazy and willingly exposed herself to the mutilating fractions of a city."
Personal Rejection Notes, Requests for More, and Other Nice Versions of No Thanks
Electric Literature for "The Current State of the Universe"; Alaska Quarterly Review for "On a Train from the Place Called Valentine"; Nashville Review for "The First Night of My Down-and-Out Sex Life."
Just Finished
The Turk and My Mother by Mary Helen Stefaniak. The first novel of a beloved Creighton professor, this one is highly enjoyable. A kind of folksy post-modern historical novel that seems largely drawn from family history and deals with the tumultuous love lives of our parents and grandparents before we knew them. MHS has a second historical novel coming out this fall, by the way.
Now Reading
What He's Poised to Do by Ben Greenman.
Up Next
The Lonely Polygamist by Brady Udall.
Books That Came in the Mail
What He's Poised to Do by Ben Greenman. The Lonely Polygamist by Brady Udall. Novel History by Mark C. Carnes. Bad Marie by Marcy Dermansky. Three Delays by Charlie Smith. The Great Lover by Jill Dawson. Lean on Pete by Willy Vlautin.
Last week on Memorial Day, on the way home from a Schneider family reunion in East Iowa Amish country (Nicole's side), we stopped at Forest Lawn Cemetery in north Omaha. For a long while now I've been meaning to find the grave of Tom Dennison, who plays a major role in my historical novel-in-progress, The Hyphenates of Jackson County.
The Forest Lawn website has an awesome database that helped immensely with this. (There's also a walking tour of the cemetery, for anyone interested in Omaha history.) Of course, when we followed a whim and decided to stop after a day's driving, we didn't have any of the necessary information, but it didn't really matter. We found it anyway, after an hour of walking and deductive reasoning. (Nicole is especially adept at graveyard searches. We usually end up in cemeteries on our vacations and are seldom disappointed. Some of our favorites include the Cimètiere Notre Dame-des-Neiges in Montreal (in a snow storm!), the Key West Cemetery, and many of the solitary headstones we came across while on our fern-thick honeymoon in the Green Mountains of Vermont.)
Over the months anticipating a visit to Dennison's grave, I had these ideas in my head of a massive tomb, or an iron-doored, stained-glass mausoleum. As the longtime Boss of a wide-reaching political machine, Dennison was massively wealthy, so it stood to reason that he would have erected a memorial to celebrate himself. Forest Lawn, as the final resting place to many of Omaha's founding fathers and first families, is home to many extravagant mausoleums and statues. I'd even worked up this day-dream where people would go to Dennison's grave and take a shot of bourbon in some archaic ceremony of patronage. The reality, however, was much different from what I'd expected, as there is merely a large family headstone denoting the Dennison name, and then three smaller markers for Tom, his first wife Ada, and one shared by two sons who, presumably, died in their infancy. It was all very simple. No last words, no statues, no inscriptions.
I'd like to find out more about this, as there seems to be a story here. On the one hand, Dennison typically dressed simply, he came from very humble beginnings and was by most accounts a quiet, private man. So it isn't out of the realm of possibilities that he would eschew a flamboyant mausoleum. But on the other hand, there were over a hundred cars in his funeral procession, a fact suggesting that his interment was anything but quiet and private. I hypothesized that perhaps the original gravestones were damaged, destroyed or vandalized—and the simple markers were replacements—but I have no evidence to support this. It was strange, too, that none of his children who survived to adulthood were buried there either, which goes against much of what I've learned about his private life. Maybe they'd moved away from the area by then. If anyone knows about this, I'd love to hear from you.
Dispatch from The Hyphenates of Jackson County
"Word among those hanging on along the streets, afterwards, was that Tom Dennison had summoned the enforcers to reestablish control after the uprising, and that he'd been slow to give the order because he was vacationing in California and had to be wired with the news. They said that he was on a yacht off the coast of San Diego and they had to wait until he returned to harbor. Johann didn't believe these stories, he speculated that Dennison was probably in his office downtown, or his mansion west of Benson, that he'd tried to keep things in control but couldn't. Johann interpreted the delay as yet another breach in the Old Man's armor—and, after what they'd witnessed from the bathroom window of the Potsdamer, more than a few of their friends agreed with him."
Personal Rejection Notes, Requests for More, and Other Nice Versions of No Thanks
New England Review for "The Current State of the Universe"; Mid-American Review, West Branch, and Yale Review for "Attend the Way."
Just Finished
By Night in Chile by Roberto Bolaño. If you like the following things, this book is probably not for you: quotation marks, paragraph breaks, chapter breaks, short simple sentences.
Otherwise, this is really an engrossing read. Some great sections involving European priests who use falconry as a means to stop pigeons from defecating on cathedrals and on the intersection of artistic patronage and military authoritarianism in Chile.
Netherland by Joseph O'Neill. This is one of my favorite books, now, and I highly recommend it. The best writing about cricket I've ever encountered, which makes this sound like a lesser accomplishment than it really is, since I don't recall reading about cricket ever before. There was a lot of talk about this being a post-9/11 novel with echoes of The Great Gatsby, but I didn't really find these elements that central to the story.
Now Reading
Roscoe by William Kennedy.
Up Next
The Lonely Polygamist by Brady Udall.
There isn't a whole lot more to add to the writing processes I used and the experiences I had during my residency—as I more or less kept on track with my writing during the final days as I had in the beginning, and ate at the same restaurants—so I'd like to give a short overview of my residency. In all, my approximate volume for the ten and a half days I spent at Kimmel Harding Nelson came in at 24,637 words, which adds up to about 84 pages double-spaced.
This is nearly twice the amount of work I expected to finish while in Nebraska City—the safe estimate I gave myself heading in—so it feels pretty awesome to produce this much work. The rough draft of Part II of my novel-in-progress The Hyphenates of Jackson County is nearly finished, which means that I'm over half done with the entire novel itself. In addition, I rewrote five scenes from Part I in first-person point of view in order to tie them more closely to my main character and polished off three blog posts for good measure.
It was a little difficult to work at a high level the final day, with the end in sight. It wasn't exactly homesickness at this point, but more of a growing excitement to see my family again. So instead of sticking around for the final half day, I ended up driving back on Thursday night and sleeping in my own bed. Good for me, right?
I was off for four days in Denver at the AWP Conference less than two weeks later, so it was nice to half that little extra home time.
As a final word, I'd like to mention that the next deadline for Artist Residencies at the Kimmel Harding Nelson Center for the Arts is September 1, which is for residencies taking place in the January to June, 2011 period. KHN offers great facilities in a quiet setting, a stipend for expenses, and now even cab fare from the Omaha airport. I highly recommend it!