You are currently browsing the tag archive for the 'Tel Aviv' tag.
We celebrated my thirtieth birthday a couple weekends ago. It's a pretty weird age to turn, at least as milestone ages go. It isn't really all that old–so people who are older still scoff at you, as probably always happens–"you think eighty is old, wait until you turn ninety!"–but it sounds pretty damn old to anyone in their twenties. I suppose it's an adult-sounding age, the age by which you have settled into a life path of sorts, or not. Supposedly forty is the new thirty, but I don't really think that's the case for me. Thirty is pretty thirty. I kind of like adult life. Marriage, kids, a full-time job, these aren't things I want to avoid. I try to find myself within them, not outside.
I did point, in the past few years, to being thirty as a sort of edge for my goals. I had a few informal "To Do By Thirty" lists. Most of the advice I received from friends who recently turned thirty ahead of me was to avoid thinking in terms of things that I wanted to accomplish by now, but didn't, as that can only lead to disappointment. I'm going to anyway.
My main goal was to have a book published by thirty. It didn't happen, and nothing is on the horizon either. I think this is my main disappointment, I guess–although I've published short fiction in lit journals more widely than I really expected too, frankly, if there's mitigation here. I've still never seen an Irish game in Notre Dame Stadium, although I've seen games in Lincoln and Colorado Springs. I wanted to have an MFA degree, or be working toward a PhD, but that didn't really pan out. I'm mostly okay with that. I do have an MA, and I really enjoyed the experience of earning it.
I became a world traveler this summer when Nicole and I went to Tel Aviv in July. Of course, if one really did all the travel they wanted to during their twenties, there wouldn't be time to do much else.
I'm married, and we have one incredible daughter with another on the way. These were things I didn't really plan on. They're the great surprise of my life.
I haven't fulfilled what I foresaw for myself when I was twelve–living in downtown Kansas City with Royals season tickets, working as a plotter of X-Men comics. I have not fulfilled my dream of being a spokesmodel for Hungry-Man Dinners.
In sum, birthdays are always overblown. After the hangover was hydrated, I actually felt quite a bit better than I had in a while. What I manage over the next thirty years is what will matter more, after all.
The bulk of my writing work this summer has revolved around the Omaha Race Riot of 1919, a tumultuous and hugely traumatic event that I've been attempting to dramatize in Part 5 of my novel-in-progress, The Hyphenates of Jackson County. The riot, a well-known scar on Omaha's history, one that is referred to from time to time in this space, was set off and punctuated by the lynching of Will Brown, an itinerant black worker who'd been accused of rape.
A lot of my previous work has dark themes, and I felt pretty well accustomed to portraying violence in my work. But I haven't been as prepared for the kind of in-depth experience that researching and writing about a lynching has been. The darkness has kind of caught me by surprise sometimes–maybe because these bad things really happened, where the violence in my previous work was purely fictional. It isn't something that can just be packed away at the end of the day, going through hundreds of horrific images with a mind toward depicting them, or getting inside the psyche of a character who would shoot at a hanging body and burn a corpse, or trying to imagine what that person who would be lynched might be thinking as their days and hours dwindled, before they were about to die in an infamous way.
Many of these things I researched happened in places I walk by everyday, as I work as a reporter at the Douglas County Courthouse, where the riot and lynching occurred. It was easy to be reminded, which, I suppose, was kind of the point of the project in the first place.
Most of my work was spent reading and re-reading local newspaper accounts of the riot–in microfilm copies of the World-Herald, Daily Bee, Daily News, and Monitor, the black weekly, from 1919. Some of the accounts are chilling. Eye witness and insider accounts. The riot built over the course of eight hours, so there was considerable news coverage. The Bee's headquarters was right across the street from the Douglas County Courthouse (where the Woodmen Tower stands now) at the epicenter of the riot. There are many photos, some graphic accounts. The news now is pretty tame in comparison to what it used to be like, in some ways.
Here's how the Nebraska State Historical Society describes the lynching of Will Brown on their web site NebraskaStudies.org:
Brown ended up in the hands of the crazed mob. He was beaten into unconsciousness. His clothes were torn off by the time he reached the building's doors. Then he was dragged to a nearby lamp pole on the south side of the courthouse at 18th and Harney around 11:00 p.m. The mob roared when they saw Brown, and a rope was placed around his neck. Brown was hoisted in the air, his body spinning. He was riddled with bullets. His body was then brought down, tied behind a car, and towed to the intersection of 17th and Dodge. There the body was burned with fuel taken from nearby red danger lamps and fire truck lanterns. Later, pieces of the rope used to lynch Brown were sold for 10 cents each. Finally, Brown's charred body was dragged through the city's downtown streets.
The Omaha Race Riot happened toward the end of what James Weldon Johnson coined as the Red Summer, a period of months following the end of World War I when race riots gripped numerous major American cities. At least forty-three African-Americans were lynched in America, from January to September, in 1919. This was at the height of the Great Migration, at the same time as white soldiers were returning from service in Europe to find their old jobs filled, at the same time as labor disputes and strikes were common and heavily reported on by the Yellow Press, at the same time as the U.S. government was using global tension to crack down hard on any dissident group it didn't like, and there were many they didn't like. It isn't surprising that so much violence broke out. What surprises is the utter glee with which that violence was undertaken.
I found that the more I read about the lynching of Will Brown, the harder it was to go through the rest of the day–which is as it should be when confronting such examples of dehumanization. It became necessary to split up the work, to take days off, to take time working on unrelated short fiction, so as to not walk around with a diseased soul all the time. To not be gripped with outrage and sadness.
In Tel Aviv I started writing by hand on a legal pad–out of necessity there, as I didn't want to lug around a laptop overseas–and continued the practice here at home. It's been very helpful to do this, in a surprising way. Not only have I kept writing on the legal pad, but I've done so outside of the house too. It's been so much harder to write inside our house than it is to write outside of it. At first I thought it was a product of being bored in my office–where I do almost all of my work, thinking that the trip to Israel helped to bust loose some cobwebs–but I believe it's been of a distancing method from the material on an emotional level more than anything. On some level, I think, I'm not really all that comfortable bringing this stuff into my house. It makes me nervous, or guilty, to write about a lynching across the hall from the room where my daughter sleeps. But if I'm outside our home–on the patio, at the Joslyn Sculpture Garden, at the courthouse itself, or out of the U.S. altogether–then the material comes out. I'm able to write about it. It's been kind of strange, and I hope the work come off okay.
I'm almost done with the book. I'd been saving this stuff for last, not sure exactly how one writes about it.
—
I'd like to share one of my online sources that I found particularly haunting–and that is the web site Without Sanctuary: Lynching Photography in America. (There's a book also.) The site features hundreds of photos of lynchings from around the country. What's even more disturbing, is that most of these photos were on postcards sold afterwards, in what has to be the darkest bit of Americana. They were found at flea markets and in private collections. Apparently quite a few of them are out there still.
—
Also, here is a database listing of lynchings by state, in case you're interested.  Over the period of 1882-1968 the database covers, 4,743 people–of all races–were lynched in forty-one different states.
We were at this protest on Rothschild at night a few weeks ago, and I saw last night on PBS that it's still going on. It's pretty wild. A tent village, bazaar, protest, sit in, carnival, rally, debate, exposition right in the middle of the city.
There's some good stuff in the video on the ways a government separates its people with politics and divisive action.
July was kind of a cluster, what with spending a week in Tel Aviv, and needing the week before takeoff getting ready for the trip. There wasn't a whole lot of time to write, but I did manage to add another thirty pages or so to the final part to The Hyphenates of Jackson County, my novel. It wasn't a ton of work to get done. But seeing how I spent most of May and June working on short stories, it was nice to get some momentum going on the novel again, and I think I did that. The ten hour flight from New York to Tel Aviv provided a big block of time to work, especially since I couldn't sleep on the flight over. I also had three days of writing and revising in Israel, two days in a park and one at the beach. (Supposedly Jonathan Safran Foer moved to Tel Aviv to finish work on his latest book, so I'm in good company there
. My hopes of becoming a superstar Jewish author are pretty slim, however. You know, because of this, among other reasons.) The change of scenery on the Mediterranean helped quite a bit, as a change often does. It's almost always easier to think about home (or familiar things) when you're far from home (surrounded by unfamiliar things). Being jarred out of my routine helped to get some gridlocked scenes moving again. I've kept writing outside this week too back in Omaha, working on the porch with a cold beer this afternoon. Not too shabby.
In other news:
-The big news of the month, in the small world of my writing, was that "On a Train from the Place Called Valentine" was selected for publication in Boulevard. The story will be featured in the noted journal in March 2012.
-Earlier in the month, my review of Suzanne Rivecca's debut collection (Death is Not an Option) appeared on The Millions.
-Nouvella Books unveiled their web site late in July. A spin off from Flatmancrooked's Launch program, Nouvella is keeping the good fight going in helping to kick start the careers of some deserving writers. Best of luck to them!
-I received a small blurb in The Kenyon Review monthly newsletter about my prize-winning story "The Current State of the Universe" appearing in The Cincinnati Review in May. I think it's very cool of TKR to do that kind of stuff. It's a small bit, but very much appreciated.
-There was a great article about Daniel Orozco and his debut fiction collection in the recent Poets & Writers (print only) about dealing with agents and editors before you're ready. Some very instructive stuff. Orozco's first published story appeared in Best American Short Stories 1995 to quite a lot of fanfare. "Right after that I was getting calls from agents and publishers asking to see my other stories, to see my novel," Orozco tells us. "But there wasn't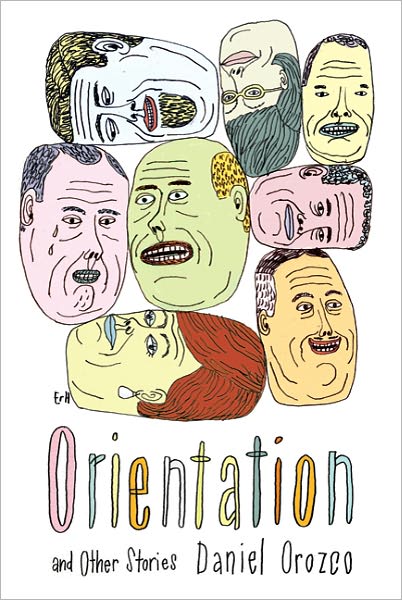 anything else. I was frantic for about a year–they all wanted something now. After a while they stopped calling and things quieted down, and I just settled back into my routine." A mere sixteen years later, the collection has been published–and, again, Orozco is an author on the rise. It's heartening to hear stories like this after my own experience in finding and losing an agent. The promise burns so bright when you're in that situation—flying out to NYC to read, having agents contact you, hearing the sirens' call of major publication and large advances—that when life slows back down, when that promise isn't fulfilled, it feels like you're washed up at twenty-eight. It's rare enough to even get one real chance in this business. But as Orozco's trajectory demonstrates, there are second chances too. If the writing is good enough, and if you're persistent about putting yourself on the line, there's opportunity yet.
Dispatch from The Hyphenates of Jackson County
"It's something I wondered a lot about over the years since it happened. What would have gone through his mind? What would he have been thinking of, or could he even think at all, when the cops finally handed him over to that mob? Could he still see or hear, was his tongue a useless mass, did his skin still feel, once that first bullet ripped through him? It's something I wondered about a lot. I wondered about that boy, Willy, and how it happened to him, and how, once it was all over, the war, the election, my time in Lincoln, I knew it wasn't going to happen to me. But for a time that could have been me who had that happen to him. Not exactly the same, but something like that. So I wondered how it felt to be picked up by a lynch mob. Would his eyes and ears work, or would he be too afraid? Would he have been able to hear what that mob promised to do to him?"
Personal Rejection Notes, Requests for More, and Other Nice Versions of No Thanks
Conjunctions for "Shame Cycle."
Just Finished
A Visit from the Goon Squad by Jennifer Egan. I never really fell in love with this one. I can see why people really like it, but it didn't happen for me. For one thing, several of the stories were eerily close to some episodes from Season Two of Californication. The book seemed too trendy—in its formal choices and content—almost intolerably so. A good book, but one that gnawed at me.
The Call by Yannick Murphy. This is a very good novel. I'll be reviewing this soon, so I won't say much here now.
Now Reading
A Sport and a Pastime by James Salter.
Up Next
Winesburg, Ohio by Sherwood Anderson.
-So Nicole and I were in Tel Aviv all last week. It was a last minute trip and kind of crazy coming together. We only had four days to plan activities before leaving (Nicole was working all day too) so I didn't go to Jerusalem or any big, "life-altering" tourism sites. I did write in a park a couple days, get to the beach for an afternoon, and walk around the city for 3-6 hours per day. My destroyed feet aside, it was a pretty awesome trip. There aren't many photos to share–as I didn't take many pictures of myself walking alone–but the gallery above exhibits some highlights.
-We did see a huge housing protest along Sderot Rothschild one night. It was pretty interesting. There were bands playing, people arguing, people there gawking with their kids, street performers, etc, etc. It's the Israeli version of The Rent is Too Damn High campaign, I guess.
-We did not visit the Gaza Strip or West Bank, which pretty much doomed any hope that I could write a secret agent thriller based upon our travels. There wasn't much thrilling about buying fresh juice on the street or shopping for sunglasses at a mall pharmacy. We didn't even ride public buses, because, you know, safety first.
-For our first overseas trip, I think we handled ourselves pretty well. The twenty-four hours of travel each way was rough, but we dealt with it. The language barrier wasn't such a big deal. Even though our hotel was in a district that wasn't super tourist-friendly, it was easy enough to get along. Luckily all the street signs are printed in Hebrew, Arabic, and "Roman Alphabet," so at least you knew what street you were on.
-Tel Aviv is awesome. You can drink limonana all day long. We did.