You are currently browsing the tag archive for the 'Poets & Writers' tag.
Because no one asked me to, I devised a system to rank creative writing graduate programs in the U.S. in order to provide an alternative to the controversial rankings published by Poets & Writers. (It's not too late to join in the fun is it?)
The ranking system consists of several weighted categories. These include:
-Points for each member of faculty who signed the complaint letter that disputed the methodology of the Poets & Writers rankings. Having a faculty that is engaged–as has a little spunk–is vital to success in any program.
-Deductions for every time I saw someone criticize the rankings on social media because their school was ranked too low.
-Deduction for each school that Seth Abramson has attended. This one is just for fun. Seth's work–along with the Creative Writing MFA Blog and the Creative Writing MFA Handbook–has moved the debate on creating transparency in the MFA application process, and has been great. The P&W rankings are really the least of what he and the MFA Handbook have accomplished.
-I reversed the Cost of Living rankings. If a city is more expensive, it must be better! A low cost of living is fine, but you also have to live there for 2-6 years. Is it really better to rank Syracuse, NY as more desirable than New York, NY? Or Spokane as more desirable than Seattle? I don't think so.
-Added bonus for great college football tradition, minor and major league baseball, and for any school I attended, or that accepted me at some point. (My ranking is very open about its inherent bias.)
-Schools received a bonus if I have good friends who live in their city. Conversely, if my wife would never move to where a school is, points were deducted.
-Finally, I factored in popularity and prestige, using the P&W rankings. Here's my thinking. Everyone wants to be liked and respected, right? Also, you don't want people making sour faces at AWP when you tell them what program you're in. It's a little thing, but one that still counts.
Here are some other things to remember. First, I only did one list for MFA and PhD programs, and left low-residency programs out altogether. There's a significant amount of farce in any ranking system, so deal with it. Second, what's good for me may not be good for you. I'm sorry if you don't like minor league baseball. But, to me, its presence is a critical part of any graduate program.
And the winners are…
1  University of Texas-Austin (64.3 points, #8 in the P&W MFA rankings)
2  University of Washington (63.7, 64)
3  Boston University (62.5, 50)
4  Portland State University (60.8, 68)
5  The New School (58.4, 42)
6  Emerson College (56.3, 63)
7  New York University (56, 16)
8  University of Oregon (54, 11)
9  Columbia University (52.9, 47)
10  Brown University (52.2, 4)
11  University of California-Irvine (51.1, 15)
12  Hunter College (49.8, 28)
13  University of Southern California (49.5, 6 in PhD)
14  Ohio State University (46.8, 33)
15  University of Nebraska-Lincoln (46, 10 in PhD)
16  University of California-San Diego (44.5, 31)
17  Arizona State University (43, 21)
18  University of Houston (40.7, 19 in MFA/4 in PhD)
19  University of Utah (40.5, 4 in PhD)
20  University of Iowa (40, 1)
21  Florida State University (39, 69 in MFA/2 in PhD)
22  University of Alabama (38.3, 18)
23  University of Idaho (37.9, 71)
24  George Mason University (37.4, 52)
25  University of Miami (37, 56)
—
You know, it's not actually too bad of a list, for people who are biased against massive northern rust belt schools, of course. All of the listed schools above should expect to see a healthy boost to their application numbers this year. Feel free to thank me later.
July was kind of a cluster, what with spending a week in Tel Aviv, and needing the week before takeoff getting ready for the trip. There wasn't a whole lot of time to write, but I did manage to add another thirty pages or so to the final part to The Hyphenates of Jackson County, my novel. It wasn't a ton of work to get done. But seeing how I spent most of May and June working on short stories, it was nice to get some momentum going on the novel again, and I think I did that. The ten hour flight from New York to Tel Aviv provided a big block of time to work, especially since I couldn't sleep on the flight over. I also had three days of writing and revising in Israel, two days in a park and one at the beach. (Supposedly Jonathan Safran Foer moved to Tel Aviv to finish work on his latest book, so I'm in good company there
. My hopes of becoming a superstar Jewish author are pretty slim, however. You know, because of this, among other reasons.) The change of scenery on the Mediterranean helped quite a bit, as a change often does. It's almost always easier to think about home (or familiar things) when you're far from home (surrounded by unfamiliar things). Being jarred out of my routine helped to get some gridlocked scenes moving again. I've kept writing outside this week too back in Omaha, working on the porch with a cold beer this afternoon. Not too shabby.
In other news:
-The big news of the month, in the small world of my writing, was that "On a Train from the Place Called Valentine" was selected for publication in Boulevard. The story will be featured in the noted journal in March 2012.
-Earlier in the month, my review of Suzanne Rivecca's debut collection (Death is Not an Option) appeared on The Millions.
-Nouvella Books unveiled their web site late in July. A spin off from Flatmancrooked's Launch program, Nouvella is keeping the good fight going in helping to kick start the careers of some deserving writers. Best of luck to them!
-I received a small blurb in The Kenyon Review monthly newsletter about my prize-winning story "The Current State of the Universe" appearing in The Cincinnati Review in May. I think it's very cool of TKR to do that kind of stuff. It's a small bit, but very much appreciated.
-There was a great article about Daniel Orozco and his debut fiction collection in the recent Poets & Writers (print only) about dealing with agents and editors before you're ready. Some very instructive stuff. Orozco's first published story appeared in Best American Short Stories 1995 to quite a lot of fanfare. "Right after that I was getting calls from agents and publishers asking to see my other stories, to see my novel," Orozco tells us. "But there wasn't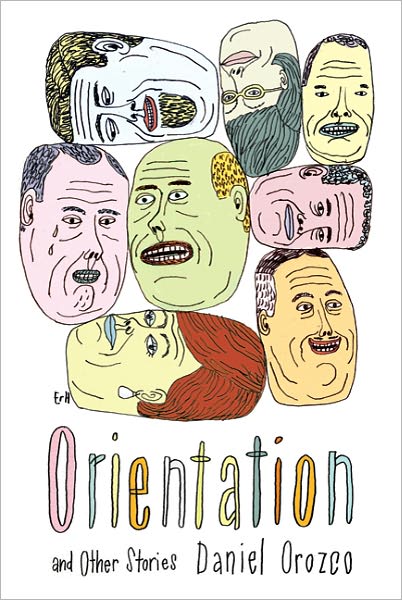 anything else. I was frantic for about a year–they all wanted something now. After a while they stopped calling and things quieted down, and I just settled back into my routine." A mere sixteen years later, the collection has been published–and, again, Orozco is an author on the rise. It's heartening to hear stories like this after my own experience in finding and losing an agent. The promise burns so bright when you're in that situation—flying out to NYC to read, having agents contact you, hearing the sirens' call of major publication and large advances—that when life slows back down, when that promise isn't fulfilled, it feels like you're washed up at twenty-eight. It's rare enough to even get one real chance in this business. But as Orozco's trajectory demonstrates, there are second chances too. If the writing is good enough, and if you're persistent about putting yourself on the line, there's opportunity yet.
Dispatch from The Hyphenates of Jackson County
"It's something I wondered a lot about over the years since it happened. What would have gone through his mind? What would he have been thinking of, or could he even think at all, when the cops finally handed him over to that mob? Could he still see or hear, was his tongue a useless mass, did his skin still feel, once that first bullet ripped through him? It's something I wondered about a lot. I wondered about that boy, Willy, and how it happened to him, and how, once it was all over, the war, the election, my time in Lincoln, I knew it wasn't going to happen to me. But for a time that could have been me who had that happen to him. Not exactly the same, but something like that. So I wondered how it felt to be picked up by a lynch mob. Would his eyes and ears work, or would he be too afraid? Would he have been able to hear what that mob promised to do to him?"
Personal Rejection Notes, Requests for More, and Other Nice Versions of No Thanks
Conjunctions for "Shame Cycle."
Just Finished
A Visit from the Goon Squad by Jennifer Egan. I never really fell in love with this one. I can see why people really like it, but it didn't happen for me. For one thing, several of the stories were eerily close to some episodes from Season Two of Californication. The book seemed too trendy—in its formal choices and content—almost intolerably so. A good book, but one that gnawed at me.
The Call by Yannick Murphy. This is a very good novel. I'll be reviewing this soon, so I won't say much here now.
Now Reading
A Sport and a Pastime by James Salter.
Up Next
Winesburg, Ohio by Sherwood Anderson.
So word officially came out this week that Sacramento-based independent publisher Flatmancrooked is no more. This is really too bad, as FMC did quite a few innovative projects in their three years of existence. They're probably best known for the Zero Emission Book Project, what with the front page coverage provided by Poets & Writers. It was a nice bit of success that took on a life of its own, although the excitement seemed to fizzle a bit once the book actually came out, and to not so great reviews. The LAUNCH program was, and is, a good idea, and excelled at hooking talented young writers into FMC's effective promotions network. Their off-site events at AWPs Denver and Washington DC were very well done and were highlights for me both years. The Literati Gong Show this February was particularly awesome.
You can read Elijah Jenkins' farewell note here. Here's the main thrust of it:
You've might've heard the rumors by now and, unfortunately, the rumors are true. Flatmancrooked is closing its doors. The reasons for this are varied but are largely due to my decision to leave publishing in order to focus on my family and health. Various editors, including our illustrious Senior Editor Deena Drewis and Associate Editor Steve Owen shall remain in the game, producing good work with new entities. Deena will be continuing with a novella press much in keeping with LAUNCH and the novellas we put out at FMC–stay tuned here: nouvellabooks.com; Steve is starting a journal and press called Mixer, which promises all the whimsy and brains of a mixed-genre, experimental endeavor; details TBA, so keep your eyes peeled.
I'm glad Deena is keeping LAUNCH going. It's a worthwhile venture and something that will fill a need in the marketplace. In my experience at conferences, there always seem to be a really good fiction writer who writes very long stories, and subsequently has trouble getting them published in large part because of their length. Nouvella Books would seem to be perfect for folks like this. So be sure to mention it if the opportunity arises.
Two of my short stories were published by FMC. Impatiens (Pt. 1 & Pt. 2) was featured on their website and in Flatmancrooked's Anthology of Great Writing Done During an Economic Depression. The anthology is for sale at a deep discount ($3) at their online store. If anyone's interested, you can find it here. (The saucy cover art is featured above.) A second story, The Housekeeper, was on the website in January and was slated to appear in Flatmancrooked 4, but that isn't going to happen now. Steve Owen (Mixer Publishing) is trying to keep the anthology together and publish it as Mixer's first offering. I hope he can work it out, as it was something a lot of us were looking forward to.
I mentioned this on Facebook, but it bears repeating. I feel very blessed to have been able to work with Flatmancrooked these past few years, and am saddened that they won't be able to continue on. Everyone knows that independent publishing is a particularly difficult endeavor and no excuse is required for hanging it up when the time comes. I wish nothing but the best for Elijah, Deena, and all the others.
Novel Work
For the past few weeks I've been paying a lot of attention to the shape of the first part of my novel, The Open City. It's kind of amazing how productive this has been in revision, but worrying more about aesthetics, even how a table of contents would look, has helped quite a bit. I've gone to shorter chapters, cutting things up so that they might read faster. That has worked, but more than anything this has helped with plot. In the process of going to a more frequently divided narrative it somehow freed me to see what scenes belonged here in Part I, what scenes should be saved for later, and what parts should be cut outright. About thirty pages were cut in this way, which has transformed Part I into something much tighter and entertaining than before. What I did was make a few charts that illustrate different elements of how I was using the actual "on the page" space of the novel, allowing me to do a crude statistical analysis—things such as the length of each chapter, how many pages were devoted to each main character, how much space I was using for flashback, etc. Knowing these things then allowed me to see where I was over-compensating for a character, or where I was deficient, or where I was using up valuable space to introduce characters who really wouldn't drive the narrative forward until later in the book. With this kind of knowledge, the necessary cuts were much easier to identify and execute. There's really no end to how far an author could apply objective statistical analysis to their writing, but I wouldn't really want to be the first to apply Sabermetrics to literature. Perhaps I've said too much already… Has anyone heard of other ways to use objective measures to analyze their writing? I'd be interested in reading about such things. Benjamin Percy's article in the last Poets & Writers on "The Geometry of Dialogue" was along these lines, but not quite the same thing, as it was more of a way of thinking about writing than actually analyzing what was on the page.
Dispatch from The Open City
"As she raced the freeway loop towards downtown, Esther tried to push these negative thoughts out of her mind because, on a personal level, she hadn't truly wanted to be out in the middle-of-nowhere investigating swine malfeasance in the first place. The mere act of returning to the city was energizing her. The rattling freeway speed, the natural selection of inner city traffic, the barking vibrations of city noise—these always agitated a lustful, urban dynamism inside of Esther that she was eager to indulge. So, nearing her exit, nervous energy swelled within her chest at the thought of being with Michael, her fiancé. She would soon be back in the city indulging in the quasi-glamorous social life of a successful young professional in her mid-twenties and couldn't be happier about it. It was Friday and she planned to take the weekend off for a change."
Just Finished
Reasons for and Advantages of Breathing by Lydia Peelle. I don't think my previous reservations about the collection (that it is a little too consistent in pacing and tone) were really alleviated in the final few stories, but I still think that this is a damn fine book. A few of the later stories are really quite dynamic and seem to play a little more fast and loose with structure than the earlier stories do. The title story and "Shadow on a Weary Land" are especially good. Overall, the collection has what I would call an ethos that really holds the stories together. It's not so much an overriding theme, but a way of living that the stories all seem to endorse. To quote from "Shadow," this is the truest example what I'm talking about: "I remind myself that, though I've almost paid off the mortgage, this house doesn't really belong to me. I am no more than a squatter, only passing through." There is a great sadness in these stories, not only over man's insignificance or cruelty, but perhaps at the point where these two facets converge with the characters' hard earned sense of self-awareness. The stories work best when this awareness is come to gradually and, more often than not, painfully.
Now Reading
The Twenty-Seventh City by Jonathan Franzen. This is Franzen's first novel, published in the late-80s. As with his immaculate novel The Corrections, he has such a great touch with the domestic scene and, in a slightly frightening way, in describing how older men go about seducing teenage girls. I'm enjoying it so far, about a quarter of the way in. Franzen has a strong sense of contemporary culture and society, but it does seem to date his work quite a bit. This phenomena seems to be the longest-lasting legacy of the eighties, however, so maybe it isn't all the author's fault in this case.
Up Next
White Noise by Don DeLillo. For real this time.