You are currently browsing the tag archive for the 'Nadifa Mohamed' tag.
The Spring issue of Prairie Schooner has been released, which means my review of David Philip Mullins' Greetings from Below is out too!
I love this cover.
This marks my third review in Prairie Schooner, and my tenth overall. Reviews of Lydia Peelle's Reasons for and Advantages of Breathing and Nadifa Mohamed's Black Mamba Boy previously ran in PS.
Excellent books all.
I've been working on a few new short stories lately, but the majority of May was devoted to beginning the initial drafting process for Part 5 of my novel The Hyphenates of Jackson County—the final section of the book. It's all kind of a big mess right now, but it's good to get into it. This always happens after I spend a couple months in revision, and this time was no different. The writing comes tough, in small amounts, 500-1000 words a day. It's mostly blocking scenes, organizing notes, working out important descriptions and finding where symbolism might emerge. It takes a while to build some momentum and get a feel for how this part of the story should be told.
The narrative style I use is pretty steady throughout the book—third-person, through the point-of-view of my main character Jacob Bressler, although I'm experimenting with some brief first-person sections, too—but the main issue comes from the time scope of the book. The present-time thread of the novel takes place over three years, from 1917-1919, or starting when the United States declares war on Germany in 1917 and ending with the Red Summer and Omaha Race Riot of 1919. It's not a huge amount of time for a novel, gratefully, although there is a lot going on, and it's a challenge to account for the lost, un-narrated time between parts. Particularly in first drafts, I think I pay too much attention to what's happened in the time gaps, instead of just getting into the action at hand. A lot of that will be eliminated soon enough, most of it in the initial edits. But it makes things a little clunky and difficult in the first draft.
Anyway, I'm really excited to be this close to finishing a draft of my first novel. I hope to be done with a rough version of Part 5 by the end of the summer. And since I've been editing the other parts as I've gone along, there isn't a tremendous amount of work yet to be done, relatively. (I've been working on the book for about two years now.) If all goes well, I should have a decent draft of The Hyphenates of Jackson County finished by Spring 2012. Here's hoping anyway. It's not like I'm on deadline or anything.
In other news this past month:
-"The Current State of the Universe" is featured in the new issue of The Cincinnati Review. The story won their Schiff Prize for Prose last year, and I'm very excited to make it into this journal.
-Prairie Schooner accepted my review of David Philip Mullins' Greetings from Below for publication. This will be my third review for PS, where I'm also currently a senior fiction reader.
-On cue, my second review for Prairie Schooner—of Nadifa Mohamed's Black Mamba Boy—appears in our current summer issue. Check it out. It's a pretty good one. (The issue, I mean. (The review is okay too.))
-In April we learned that Kwame Dawes was coming in as the new Editor of Prairie Schooner; in May we learned that Managing Editor James Engelhardt was leaving. James secured a position as the acquisitions editor for University of Alaska Press, and leaves for Fairbanks early in June. (Actually, today I think.) I owe a great debt to James for all he's done for my editing and reviewing career, if I can call it that. James took me on as a reader after I received my MA from Creighton. I was looking to maintain some involvement in the literary world, and volunteering for Prairie Schooner has been a great anchor for me. After a year-and-a-half, I made my way up to a senior reader position; PS accepted my first book review, after some editorial help from James; my first two trips to AWP came with funding assistance from PS as well. I feel very grateful for what Prairie Schooner has done for me, in giving me the opportunity to work, particularly as someone who isn't otherwise involved in the English Department at the University of Nebraska—and I owe much of that gratitude do James, I believe. Best of luck to him and his family on their Alaskan adventure! (And additional thanks for the fact that now, when I think of Alaska, I won't think of Sarah Palin.)
-Nicole and I celebrated our fifth anniversary in San Francisco!
-This blog featured a longish post about researching the lynching of Will Brown, and coming across a great NPR feature about the execution of Willie McGee and his granddaughter's quest to find out the truth about him many decades later.
Dispatch from The Hyphenates of Jackson County
"Jacob returned to Omaha the same morning President Wilson arrived from St. Paul. It was only partly coincidental it happened that way. Jacob was planning on coming back to Omaha that week anyway, to visit his friend Reinhold Bock, and then he read in the papers that Wilson was to arrive by train to the Union Station early Monday morning, before giving a speech on the League of Nations that afternoon. A parade route was planned out where Wilson's car would meander the city. When Jacob read this, he went down to the station in Lincoln and got a ticket to Omaha for the next morning. He bought himself a suitcase too, at the store there that sold them. It was something simple, with cardboard sides, that didn't lock. It wouldn't have to last forever. Jacob didn't know what he was going to do—he had no plan for the next year, or month, or for the next three days for that matter—but he wanted to see the president. He'd find a spot on Scandal Flats and wait for Wilson's car to pass by. It felt like it would be significant to do that. Jacob didn't know why. He just felt he needed to see the man. He needed to see the man as a man, that was it."
Personal Rejection Notes, Requests for More, and Other Nice Versions of No Thanks
West Branch for "On a Train from the Place Called Valentine"; Southeast Review and Conjunctions for "Attend the Way"; Missouri Review for "Shame Cycle."
Just Finished
The Cailiff's of Baghdad, GA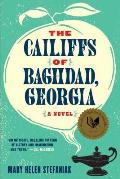 by Mary Helen Stefaniak. An excellent historical novel about racism and confronting the Other in depression-era Georgia, with a detour to the more famous Baghdad in ancient times. Very well done.
Quarantine by Rahul Mehta. I really enjoyed this collection—which revolves around the lives and loves of second-generation, homosexual, Indian-Americans—and will be reviewing it.
Now Reading
The Names by Don DeLillo.
Up Next
The Call by Yannick Murphy.
Also hot off the presses this week: the summer 2011 issue of Prairie Schooner! Among the proceedings is my review of Nadifa Mohamed's debut historical novel, Black Mamba Boy.
Here's a short promo video below of Nadifa Mohamed talking about about the inspiration behind the novel–notably her dad's travels across Africa, the Middle East, and England.
–
My review of Marcy Dermansky's novel Bad Marie is up on
The Millions today!
This is my fifth published review, the fourth with The Millions. Two more are scheduled for print journals this summer, one of Nadifa Mohamed's Black Mamba Boy in Prairie Schooner and of Richard Burgin's Rivers Last Longer in Pleiades.
Bad Marie is really a good book and an excellent read. It's a rare combination of being both literary and a good summer read. Highly recommended, in particular, for any fans of French film. The review goes into this, but its depiction of Paris is very enjoyable.
UPDATE: My review of Nadifa Mohamed's novel Black Mamba Boy has been scheduled for the Summer 2011 issue of Prairie Schooner! This will be my second published review with PS.
—
It sounds like Flatmancrooked will be running my story "The Housekeeper" in their web journal next Wednesday, January 19.The story will also be featured in their upcoming print fiction anthology, Flatmancrooked 4, which is currently at the printers and should be hitting mailboxes before winter ends.
The first half of 2011 is shaping up nicely. My story "How to Die Young in a Nebraska Winter" will be in the spring issue of The Kenyon Review, in the next couple months I'd wager–no matter what Unadilla Bill has to say–and "The Current State of the Universe" will be published by The Cincinnati Review in May.
-For my birthday this week, Nicole took me to the National World War I Museum in Kansas City. We had a pretty engaging afternoon there and really enjoyed the experience. None of the exhibits had a ton of specific relevancy to the novel I'm working on—besides general period details—but it's always nice to be immersed in the subjects and obsessions of the era. And for someone who loves history, it's an awesome way to spend an afternoon.
The museum itself is pretty interactive for what is still largely an objects-behind-glass arrangement. There are life-size models of multiple trench scenes, from a well-engineered German one of concrete and lumber, to a French one of mostly sticks collapsing in the mud; a steady soundtrack plays in the background of what it would sound like in the trenches; and a walk-through crater show the devastation caused after a 17-inch howitzer shell explodes on a French farmhouse. There is also a special exhibit on display now regarding the experience of German soldiers in the war, which was interesting. In general, the museum is noteworthy for presenting a more balanced perspective on the war years—rather than tilting too strongly toward an Allies-centric point of view—and this is something I really appreciated. For anyone interested in the era, I highly recommend visiting the museum. And for anyone interested in antique elevators, the ride up in the Liberty Memorial is not to be missed!
-One of the more pleasantly surprising parts of the museum was finding the Willa Cather novel One of Ours (1922) in the gift shop. For a long time I've been looking for sources that depicted the time and place I'm writing about in my novel, and for the most part coming up empty. For some reason it never occurred to me that Cather would have given some treatment to the Great War in her writing. And not only did she write a novel about a family of Nebraskans during the war years, but the surname of the book's protagonist is Wheeler! Beyond that, I feel pretty stupid for not knowing more about this novel, as Cather won a Pulitzer for it too. I've read a few Cather books and some of her short stories–but have always suspected that this wasn't nearly enough, and that my ignorance would come back to haunt me some day. I better get to work rectifying that.
Further: what other novels am I'm not thinking of that are set in Nebraska in the years 1916-1920?
-I've been meaning to post a reflective piece on here regarding my story "The Housekeeper" being selected for publication in the forthcoming Flatmancrooked 4 anthology. However, the story is still a finalist in their current fiction contest and I'm waiting on the results before posting anything more about it.
Dispatch from The Hyphenates of Jackson County
"Jacob knew all the stops would be pulled here on the River Ward in the pursuit of a margin big enough to overcome the rest of the city. They had to win by a landslide here because the other districts were going to swing the other way. There could be no parity in this district that Dennison controlled. Voters on the payroll of the Pendergast machine in Kansas City would arrive throughout the morning to cast their ballots, along with others recruited for this purpose from towns in Iowa like Red Oak, Glenwood, Griswold, and Walnut. Every barroom in the Ward was rented and stocked with liquor. Bootleggers who owed their survival to Dennison saw to these private parties. The booze was reserved for those who held both a slip that proved they'd voted and a card printed with the names of the Square Seven. It was all about mobilization and efficiency, making sure that each and every favor handed down over the past three years was called in during polling hours. If a family received coal over the winter, if their grocery bill or bar tab was covered, if they were granted leniency from a judge—then a car would appear outside their home on Election Day to shuttle them to a poll.
"It was up to Jacob to oversee the operation on Clandish from a polling station in the basement of Mecklenburg's Saloon. When he returned from Iowa, the barroom was already half full of voters and more were coming in all the time. Mecklenburg's would be packed by 6am; nickel beer was discounted down to a penny. It was an amazing operation to watch, its controlled chaos exhilarating. Trucks lined up at the curb, back from Iowa in the middle of the night with two dozen voters packed on their hay-strewn flatbeds. The street cars were running already too, full of Pendergast's men from the train stations, recent arrivals from Kansas City. Johann and Reinhold lined them up inside and meted out the booze. His suitcase still in hand, Jacob stood back and watched it all until it was time to instruct the voters. In groups of ten, Reinhold escorted them to the basement of Mecklenburg's. Jacob and Johann followed them down the steps, into the dug out space under the barroom. There were two rooms separated by a narrow doorway. The basement had been an afterthought, one dug out roughly and bricked in. Jacob recognized the work, a former tunneler himself. A light hung from a rafter, its wire snaked in from a hole drilled in the barroom floor above them."
Personal Rejection Notes, Requests for More, and Other Nice Versions of No Thanks
Cream City Review for "Attend the Way"; Painted Bride for "The First Night of My Down-and-Out Sex Life"; n+1 for "Shame Cycle"; and Barnstorm and Camera Obscura for "You Know That I Loved You." Florida Review and Harvard Review also sent nice notes along after I withdrew manuscripts that had been accepted elsewhere, which is very much appreciated. Plus, "The Housekeeper" was selected as a finalist in the Flatmancrooked Fiction Contest, and will appear in the anthology Flatmancrooked 4, and my review of Nadifa Mohamed's debut novel Black Mamba Boy was selected to appear in a future edition of Prairie Schooner.
Just Finished
Death is Not an Option by Suzanne Rivecca. A very strong collection. I plan on writing a review of this very soon.
Now Reading
One of Ours by Willa Cather.
Up Next
Rivers Last Longer by Richard Burgin.
Prairie Schooner has accepted my review of
Nadifa Mohamed's debut novel Black Mamba Boy! I'd imagine it will run in the Summer or Fall issue next year.
This will be my fifth published review, and the second in Prairie Schooner, where I'm also in my second year as a senior fiction reader.
I've finished a first draft of Part II of The Hyphenates of Jackson County this week. It's pretty exciting to be 2/3 finished with a novel. It's almost unbelievable, but I guess that's what eighteen months of work will get you.
This section, now sitting at 161-pages, was pretty close to be done back in late spring. (That should come down to around 125-pages soon.) However, as discussed in my previous update, there was quite a bit of research that I needed to plow through before I could finish the draft. Even now I'm not so sure that I know quite as much as I should, but that seems to be the nature of historical research. Once you learn something that is truly helpful, it opens another half-dozen related subjects that can be explored—and sometimes seem like they should or must be explored. Even just browsing through a works cited page can be set off a new chain. This being said, it's becoming important to find a stopping point in the research, I think. At least for the moment.
Andrea Barrett spoke about her methods quite a bit when I saw her at the Key West Literary Seminars in 2009, talking about how she feels compelled to read everything she can on a subject before she even begins writing a historical novel or story. It's a compulsion for her, as she explained it, something she can't help. Then you have historical novelists like E.L. Doctorow and Edward P. Jones, both of whom did famously little research for Ragtime and The Known World, respectively.
This, in many ways, has to do with comfort level, I believe. Have I done enough? Do I know enough? Will I be exposed? And, by this, I don't mean to imply that Barrett is insecure and that Doctorow isn't. These are just different strategies they use. Barrett achieves authority through exhaustive research, while Doctorow uses more a general literary technique to express a sense of authority. That is, as his characters feel real to us, as we are drawn to their narratives, we can't help but become convinced that their "historical" stories are real, even if they aren't completely accurate. (Of course, Barrett does this too. It's the magic of all good fiction.)
This kind of dichotomy–the part about not being completely accurate but still writing with authority–didn't seem like it would be okay with Barrett when I saw her speak, as she has background in the sciences. And while I often feel that way too—being that I have faith in the process of research to reveal things as they're needed, if the work is put in—history is so complex that too much accuracy can weigh down a book. It's hard to strike that balance, but I suppose that is the definition of the job, for any writer, to take something complex and make it comprehensible without having to state all the facts.
Thinking of it this way, maybe I do have enough information for now. And it's more a matter of distillation. We'll see. The self-reading and revision begins in earnest on Monday.
-Speaking of research. Reading through some old news articles, I may have found some explanation for why Dennison's family gravesite is so modest—as discussed earlier this year in this post. As stated by an Omaha World-Herald retrospective from Sunday, May 9, 1965:
If [Dennison] had accumulated great wealth, there was no trace of it after his death. The inventory of his estate […] listed 10 thousand dollars in promissory notes ranging from one hundred to 11 hundred dollars. Most of them represented loans to friends, and in many cases they were long past due. Also listed in the estate were two men's watches and several diamonds.
His safety deposit box held "three empty wallets, a memorandum of trust set up for his daughter, a letter from an outstate man asking help in getting a job, some dust and several paper clips." So maybe Dennison was broke by then, and that explains why he wasn't interred in an ornate mausoleum like many of his Omaha contemporaries were.
I'm still a little skeptical of this theory, however. For one, his funeral was one of the largest in city history. But mostly, wouldn't it make sense that a man who made his fortune in organized crime and graft would be able to hide his wealth from the government? Would you expect to find any trace of his wealth? It's not entirely out of the realm of possibility–as Dennison certainly did give away much of his money to needy causes, almost always anonymously–but I'm a little dubious, let's say.
-The review I did of Ben Greenman's collection, What He's Poised to Do, received a couple nice mentions in the last week. On the blog of pioneering literary journal One Story, and on From Your Desks.
Dispatch from The Hyphenates of Jackson County
"There was more traffic downtown but it was limited to the streets, cars full of young men driving in circles. They revved their motors and the barking noise of their mufflers echoed off the porticos of the buildings where their fathers worked. These were high school boys and girls out having fun, all of them Anglos, maybe some college men out to find a girl. Jacob always hated seeing rich kids out playing on a weeknight. He hated being reminded of the leisure they were afforded, these teenagers who drove new speedsters and roadsters of bright yellow and red. Warrens and Scotties and Johns and Toms racing off in ivory suits and straw skimmer hats to a private jazz club hidden in a clump of cottonwoods along the river, an all night juke joint where they could find illicit goods like fried chicken and cold beer. They liked to buy things for their girls with money they made clerking part-time at Daddy's office. And their girls, you couldn't help but notice them, the plumage of a rake's hat. Prim and pretty ones with powdered faces and lips rubbed red with jelly bean guts. Jennifers, Mauds, Bernadettes, Carols. Girls who kept Mother's flask of brandy in the fluff of a gauzy goldenrod dress and would cause a scandal that night when they came home late, hammered, and crashed into the maid's room by mistake."
Just Finished
Black Mamba Boy by Nadifa Mohamed. I'm going to review this. A good book.
Now Reading
All Quiet on the Western Front by Erich Maria Remarque.
Up Next
Death is Not an Option by Suzanne Rivecca.
-I made some progress on some of the peripheral research surrounding the novel in the last couple weeks. Notably, Sister Joy, an archivist with the Servite Sisters, supplied a very informative response to my guess that Tom Dennison's mansion might have been turned into one of the buildings that now make up the campus of Marian High School. (In the comments of this post.) However, as Sister Joy illuminated, this was not the case. I'm still not sure where the Dennison estate stood, but the land where Our Lady of Sorrow Convent would be built was purchased in 1920,
and mass first celebrated in the building in 1925. Dennison was still active in Omaha at the point, and would be for nearly another decade. So my shot in the dark was wrong. I've narrowed it down to either the southwest or southeast quadrant of the intersection, though. And that's something.
I've also been trying to find out more about Dennison's grave site, but Forest Lawn Cemetery has not been as forthcoming as Sister Joy, unfortunately.
-After nearly a month of research, I jumped back into finishing up the drafting of Part II of Hyphenates this week. Even though I'm a little further behind now than I'd hoped to be, it was my goal to finish drafting by the end of the summer and will still meet that soft, self-imposed deadline. Hyphenates Part II has been somewhat more difficult to write than Part I was, with the principal reason being that I'm now working more intimately with the real life characters than I did in the first 125 pages. It's one thing to just search around and make up some backstory for Jacob Bressler—my lead character, who isn't a historical figure, and is only a composite of real people—but it's completely different to do so for Tom Dennison, a well-known figure in regards to political machines and local history, or Josie Washburn, a turn-of-the-century prostitute and madam in Omaha who published one of the initial first-hand account of life in an American brothel. I'm not really comfortable just making it up when it comes to real people, so I needed to go back and get a handle on the history before I moved on.
That being said, it almost always amazes me how consistently research pays off—and this has been one of the most heartening things in writing a historical novel. Whenever there's a gap in the story I'm telling, or some inconsistency in character, there's usually something to be found in an old newspaper or biography or diary that satisfies the gap and shows how the story—both mine and the composite historical record—both makes sense and is fascinating. I won't get into too many specifics, but, in the case of Washburn, I was able to write a scene wherein she gives an anti-Dennison speech in a Little Italy meeting hall at a critical juncture of the story. It's pretty awesome.
-As a consequence of said research needs, I've been spending some quality time in the microfilm room at the downtown Omaha library reading newspapers of 1917 and 1918. This also happens to be the golden age of comics–which leads to many distractions, of course, but also some really great cartoons. Two of the best, and most affecting, are posted. Both are from the Evening World-Herald.
Dispatch from The Hyphenates of Jackson County
"Jacob walked down Pacific with his crew, where traffic had been cut off by the crowds, and he tried to ignore the coalitions around him. Every word spoken by a stranger sounded like an insult to Jacob, some vindictive joke that cut close to his heart. A dozen Russian warehouse workers rested against the hall to eat a quick dinner and they seemed to be talking about Jacob, laughing at him in their native cackle. They wore overalls and denim jackets, floppy felt caps
made heavy with sweat and dust. They bit at sandwiches wrapped in newspaper, hunks of cheese and onion pressed between slices of cottage white with black smears of soot rubbed in from their fingers. A tin cup sat between each of their thighs, brimming over with the sudsy head of a beer. Some boy dug into his parents' secret supply to flit along with a frosted clay jug hugged to his belly, making wisecracks to the men. These were thick-chest serfs whose mouths closed in satisfaction over their food, wiry ones whose clothes puffed over sinewy bodies. The lean ones looked the meanest, lips curling venomously under blood-shot eyes. Jacob thought this as he glanced at them. They were sizing him up, he could tell this. They imagined how much it would take to claim a win in a fight with Jacob and his men. And when one of them whispered something to another, when they leered at Jacob and laughed, he too dreamed how it would go down in a brawl."
Just Finished
Political Bossism in Mid-America by Orville Menard.
Now Reading
Black Mamba Boy by Nadifa Mohamed.
Up Next
Death is Not an Option by Suzanne Rivecca.