You are currently browsing the tag archive for the 'Missouri Review' tag.
I've been working on a few new short stories lately, but the majority of May was devoted to beginning the initial drafting process for Part 5 of my novel The Hyphenates of Jackson County—the final section of the book. It's all kind of a big mess right now, but it's good to get into it. This always happens after I spend a couple months in revision, and this time was no different. The writing comes tough, in small amounts, 500-1000 words a day. It's mostly blocking scenes, organizing notes, working out important descriptions and finding where symbolism might emerge. It takes a while to build some momentum and get a feel for how this part of the story should be told.
The narrative style I use is pretty steady throughout the book—third-person, through the point-of-view of my main character Jacob Bressler, although I'm experimenting with some brief first-person sections, too—but the main issue comes from the time scope of the book. The present-time thread of the novel takes place over three years, from 1917-1919, or starting when the United States declares war on Germany in 1917 and ending with the Red Summer and Omaha Race Riot of 1919. It's not a huge amount of time for a novel, gratefully, although there is a lot going on, and it's a challenge to account for the lost, un-narrated time between parts. Particularly in first drafts, I think I pay too much attention to what's happened in the time gaps, instead of just getting into the action at hand. A lot of that will be eliminated soon enough, most of it in the initial edits. But it makes things a little clunky and difficult in the first draft.
Anyway, I'm really excited to be this close to finishing a draft of my first novel. I hope to be done with a rough version of Part 5 by the end of the summer. And since I've been editing the other parts as I've gone along, there isn't a tremendous amount of work yet to be done, relatively. (I've been working on the book for about two years now.) If all goes well, I should have a decent draft of The Hyphenates of Jackson County finished by Spring 2012. Here's hoping anyway. It's not like I'm on deadline or anything.
In other news this past month:
-"The Current State of the Universe" is featured in the new issue of The Cincinnati Review. The story won their Schiff Prize for Prose last year, and I'm very excited to make it into this journal.
-Prairie Schooner accepted my review of David Philip Mullins' Greetings from Below for publication. This will be my third review for PS, where I'm also currently a senior fiction reader.
-On cue, my second review for Prairie Schooner—of Nadifa Mohamed's Black Mamba Boy—appears in our current summer issue. Check it out. It's a pretty good one. (The issue, I mean. (The review is okay too.))
-In April we learned that Kwame Dawes was coming in as the new Editor of Prairie Schooner; in May we learned that Managing Editor James Engelhardt was leaving. James secured a position as the acquisitions editor for University of Alaska Press, and leaves for Fairbanks early in June. (Actually, today I think.) I owe a great debt to James for all he's done for my editing and reviewing career, if I can call it that. James took me on as a reader after I received my MA from Creighton. I was looking to maintain some involvement in the literary world, and volunteering for Prairie Schooner has been a great anchor for me. After a year-and-a-half, I made my way up to a senior reader position; PS accepted my first book review, after some editorial help from James; my first two trips to AWP came with funding assistance from PS as well. I feel very grateful for what Prairie Schooner has done for me, in giving me the opportunity to work, particularly as someone who isn't otherwise involved in the English Department at the University of Nebraska—and I owe much of that gratitude do James, I believe. Best of luck to him and his family on their Alaskan adventure! (And additional thanks for the fact that now, when I think of Alaska, I won't think of Sarah Palin.)
-Nicole and I celebrated our fifth anniversary in San Francisco!
-This blog featured a longish post about researching the lynching of Will Brown, and coming across a great NPR feature about the execution of Willie McGee and his granddaughter's quest to find out the truth about him many decades later.
Dispatch from The Hyphenates of Jackson County
"Jacob returned to Omaha the same morning President Wilson arrived from St. Paul. It was only partly coincidental it happened that way. Jacob was planning on coming back to Omaha that week anyway, to visit his friend Reinhold Bock, and then he read in the papers that Wilson was to arrive by train to the Union Station early Monday morning, before giving a speech on the League of Nations that afternoon. A parade route was planned out where Wilson's car would meander the city. When Jacob read this, he went down to the station in Lincoln and got a ticket to Omaha for the next morning. He bought himself a suitcase too, at the store there that sold them. It was something simple, with cardboard sides, that didn't lock. It wouldn't have to last forever. Jacob didn't know what he was going to do—he had no plan for the next year, or month, or for the next three days for that matter—but he wanted to see the president. He'd find a spot on Scandal Flats and wait for Wilson's car to pass by. It felt like it would be significant to do that. Jacob didn't know why. He just felt he needed to see the man. He needed to see the man as a man, that was it."
Personal Rejection Notes, Requests for More, and Other Nice Versions of No Thanks
West Branch for "On a Train from the Place Called Valentine"; Southeast Review and Conjunctions for "Attend the Way"; Missouri Review for "Shame Cycle."
Just Finished
The Cailiff's of Baghdad, GA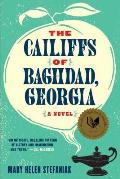 by Mary Helen Stefaniak. An excellent historical novel about racism and confronting the Other in depression-era Georgia, with a detour to the more famous Baghdad in ancient times. Very well done.
Quarantine by Rahul Mehta. I really enjoyed this collection—which revolves around the lives and loves of second-generation, homosexual, Indian-Americans—and will be reviewing it.
Now Reading
The Names by Don DeLillo.
Up Next
The Call by Yannick Murphy.
-We had out first flowers of the spring pop up mid month. The first sprouts we had were daffodil; the first blooms were crocus. Last year I was doing my residency at the Kimmel Harding Nelson Center for the Arts in Nebraska City when we had our first flowers, and I was pretty sad to miss them. Our winter wasn't nearly as hard as the last one was, but it's still pretty nice to be here to see things change. Our house was built in 1905, so we have things pop up pretty much everywhere too. Between the patio pavers, in the middle of the yard. It's awesome.
-Tomorrow my wife Nicole's new promotion and raise go into effect. She's so smart. Although, being promised a raise on April Fool's Day isn't all that promising.
-The Royals lost their Opening Day game against the Angels this afternoon. It was a pretty good game, especially after LA starting pitcher Jered Weaver was pulled. KC should have one of the best, most exciting, and youngest middle relief corps in the majors this year. Too bad they'll be pitching from behind most of the time.
-"How to Die Young in a Nebraska Winter" was published earlier this month in The Kenyon Review. It looks like they're still running a friends-and-family special at this link, for anyone who's interested in a discounted current issue or subscription. It was some pretty exciting stuff being in a TKR. I've had a few of these bigger publications now, and it's really something a guy or gal could used to.
-I was also interviewed by The Kenyon Review Online in anticipation of the release.
-Then, to cap off a crazy week, Confrontation accepted my story "The First Night of My Down-and-Out Sex Life" for publication. I haven't heard anything for sure, but, judging from the contract verbiage, I'm hoping it will run in November.
Personal Rejection Notes, Requests for More, and Other Nice Versions of No Thanks
Bat City Review and Missouri Review for "On a Train from the Place Called Valentine"; Ploughshares for "Shame Cycle"; and New Letters for "These Things That Save Us."
Now Reading
Greetings from Below by David Philip Mullins. Still reading this, kind of. I've been knee-deep in book prize manuscripts for pretty much the whole month. I will be finishing up my recommendations next week and then will be back on to published books again. I'm very much looking forward to it.
Up Next
My American Unhappiness by Dean Bakopoulos.
-I was lucky to see the National Christmas Tree when I was in Washington DC last month—as it fell over in a windstorm a couple weeks after I visited. My walking friend and I commented to each other at the time that the tree looked to be in pretty bad shape. Apparently it was! The tree I saw was installed during the Jimmy Carter presidency. A replacement will be planted this spring.
-The reviews I did last year for Justin Taylor's Everything Here is the Best Thing Ever and Teddy Wayne's Kapitoil were mentioned in a couple different Best Books of 2010 lists. Here are the links:
http://bygonebureau.com/2010/12/08/best-books-of-2010/
http://robaroundbooks.com/2010/09/afterthoughts-kapitoil-by-teddy-wayne/
-A healthy portion of "Welcome Home" was put up on Google Books, as it appeared in Best New American Voices 2009. It's not all there, but most of it is.
-"Welcome Home" was also mentioned on the news page of the Arts & Sciences College at Creighton University, where I did my MA. I should note, however, that the story may be selected for the Warrior's Journey coursework. Nothing is official as of yet. If I hear anything I'll be sure to post about it, as having my work included in that program would certainly be my biggest accomplishment to date. I'm very proud that they asked to use the story.
-My review of Marcy Dermansky's Bad Marie was published on The Millions.
Personal Rejection Notes, Requests for More, and Other Nice Versions of No Thanks
McSweeney's, Epoch, and Shenandoah for "On a Train from the Place Called Valentine"; Missouri Review for "The First Night of My Down-and-Out Sex Life"; and Crab Creek Review for "These Things That Save Us."
Now Reading
Greetings from Below by David Philip Mullins.
Just Finished
The Sun Also Rises by Ernest Hemingway. "I overtipped him. That made him happy. It felt comfortable to be in a country where it is so simple to make people happy. You can never tell whether a Spanish waiter will thank you. Everything is on such a clear financial basis in France. It is the simplest country to live in. No one makes things complicated by becoming your friend for any obscure reason. If you want people to like you you have only to spend a little money. I spent a little money and the waiter liked me. He appreciated my valuable qualities. He would be glad to see me back."
Nowhere Man by Aleksandar Hemon. A fantastic novel. Smart, melancholy and funny. I've only read two of his books so far, but Hemon is one of my favorite writers. He's really great, and I need to make the time to read all of his work.
Up Next
Other People We Married by Emma Straub.
[Note: I'm trying something new with the format for these posts, going to whole months in review rather than what was turning out to be 3-4 weeks in review. It isn't much of a change, except that I'll be pulling the longer topical and reflective sections out and making those into their own posts. The month in review posts will be more bullet point stuff. Not much of a change in content, but more and smaller posts. Hopefully that's a little easier to consume.]
Here are a few writing contests that definitely are worth the entry fee.
Missouri Review, Jeffrey E. Smith Editors' Prize in Fiction, Essay and Poetry: This has been one of the elite contests for a while, but now that the winners of each category receive $5000 and publication in the magazine it is really in a class by itself. That's some serious jackpot prize. Plus, they're throwing in a free subscription for everyone who enters–so everybody wins! $20 fee, Oct 1, 2009 deadline.
Summer Literary Seminars Unified Literary Contest: Winners in each category receive the choice of attending a two-week seminar in Montreal, Vilnius, or Nairobi, which includes airfare, tuition, and housing; plus publication in Fence, as well as lit journals in Canada, Lithuania, and Kenya. And just in case you weren't sure if this was a big-time contest, Mary Jo Bang and Mary Gaitskill will be judging. $15 fee, Feb. 28, 2010 deadline.
Tennessee Williams/New Orleans Literary Festival Fiction Contest: Prizes include publication in the New Orleans Review, $1500 cash, a VIP all-access pass to the March 2010 festival, domestic airfare to New Orleans, accommodations at this amazing hotel, and a public reading. That's a pretty nice package–and I'm always a sucker for travel prizes. They also have a "Stella Shouting Contest," if you feel compelled to channel your inner Brando. Jill McCorkle will judge. $25 fee, Nov. 16, 2009 deadline.
Zoetrope: All-Story Short Fiction Contest: First prize takes home $1000 and publication on their web site. The reason that this contest stands out if that all three prizewinners and seven honorable mentions will be considered for representation by a handful of the most prestigious agencies, including William Morris Agency, Sterling Lord, and Georges Borchardt Literary Agency, among others. This may not be appealing to everyone, but couldn't represent something big for the right person. Yiyun Li will judge. $15 fee, Oct 1, 2009 deadline.