You are currently browsing the tag archive for the 'Jackson Nebraska' tag.
I'm pleased to announce that my short story "The Mercy Killing of Harry Kleinhardt" was accepted for publication in the great, and newish, literary journal Midwestern Gothic! The story will appear in their next issue, which I believe will be Issue 8, Winter 2013. More specifics will be forthcoming, no doubt.
Here's an excerpt from "The Mercy Killing of Harry Kleinhardt":
Aaron never actually knew his mother, not in any real way. When he was a boy he fantasized about her coming back to rescue him from Nebraska, to take him with her to LA, New York, Chicago, wherever she'd landed. Aaron knew so little about her that these dreams seemed like they could be real. His dad never told him what really happened to her. Harry would say, "She's alive," if Aaron pestered him enough. "That's all you need to know. That woman you like to call your mom is still breathing somewhere."

Aaron didn't learn much about the world outside Jackson until later, but even as a boy it seemed pretty obvious that things were better elsewhere—and that this was the reason his mother left. There was an old joke about how Jackson was the only town in this free Union state to be named after a Confederate general, and that about summed up how out of step Jackson was with the rest of the planet, Aaron thought.

More than likely his mother met some men in Sioux City and took off from there. Maybe another woman hooked her into a hot lead for some quick money, some liquor or drugs, or a chance to work a back room at a horse track. Over the years, Aaron convinced himself of a thousand scenarios other than those that were likely. He dreamed, at different times, that she was a nomadic bounty-hunter in Texas, a piano teacher in Vienna, a pilot for the US Navy, an Amazon explorer, an African missionary. There was a long string of them. That she was the wife of an extraordinarily rich man was a recurring theme. They were ridiculous dreams. Aaron didn't have much to work with in creating them.
There is plenty of overlap in this story with my other work. That's always fun. For starters, the story is set in Jackson, Nebraska; the same Jackson County as is featured in my novel, The Uninitiated. (Read here for an explanation of how my Jackson, Neb. is different from the real Jackson, Neb; and how Sherwood Anderson's Winesburg, OH differed from the real Winesburg, OH in similar ways.)
Most of the crossover, however, stems from the fact that "The Mercy Killing of Harry Kleinhardt" is part of my Bad Faith series of stories, all of which have been published now. The Aaron Kleinhardt of "Mercy Killing" is the same from "Kleinhardt's Women" (Fogged Clarity, Dec 2010) and "On a Train from the Place Called Valentine" (Boulevard, Spring 2012), which shares characters with "The First Night of My Down-and-Out Sex Life" (Confrontation, Fall 2011) and "The Man Who Never Was" (Weekday, Summer 2010).
This is the first time I've written a series of connected stories so long–maybe testing my stamina before writing a novel?–and it's exciting to see all of the stories find a home. But with so much murder, sex, drugs, alcoholism, adultery, betrayal, and deception in the cycle, it's little wonder they've found an audience. Midwestern Gothic is a fitting end to this stage of the stories' publishing life, and an apt home for "Mercy Killing." I'm glad to have the story picked up, of course, and particularly glad that it was Midwestern Gothic who laid claim to it. Cheers!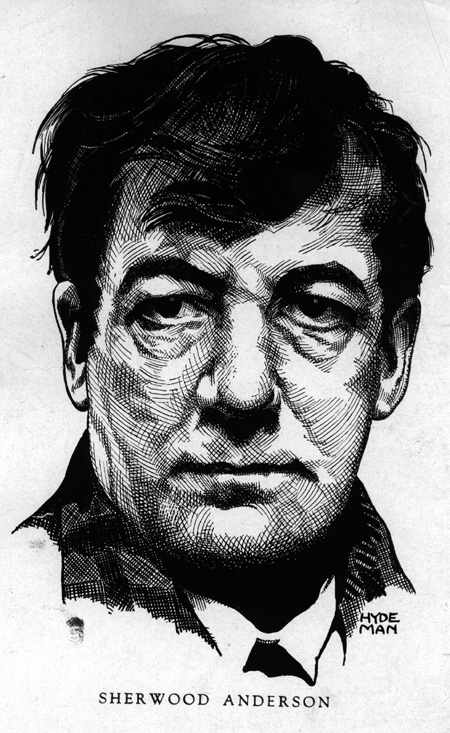 Here's a bit from Sherwood Anderson about his masterpiece, Winesburg, Ohio (from the Viking Critical edition):
Winesburg of course was no particular town. It was a mythical town. It was people. I had got the characters of the book everywhere about me, in towns I had lived, in the army, in factories and offices. When I gave the book its title I had no idea there really was an Ohio town by that name. I even consulted a list of towns but it must have been a list giving only towns that were situated on railroads.
I was so excited to come across this when rereading his collection last month. Most of my work is set in real cities and towns–in places like Omaha, Lincoln, Aurora, Valentine, McCook, Hastings, Bancroft, Atlanta–but I sometimes use a fictional town in my work–a place I called Jackson, Nebraska. (Or Jackson Township, or Jackson County.) I mostly use Jackson when I want to write about a nasty small town, so that my work doesn't slander a real place. Notably, my novel is titled The Hyphenates of Jackson County, referring to this rural county where my fictional small town is located.
When I started using Jackson as a setting as an undergrad, with my story "The Scythian Defense," (gsu review, Fall/Winter 2006) I checked an atlas to make sure that a Jackson, Nebraska didn't already exist–just like Anderson did in checking to see if there already was a Winesburg, Ohio. The map and index I checked didn't list a Jackson, Nebraska, so I thought I was in the clear. (Thanks a lot free State Farm atlas!) Much like Anderson, I was wrong. Maybe the atlas I had only listed towns that had a State Farm affiliate agent? Just kidding. Jackson is just too small and isolated to be on all maps, with a population just over 200. There are lots of places like that–and the people from these places often hold up their unmapped status as a point of pride. (There's a town in western Nebraska that has a population of 2. It's a must see, their house/city hall/library/school.)
I found out that Jackson,
Nebraska was a real place when I started researching the life of notorious Omaha political and crime boss Tom Dennison during the early stages of writing Hyphenates. Dennison grew up in an Irish settlement in northeast Nebraska by the name of St. John's. The settlement never really took hold and died off once its priest left–the Catholic parish still exists, St. Pat's–but a town remained even after the settlement broke. A town named, of course, Jackson.
This was kind of weird to discover. I'd already planned, before finding this in the research, to set some scenes in a fictional town based in part on the place where Tom Dennison grew up, and I was committed to calling the place Jackson County, due to connections in my body of work that I wanted to play off of. Little did I know that the town was already called Jackson.
This kind of freaked me out, but I wasn't too concerned about it. For one thing, the real Jackson wasn't on the map, so it was an honest coincidence. Also, I like the connection there between Tom Dennison and my fictional lead character, Jacob Bressler, and my previous work set in fictional Jackson. I'd meant to draw that line anyway, so if it's a little more real, so much the better, right? There should always be a distinction between fictional places and real places in fiction, of course, even if a lot of the work of the writer is to help the reader forget that what they're reading isn't real. Even my Omaha isn't the real Omaha, of course.
I ended up going through Jackson twice in 2010. Jackson is only 80 miles away from Niobrara, Nebraska, where some of my family comes from and still lives. I first ended up in Jackson when headed up to Niobrara for a funeral. (The second time was for a family reunion.) It wasn't something I planned. My brother Matt and I were just going along the highway when we happened into Jackson. "Oh, shit," I said, seeing a historical marker about the place. We stopped for some doughnuts and Mello Yellow. It was kind of surreal to be there. My fictional Jackson County is partially based on the area around Niobrara–and my forebearers who settled there, the Blankenfelds. I was thinking a lot about the landscape as we made the drive, and about those small towns, thinking through my novel at the same time. And then we ended up in Jackson. We just happened to stop in.
Turns out I'm in good company with Sherwood Anderson. The connection between one of my favorite writers excites me, and makes a special series of connections even better. Small world.