You are currently browsing the tag archive for the 'Flatmancrooked' tag.
I'm not sure how I missed announcing this earlier–seeing as I did mention, last year, that a digital version of my "The Housekeeper" is for sale on Amazon as part of the Mixer Countdown–but, better late than never, it bears announcing that Mixer's debut print anthology, of Love & Death: heartburn, headaches, and hangovers is now for sale on their website!
If you haven't yet read "The Housekeeper", or are looking for a print version, the anthology is a good one. Here's more:
of Love & Death: heartburn, headaches, and hangovers features award-winning writers Kate Braverman, Kirstin Allio, Myfanwy Collins, Tom Bonfiglio, Danny Goodman, Sam Decker, Daniel Grandbois, and many, many more. Structured in three parts, the anthology first explores the joy and pain of early relationships, then marriage, and finally family. of Love & Death is subtle, profane, tragic, lewd, thrilling, insightful, sad, provocative, painful, hilarious, insane, occasionally murderous, and authentically powerful–capturing the beauty and ugly of real life in all its variations. 15 stories in three parts–a rare thematically structured anthology that can be read as a composite novel of life.
I'm usually better about announcing these sorts of things–so I apologize for being late to the party on this one. For more about "The Housekeeper" and its multivaried path to publication, check out what I wrote about the story here, here, and here.
[Ed. note: It looks like my review of Christopher Narozny's novel Jonah Man is scheduled to go up on Kenyon Review Online on November 7. So forget all those annoying election post-mortems and instead opt for some timeless literary criticism.]
July was kind of a cluster, what with spending a week in Tel Aviv, and needing the week before takeoff getting ready for the trip. There wasn't a whole lot of time to write, but I did manage to add another thirty pages or so to the final part to The Hyphenates of Jackson County, my novel. It wasn't a ton of work to get done. But seeing how I spent most of May and June working on short stories, it was nice to get some momentum going on the novel again, and I think I did that. The ten hour flight from New York to Tel Aviv provided a big block of time to work, especially since I couldn't sleep on the flight over. I also had three days of writing and revising in Israel, two days in a park and one at the beach. (Supposedly Jonathan Safran Foer moved to Tel Aviv to finish work on his latest book, so I'm in good company there
. My hopes of becoming a superstar Jewish author are pretty slim, however. You know, because of this, among other reasons.) The change of scenery on the Mediterranean helped quite a bit, as a change often does. It's almost always easier to think about home (or familiar things) when you're far from home (surrounded by unfamiliar things). Being jarred out of my routine helped to get some gridlocked scenes moving again. I've kept writing outside this week too back in Omaha, working on the porch with a cold beer this afternoon. Not too shabby.
In other news:
-The big news of the month, in the small world of my writing, was that "On a Train from the Place Called Valentine" was selected for publication in Boulevard. The story will be featured in the noted journal in March 2012.
-Earlier in the month, my review of Suzanne Rivecca's debut collection (Death is Not an Option) appeared on The Millions.
-Nouvella Books unveiled their web site late in July. A spin off from Flatmancrooked's Launch program, Nouvella is keeping the good fight going in helping to kick start the careers of some deserving writers. Best of luck to them!
-I received a small blurb in The Kenyon Review monthly newsletter about my prize-winning story "The Current State of the Universe" appearing in The Cincinnati Review in May. I think it's very cool of TKR to do that kind of stuff. It's a small bit, but very much appreciated.
-There was a great article about Daniel Orozco and his debut fiction collection in the recent Poets & Writers (print only) about dealing with agents and editors before you're ready. Some very instructive stuff. Orozco's first published story appeared in Best American Short Stories 1995 to quite a lot of fanfare. "Right after that I was getting calls from agents and publishers asking to see my other stories, to see my novel," Orozco tells us. "But there wasn't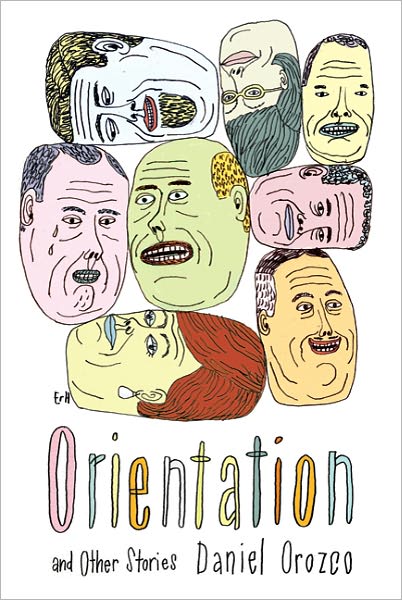 anything else. I was frantic for about a year–they all wanted something now. After a while they stopped calling and things quieted down, and I just settled back into my routine." A mere sixteen years later, the collection has been published–and, again, Orozco is an author on the rise. It's heartening to hear stories like this after my own experience in finding and losing an agent. The promise burns so bright when you're in that situation—flying out to NYC to read, having agents contact you, hearing the sirens' call of major publication and large advances—that when life slows back down, when that promise isn't fulfilled, it feels like you're washed up at twenty-eight. It's rare enough to even get one real chance in this business. But as Orozco's trajectory demonstrates, there are second chances too. If the writing is good enough, and if you're persistent about putting yourself on the line, there's opportunity yet.
Dispatch from The Hyphenates of Jackson County
"It's something I wondered a lot about over the years since it happened. What would have gone through his mind? What would he have been thinking of, or could he even think at all, when the cops finally handed him over to that mob? Could he still see or hear, was his tongue a useless mass, did his skin still feel, once that first bullet ripped through him? It's something I wondered about a lot. I wondered about that boy, Willy, and how it happened to him, and how, once it was all over, the war, the election, my time in Lincoln, I knew it wasn't going to happen to me. But for a time that could have been me who had that happen to him. Not exactly the same, but something like that. So I wondered how it felt to be picked up by a lynch mob. Would his eyes and ears work, or would he be too afraid? Would he have been able to hear what that mob promised to do to him?"
Personal Rejection Notes, Requests for More, and Other Nice Versions of No Thanks
Conjunctions for "Shame Cycle."
Just Finished
A Visit from the Goon Squad by Jennifer Egan. I never really fell in love with this one. I can see why people really like it, but it didn't happen for me. For one thing, several of the stories were eerily close to some episodes from Season Two of Californication. The book seemed too trendy—in its formal choices and content—almost intolerably so. A good book, but one that gnawed at me.
The Call by Yannick Murphy. This is a very good novel. I'll be reviewing this soon, so I won't say much here now.
Now Reading
A Sport and a Pastime by James Salter.
Up Next
Winesburg, Ohio by Sherwood Anderson.
June turned out to be all about new short stories for me. I completely reworked one short story, wrote a new one, and put the final touches on yet another. I'd planned on drafting new material for the novel this month, but was really swept up in the short form for a few weeks and had to put off any new writing for the novel. It had been so long since I had much passion for writing short fiction, I didn't want to miss the opportunity. It felt pretty good to pump out a few stories in a small period of time, after working on one project for nearly two years now. To hear some new voices, to deal with different types of problems—those faced by married people, by people alive in this century, by those from the middle class—was kind of nice. It will also be nice to have some new stories to send out to journals this fall, which hasn't been the case for a while.
In other news this past month:
-Mixer Publishing released my short story "The Housekeeper" on Amazon, available for download on Kindle or PDF. The story was originally published on Flatmancrooked earlier this year, but they have apparently taken down their entire site. That sucks.
-And if you're already on Amazon, you might as well download the spring issue of The Kenyon Review, which features my short story "How to Die Young in a Nebraska Winter."
-A story that just so happened to be reviewed on the blog Perpetual Folly as part of its Short Story Month 2011.
-Also, The Kenyon Review released their summer reading recommendations, including two of my picks.
-My review of Richard Burgin's novel Rivers Last Longer appeared in the Pleiades Book Review.
-In other review news, The Millions will be running my review of Suzanne Rivecca's debut short story collection Death is Not an Option sometime this month.
Dispatch from "Impertinent, Triumphant"
"We talked about marriage for a long time. About the good stuff, then the bad, then the qualifications and excuses of what we'd said before. Something happened to Anna, she was emotional, she calmed down, something else happened a few weeks after that, and it wasn't until later that she remembered the first thing, the original outrage, and by then it was too late for her to do something about it. My stories were the same, structurally. Eventually we turned listless and bleak, hearing about each others' marriage wounds. They lacked finality. We wanted firm endings, closure, but that wasn't possible."
Personal Rejection Notes, Requests for More, and Other Nice Versions of No Thanks
Florida Review for "Attend the Way."
Just Finished
The Names by Don DeLillo. I've read nearly all of DeLillo's work now, and this is by far the most underappreciated novel of his I've come across. It's really pretty good. One from his espionage meme, with a domestic twist, about a spy for the CIA who doesn't know he's working as a spy for the CIA. The only thing I can think of to explain its lack of recognition is that The Names, for one, comes from DeLillo's first period of work, before he was famous, and, secondly, that it covers a lot of similar ground as some of his later intelligence novels, like Mao II, Underworld(my favorite!) and, to some extent, Libra.
Now Reading
A Visit from the Goon Squad by Jennifer Egan.
Up Next
The Call by Yannick Murphy.
For Day 8
of Mixer Publishing's countdown to the launch of their web site, they released my short story "The Housekeeper" via Amazon.com in Kindle format. This is pretty cool. I love the art they are using (see right) which I believe is the cover for their forthcoming anthology of Love and Death: heartburn, headaches & hangovers.
Mixer calls the story a "dark Chekhovian gem." Here's what else they have to say:
In "The Housekeeper," Scott Ritter is haunted by the embarrassing memory of his father Frank, an author of seedy pulp novels. Does he struggle with his father's ambiguous sexual preferences, or his own? Like Chekhov, Theodore Wheeler paints a devastating psychological portrait of denial, and refuses to wrap the answers up with a pretty bow.
Thanks so much to Steve Owen, Rebekah Hall, and everyone involved with Mixer. It all seems to be coming together very nicely for them as they launch the venture. The aesthetic is sharp and some great writers are on board. I'm excited to be a part of it. As you may remember, "The Housekeeper" was originally slated to appear in Flatmancrooked 4, but that didn't happen, of course, once FMC shuttered. Steve, formerly an editor there, stepped up and saved the anthology, reviving it for Mixer. I'm so happy he did, as it looks to be an excellent compilation.
You can find links to the other stories featured in Mixer's launch countdown here, on their Facebook page, and on Amazon. There's work by Myfanwy Collins, Kate Braverman, Daniel Grandbois, R. Neal Bonser, and more.  You will also be able to find them at mixerpublishing.com very soon.
-April turned
out to be something of an uneventful month for me, which isn't so bad. After all the good news and happening of March, it was nice to have a little more mental space to work in. I took a week off work and did a big revision of my short story collection, How to Die Young in Nebraska. A few stories were cut, I combined a few into a novella, and rearranged all of what was left into something kind of new. I took part in the initial screening for the Prairie Schooner Book Prize this year, and I tried to apply the lessons I learned from that experience as a screener/editor to my own collection. Hopefully it's much better. I think it is. It's a little shorter than before, the overall quality is a little more consistent, and the sense of narrative flow has been enhanced. We'll see if there's much of a response, as I have it out to a couple contests and small presses now.
-One thing I did a little different in my editing of the collection was to let myself revise older, published stories. My old agent was usually against this practice, maybe afraid that I would undo the magic of a piece by tinkering with it after it had already been edited and published. There's a certain logic to that, but I felt it was time to make some smaller changes. My main motivation was thinking that I'm not exactly the same writer I was two or three or five years ago, and that the collection read a little too much like a fossil record of my stylistic changes over the period that I've been working on the book. Since I didn't like that, I tried to make the book more consistent in style as well. That seems to make a lot of sense. Common sense even.
-Speaking of PS, Kwame Dawes was officially announced as the new Editor of Prairie Schooner. The last two years have been a little uncertain, as we looked for someone to replace longtime editor Hilda Raz, and I'm excited how it turned out.
-Darren and Lacey had their wedding this past weekend. Congrats to the Keens!
-I finally framed and hung a piece (see photo) that I made when I was at the Kimmel Harding Nelson Center for the Arts in March 2010. It's pretty simple: an original Sunday supplement insert from the Omaha Daily News, from August 1912, on which I inked different descriptions of women that I wrote during my residency at KHN. I found the newspaper at an antique shop down the street from the arts center. It only took me a year, but I finally got the thing up on the wall, and I like it.
-Flatmancrooked officially called it quits in April. Here's what I had to say about it.
-Looking ahead to May, The Cincinnati Review featuring my prize-winner, "The Current State of the Universe," will be out on newsstands and in mailboxes. So get ready to hear more about that.
Personal Rejection Notes, Requests for More, and Other Nice Versions of No Thanks
"Attend the Way" was named a finalist in the Summer Literary Seminars' Unified Fiction Contest. Kind of a slow month for rejections. I don't really have that much stuff out there right now.
Just Finished
Greetings from Below by David Philip Mullins. A very nice collection that I'm in the process of reviewing. The final three stories are exemplary, and they make for a knock-out conclusion to the book. I can't recall another collection that sprints to the finish as much as Greetings from Below does. Usually it's more of a ruminative, self-reflective inching forward that gracefully puts an end to the proceedings, but GfB doesn't really follow that format too much, which is good.
My American Unhappiness by Dean Bakopoulos. I'm still not really sure what to make of this book. It's kind of chick-lit for thirty-something men, if that makes any sense. There are long stretches of great, interesting writing, but the first-person narrator is very glib and kind of a frustratingly clueless person at times. MAU will probably reignite some of the debates about unlikable lead characters that raged last year with the release of Jonathan Franzen's Freedom.
Now Reading
The Cailiffs of Baghdad, Georgia by Mary Helen Stefaniak.
Up Next
Quarantine by Rahul Mehta.
So word officially came out this week that Sacramento-based independent publisher Flatmancrooked is no more. This is really too bad, as FMC did quite a few innovative projects in their three years of existence. They're probably best known for the Zero Emission Book Project, what with the front page coverage provided by Poets & Writers. It was a nice bit of success that took on a life of its own, although the excitement seemed to fizzle a bit once the book actually came out, and to not so great reviews. The LAUNCH program was, and is, a good idea, and excelled at hooking talented young writers into FMC's effective promotions network. Their off-site events at AWPs Denver and Washington DC were very well done and were highlights for me both years. The Literati Gong Show this February was particularly awesome.
You can read Elijah Jenkins' farewell note here. Here's the main thrust of it:
You've might've heard the rumors by now and, unfortunately, the rumors are true. Flatmancrooked is closing its doors. The reasons for this are varied but are largely due to my decision to leave publishing in order to focus on my family and health. Various editors, including our illustrious Senior Editor Deena Drewis and Associate Editor Steve Owen shall remain in the game, producing good work with new entities. Deena will be continuing with a novella press much in keeping with LAUNCH and the novellas we put out at FMC–stay tuned here: nouvellabooks.com; Steve is starting a journal and press called Mixer, which promises all the whimsy and brains of a mixed-genre, experimental endeavor; details TBA, so keep your eyes peeled.
I'm glad Deena is keeping LAUNCH going. It's a worthwhile venture and something that will fill a need in the marketplace. In my experience at conferences, there always seem to be a really good fiction writer who writes very long stories, and subsequently has trouble getting them published in large part because of their length. Nouvella Books would seem to be perfect for folks like this. So be sure to mention it if the opportunity arises.
Two of my short stories were published by FMC. Impatiens (Pt. 1 & Pt. 2) was featured on their website and in Flatmancrooked's Anthology of Great Writing Done During an Economic Depression. The anthology is for sale at a deep discount ($3) at their online store. If anyone's interested, you can find it here. (The saucy cover art is featured above.) A second story, The Housekeeper, was on the website in January and was slated to appear in Flatmancrooked 4, but that isn't going to happen now. Steve Owen (Mixer Publishing) is trying to keep the anthology together and publish it as Mixer's first offering. I hope he can work it out, as it was something a lot of us were looking forward to.
I mentioned this on Facebook, but it bears repeating. I feel very blessed to have been able to work with Flatmancrooked these past few years, and am saddened that they won't be able to continue on. Everyone knows that independent publishing is a particularly difficult endeavor and no excuse is required for hanging it up when the time comes. I wish nothing but the best for Elijah, Deena, and all the others.
So the giant writers, editors, and publishers trade show, otherwise known as AWP, was last week in Washington D.C. It's kind of hard to pull together anything too coherent regarding a constant stream of cocktails, skipped lunches, reunions, readings, casual encounters, and events, so I'll go after this in bullet point fashion.
-I really had no idea that DC was such a fun city. My preconception was mostly made up of tour groups, packs of roving lobbyists, and motorcades. (I did see two motorcades, which was kind of exciting.) However, the Adams Morgan neighborhood was pretty awesome, as nights at Madam's Organ Blues Bar and the Black Squirrel proved. Elijah Jenkins and Flatmancrooked put on an awesome event with the Literati Gong Show at Madam's Organ on Thursday night. The place was absolutely packed and the attention was warranted. Here's hoping the LGS becomes a mainstay. It's a great twist on literary readings.
-It was somewhat curious how many street people accused me of "running game." So that means I look like an easy mark, right?
-I heard the Jhumpa Lahiri keynote was kind of disappointing—I couldn't make it back for it—but the Junot Díaz reading on Friday night was really something special. He spoke with lucidity and freshness about so many writerly issues that it kind of felt like an important, albeit informal, commencement address. His comments on Robert Smithson's Somewheres and Elsewheres and the essay "The Monuments of Passaic" made it clear to me why—as a writer from a backwaters—Díaz' work resonates with me. And his response to the question about profanity was really heartfelt and fascinating as well.
-The Benjamin Percy, Rick Moody, Joshua Ferris, Jennifer Egan reading was a highlight as well. You would expect a reading with such big names to be good, but this was as mind-blowing awesome as something can be right after lunch on a Saturday afternoon. It exceeded high expectations.
-There were only a few panels I made it to, and none of those were all that interesting. Much of the problem is that I pigeon-holed myself a little too much, picking panels that were similar to those I've seen in the past. That was pretty much the problem. It was too much of an echo from last year. Going outside the box will be important for next year.
-The Book Fair was pretty good though. It seemed really crowded, which is a good thing. More than that, most everyone was pretty enthusiastic and friendly, and only a few people came up to the Prairie Schooner table to sell us something. Awkward. It was great to meet some new people, to animate some Facebook faces, and to reconnect with a few friends. All of which is pretty much how it's supposed to be. It was especially nice to meet the journal editors I've been working with over the past year.
-The conference can be kind of exhausting, particularly in that you're constantly talking about your own writing and reading and thinking. For someone who doesn't get that much stimulation along these lines, it takes a bit of stretching out. This, however, was one of the best parts of the week. After all, you can't feel too bad about being asked to talk about yourself. Anyway, it's a great self-reflective exercise, as you're forced to distill the components that express what your work is about down to a few cogent sentences. If you're not sure what your book is about, or what the core conflict is, or what the basis of your main characters are, trying to explain these things a dozen times a day is a great way to find out if you have something going, or if you're full of shit. (It's okay to be full of shit, of course. But you should know you are, and then be able to do something about it.) It helped refresh my conception of my own work and showed me what ideas had dropped by the wayside. These kinds of oral exams can be painful to go through, but I think they're important.
-Look out Chicago 2012!
For the past few months I've been working on a rewrite of my novel. A lot of the process has been interesting and fun. It's kind of nice to open up long-settled writing and start playing with things like point-of-view, voice, and structure again. Of course, there are some not-so-fun aspects too. Probably the worst, at least emotionally, is figuring out if you're at the point when a rewrite is necessary, or not. I doubt anyone really wants to take on such a large project that's essentially redoing work you thought was done, work you may be pretty proud of. There's so much emotional turmoil that comes with starting over. You start thinking of wasted months, years, the thousands of words that have already been thrown out. And that's before you start reconsidering POV and structure, the rhythm and tone. It's questioning your very way of being. It's a painful threshold to cross. As I've been working through this, I wondered how others might confront this problem. Please comment if you have some tips or ideas, or what might be some helpful reading. I'd love to hear them.
In the meantime, here's how I've handled it.
Generally my revision process is tied closely to my submission cycle, especially with short stories. The main thinking here is that, after a dozen rejections, you should have an idea of how a story is being received. Even if editors aren't sending back hand-written notes or requests to see more work, such silence can still mean something. After a while, the feedback and notes, or lack thereof, point to a course of action. From there, you can ascertain whether the piece needs some tweaking or an overhaul. (Or maybe a trash can.)
With short stories, getting positive notes helps point me to what stories are hot or close. I keep close track of them. I may let it roll unchanged then, or it may push me to take a really hard look at what may be a winning revision, knowing that it's on the verge of acceptance. For the novel, it's harder because the piece is so much larger. But feedback from agents can be invaluable, if you know how to read what they're saying. I think the most common cause of an agent rejection is that they don't connect on a personal level with the material, which can really mean anything. So, is it just that, a missed connection with an individual, or is there a more serious problem with the manuscript. How do you know? This is where volume comes into play. Getting a bunch of rejections can be a good thing, if there's feedback involved. If you keep hearing the same thing over and over, that's probably a sign of what the problem is. It's pretty simple.
With my current novel, I'd received feedback from a half-dozen agents. This isn't a ton, but all of them gave pretty specific reasons why they felt the book wasn't right for them. Some of them were kind of dubious of my going from a collection of edgy, contemporary stories to writing a historical novel. I wondered if there's something about historical fiction that precludes it from being edgy, but realized that that probably wasn't the problem. It was the way my book was structured, the way I was trying to shelter my protagonist from doing bad things—which is a problem, since I have trouble writing "nice guys"—and the way I sometimes allowed the history to overpower the story and how this also put a dry, scholarly slant to the narrative voice. (And a lot of this came from my having to figure out the history too. It was hard to understand the scope and structure of the story while I was still learning new, game-changing things about the history I'm dealing with. I put a lot of stock in the idea that we think best through writing. It just took me a lot of words to grasp these ideas.) I couldn't see these problems without my clutch of rejection notes, which is the larger point here. It sucks to struggle through a stack of rejections, but this is why I've always enjoyed the process of submitting stories. I've been pretty lucky to get some nice feedback from editors and agents—that's a big part of it—but the process is such a great motivator, conscience, and teacher as well. It makes you be honest with yourself about what's actually on the page, the quality of the work, and what more you'll have to wring out of it to make the story a success.
I'm not sure if there's any other way for me to write besides building out of a series of failures. Maybe I'm too prideful to see my mistakes until well after I've made them. Maybe this is how it is for everyone. In any event, I think the rewrite of Hyphenates is turning out well. This new series of stets, scribbles, false starts, and mistakes is progressing nicely.
Dispatch from The Hyphenates of Jackson County
"It was liberating to sit on the stoop early in a May evening, in those middle-spring hours when it was warm enough for Jacob to roll up his shirtsleeves and let the air hit his skin again. It was one of the main promises of spring, that there would be more of these nights to come, barefoot and comfortable, reclined in a sturdy chair. No mosquitoes yet, no bearing-down evening swelter. The whole world was green in those hours, breezy and clear."
Personal Rejection Notes, Requests for More, and Other Nice Versions of No Thanks
New England Review and CutBank for "On a Train from the Place Called Valentine"; Copper Nickel and Third Coast for "These Things That Save Us." And, of course, "The Housekeeper" was published on Flatmancrooked last week!
Now Reading
The Sun Also Rises by Ernest Hemingway.
Just Finished
Bad Marie by Marcy Dermansky. An interesting study of the anti-hero as filtered through French cinema. It's pretty good! Highly recommended for all fans of movies set in Paris, or for anyone who has named their first-born child after the heroine of their favorite French film.
Up Next
Greetings from Below by David Philip Mullins.
My near-prize-winning story "The Housekeeper" was published today on Flatmancrooked! (Find it here!) "The Housekeeper" was a finalist for FMC's 2010 Fiction Prize and will also be featured in their forthcoming print anthology, Flatmancrooked 4, later this winter.
I've previously blogged on the roots for this story here, if you're interested in the seed.