You are currently browsing the tag archive for the 'Don DeLillo' tag.
The Kenyon Review offered up its holiday reading recommendations today in its December newsletter. You can find my contribution at the bottom of the page.
The books I recommend?
Don DeLillo – The Names
Robert Stone – A Flag for Sunrise
Denis Johnson – Tree of Smoke
I hope you're sensing a theme, one that isn't exactly "The Holidays" but is still a lot of fun.
There are some great recommendations from Kenyon Review editors, staff, book reviewers, and contributors, so be sure to check them out. Also, if you haven't read my review of Christopher Narozny's Jonah Man in the Fall Issue of Kenyon Review Online, be sure to take a gander over there as well if the mood strikes.
A couple weeks ago The Millions released their "Most Anticipated" book preview for the second half of 2011, and there are some really great books on the list. Some of these forthcoming releases are pretty exciting. You should check out their article for the full thrust of the season, but, nonetheless, here are the ones that have me on tenterhooks.
Don DeLillo will publish his first collection of short stories in November with The Angel Esmerelda: Nine Stories. The stories included were written between 1979 and 2011, so it's a pretty big range to draw from–and is clearly a collected stories kind of thing with a different label. It is a new book from DeLillo, however, so I'm eager to read it.
Dan Chaon, probably my favorite contemporary writer of short fiction, comes out with a new collection early in 2012 called Stay Awake. I liked his novels okay, but, for me, Chaon's short story collections are where it's at.
Colson Whitehead wrote a post-9/11 zombie novel–Zone One–that comes out in September. It looks pretty interesting. Whitehead's The Intuitionist is one of my favorite novels, and one I highly recommend checking out if you haven't yet read it.
Denis Johnson's Train Dreams comes out in August. It's a novella that was originally featured in the 2003 O. Henry Prize Stories anthology.
Roberto Bolano has yet another posthumous release with The Third Reich. The title refers to a war game some Germans get caught up in while vacationing in Spain.
Lauren Groff comes out with Arcadia in 2012, a novel about a utopian sect in rural New York that falls apart.
Yannick Murphy's The Call. I'll be reading this over the weekend. A novel written as diary entries about a family's difficult year after a son goes into a coma following a hunting accident.
DBC Pierre's Lights Out in Wonderland is also an August release. An international, satiric romp that takes its aim on the largesse and iniquities of late capitalism.
Also, Dave Madden's The Authentic Animal is out soon–a nonfiction book about the world of taxidermy–and you can win a copy via HTML Giant's current caption contest.
June turned out to be all about new short stories for me. I completely reworked one short story, wrote a new one, and put the final touches on yet another. I'd planned on drafting new material for the novel this month, but was really swept up in the short form for a few weeks and had to put off any new writing for the novel. It had been so long since I had much passion for writing short fiction, I didn't want to miss the opportunity. It felt pretty good to pump out a few stories in a small period of time, after working on one project for nearly two years now. To hear some new voices, to deal with different types of problems—those faced by married people, by people alive in this century, by those from the middle class—was kind of nice. It will also be nice to have some new stories to send out to journals this fall, which hasn't been the case for a while.
In other news this past month:
-Mixer Publishing released my short story "The Housekeeper" on Amazon, available for download on Kindle or PDF. The story was originally published on Flatmancrooked earlier this year, but they have apparently taken down their entire site. That sucks.
-And if you're already on Amazon, you might as well download the spring issue of The Kenyon Review, which features my short story "How to Die Young in a Nebraska Winter."
-A story that just so happened to be reviewed on the blog Perpetual Folly as part of its Short Story Month 2011.
-Also, The Kenyon Review released their summer reading recommendations, including two of my picks.
-My review of Richard Burgin's novel Rivers Last Longer appeared in the Pleiades Book Review.
-In other review news, The Millions will be running my review of Suzanne Rivecca's debut short story collection Death is Not an Option sometime this month.
Dispatch from "Impertinent, Triumphant"
"We talked about marriage for a long time. About the good stuff, then the bad, then the qualifications and excuses of what we'd said before. Something happened to Anna, she was emotional, she calmed down, something else happened a few weeks after that, and it wasn't until later that she remembered the first thing, the original outrage, and by then it was too late for her to do something about it. My stories were the same, structurally. Eventually we turned listless and bleak, hearing about each others' marriage wounds. They lacked finality. We wanted firm endings, closure, but that wasn't possible."
Personal Rejection Notes, Requests for More, and Other Nice Versions of No Thanks
Florida Review for "Attend the Way."
Just Finished
The Names by Don DeLillo. I've read nearly all of DeLillo's work now, and this is by far the most underappreciated novel of his I've come across. It's really pretty good. One from his espionage meme, with a domestic twist, about a spy for the CIA who doesn't know he's working as a spy for the CIA. The only thing I can think of to explain its lack of recognition is that The Names, for one, comes from DeLillo's first period of work, before he was famous, and, secondly, that it covers a lot of similar ground as some of his later intelligence novels, like Mao II, Underworld(my favorite!) and, to some extent, Libra.
Now Reading
A Visit from the Goon Squad by Jennifer Egan.
Up Next
The Call by Yannick Murphy.
I've been working on a few new short stories lately, but the majority of May was devoted to beginning the initial drafting process for Part 5 of my novel The Hyphenates of Jackson County—the final section of the book. It's all kind of a big mess right now, but it's good to get into it. This always happens after I spend a couple months in revision, and this time was no different. The writing comes tough, in small amounts, 500-1000 words a day. It's mostly blocking scenes, organizing notes, working out important descriptions and finding where symbolism might emerge. It takes a while to build some momentum and get a feel for how this part of the story should be told.
The narrative style I use is pretty steady throughout the book—third-person, through the point-of-view of my main character Jacob Bressler, although I'm experimenting with some brief first-person sections, too—but the main issue comes from the time scope of the book. The present-time thread of the novel takes place over three years, from 1917-1919, or starting when the United States declares war on Germany in 1917 and ending with the Red Summer and Omaha Race Riot of 1919. It's not a huge amount of time for a novel, gratefully, although there is a lot going on, and it's a challenge to account for the lost, un-narrated time between parts. Particularly in first drafts, I think I pay too much attention to what's happened in the time gaps, instead of just getting into the action at hand. A lot of that will be eliminated soon enough, most of it in the initial edits. But it makes things a little clunky and difficult in the first draft.
Anyway, I'm really excited to be this close to finishing a draft of my first novel. I hope to be done with a rough version of Part 5 by the end of the summer. And since I've been editing the other parts as I've gone along, there isn't a tremendous amount of work yet to be done, relatively. (I've been working on the book for about two years now.) If all goes well, I should have a decent draft of The Hyphenates of Jackson County finished by Spring 2012. Here's hoping anyway. It's not like I'm on deadline or anything.
In other news this past month:
-"The Current State of the Universe" is featured in the new issue of The Cincinnati Review. The story won their Schiff Prize for Prose last year, and I'm very excited to make it into this journal.
-Prairie Schooner accepted my review of David Philip Mullins' Greetings from Below for publication. This will be my third review for PS, where I'm also currently a senior fiction reader.
-On cue, my second review for Prairie Schooner—of Nadifa Mohamed's Black Mamba Boy—appears in our current summer issue. Check it out. It's a pretty good one. (The issue, I mean. (The review is okay too.))
-In April we learned that Kwame Dawes was coming in as the new Editor of Prairie Schooner; in May we learned that Managing Editor James Engelhardt was leaving. James secured a position as the acquisitions editor for University of Alaska Press, and leaves for Fairbanks early in June. (Actually, today I think.) I owe a great debt to James for all he's done for my editing and reviewing career, if I can call it that. James took me on as a reader after I received my MA from Creighton. I was looking to maintain some involvement in the literary world, and volunteering for Prairie Schooner has been a great anchor for me. After a year-and-a-half, I made my way up to a senior reader position; PS accepted my first book review, after some editorial help from James; my first two trips to AWP came with funding assistance from PS as well. I feel very grateful for what Prairie Schooner has done for me, in giving me the opportunity to work, particularly as someone who isn't otherwise involved in the English Department at the University of Nebraska—and I owe much of that gratitude do James, I believe. Best of luck to him and his family on their Alaskan adventure! (And additional thanks for the fact that now, when I think of Alaska, I won't think of Sarah Palin.)
-Nicole and I celebrated our fifth anniversary in San Francisco!
-This blog featured a longish post about researching the lynching of Will Brown, and coming across a great NPR feature about the execution of Willie McGee and his granddaughter's quest to find out the truth about him many decades later.
Dispatch from The Hyphenates of Jackson County
"Jacob returned to Omaha the same morning President Wilson arrived from St. Paul. It was only partly coincidental it happened that way. Jacob was planning on coming back to Omaha that week anyway, to visit his friend Reinhold Bock, and then he read in the papers that Wilson was to arrive by train to the Union Station early Monday morning, before giving a speech on the League of Nations that afternoon. A parade route was planned out where Wilson's car would meander the city. When Jacob read this, he went down to the station in Lincoln and got a ticket to Omaha for the next morning. He bought himself a suitcase too, at the store there that sold them. It was something simple, with cardboard sides, that didn't lock. It wouldn't have to last forever. Jacob didn't know what he was going to do—he had no plan for the next year, or month, or for the next three days for that matter—but he wanted to see the president. He'd find a spot on Scandal Flats and wait for Wilson's car to pass by. It felt like it would be significant to do that. Jacob didn't know why. He just felt he needed to see the man. He needed to see the man as a man, that was it."
Personal Rejection Notes, Requests for More, and Other Nice Versions of No Thanks
West Branch for "On a Train from the Place Called Valentine"; Southeast Review and Conjunctions for "Attend the Way"; Missouri Review for "Shame Cycle."
Just Finished
The Cailiff's of Baghdad, GA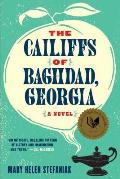 by Mary Helen Stefaniak. An excellent historical novel about racism and confronting the Other in depression-era Georgia, with a detour to the more famous Baghdad in ancient times. Very well done.
Quarantine by Rahul Mehta. I really enjoyed this collection—which revolves around the lives and loves of second-generation, homosexual, Indian-Americans—and will be reviewing it.
Now Reading
The Names by Don DeLillo.
Up Next
The Call by Yannick Murphy.
Since returning from AWP in early April, I've been preparing to query agents, and I'm happy to report that this week I've finally reached the end of this process—and the beginning of the next phase of actually finding new representation. It's taken much longer than I anticipated, mostly because of a few rewrites that became necessary in these middle stages of editing. (With big thanks to my wife Nicole for helping me to see how the shape/plot arc of Hyphenates Part I was not all it could be.) My first-choice agency requested full manuscripts almost immediately and is now deliberating. Wish me luck! Coincidentally, I received an out-of-the-blue email from a pretty big-time agent at the end of last week requesting some work. That was pretty cool. Maybe I'll be sending him something before long, depending on how my first-choice responds.
It's been somewhat of a weird process the last six months. My first agent left her agency right before Christmas last year, which left me without representation. It was kind of jarring at first, to be let loose like that. I'd probably put too much stock in having an agent, let my sense of self-confidence become too large based upon the fact that, like Don DeLillo, Al Pacinco and A-Rod, I had an agent out there stumping on my behalf. We worked together for over a year on my story collection and, what turned out to be failed, first novel. There were a lot of good things that came from the relationship–such as the idea to switch focus to the historical thread I'm telling with Hyphenates–and I feel much richer for the experience. But it was nice to move on, frankly, to have some free space to work out exactly what I was doing with my books, to dig deeper into myself, and to do so as a writer, rather than as a producer of potential market share. It reminded me of the reasons why I really love doing this, having the chance to indulge daily in the small acts of creation and destruction that eventually tease out a story. These six months have given me the opportunity to refine my projects considerably. And I'm thankful for them. But now, it's time to get back in the game, to pursue book publication with all I've got, and to provide for my family as best as I'm able.
Next week it's back to work on Part II, which is nearly completed in rough draft form. Hopefully by the end of the summer I'll have it in some kind of acceptable shape and can move on to actually finishing the book by the end of this year. Not to jinx myself or anything.
Thanks a ton to all my readers who helped work my manuscripts into shape before I sent them off, sometimes on very short-notice. Amber, Bill, Mary Helen, Nabina, Nicole, Travis—you're the best! And likewise for Jonis, Brent, Gregory, Justin, and Timothy, for giving advice and being advocates on my behalf. All of you are also the best.
-Nicole, Maddie and I were off in Fort Collins last weekend at a wedding. The photos in this post are from the trip.
Dispatch from The Hyphenates of Jackson County
"She was in the same clothes as before, the heavy red dress, torn and dirty by then. Her hair was thin, unpinned and breezy about her face. 'Is that her?' Strauss asked. 'That's the one you were on about last week?' Jacob said, 'Yeah,' still with his hand on the Pfarrer's shoulder, their faces close together as they stared at the girl. She was only twenty yards away from them, steadying herself against the trunk of a locust tree, one of the trees Jacob had slept under his first night in Omaha. 'Her betrothed skipped town,' Strauss said. It was obvious that the girl lived on the street now, that her family had turned its back on her, or she'd gone crazy and willingly exposed herself to the mutilating fractions of a city."
Personal Rejection Notes, Requests for More, and Other Nice Versions of No Thanks
Electric Literature for "The Current State of the Universe"; Alaska Quarterly Review for "On a Train from the Place Called Valentine"; Nashville Review for "The First Night of My Down-and-Out Sex Life."
Just Finished
The Turk and My Mother by Mary Helen Stefaniak. The first novel of a beloved Creighton professor, this one is highly enjoyable. A kind of folksy post-modern historical novel that seems largely drawn from family history and deals with the tumultuous love lives of our parents and grandparents before we knew them. MHS has a second historical novel coming out this fall, by the way.
Now Reading
What He's Poised to Do by Ben Greenman.
Up Next
The Lonely Polygamist by Brady Udall.
Books That Came in the Mail
What He's Poised to Do by Ben Greenman. The Lonely Polygamist by Brady Udall. Novel History by Mark C. Carnes. Bad Marie by Marcy Dermansky. Three Delays by Charlie Smith. The Great Lover by Jill Dawson. Lean on Pete by Willy Vlautin.
Did I mention we went to New York last month?
Dispatch from The Hyphenates of Jackson County
"The sidewalk was cluttered with her belongings, her furniture and clothes, a Victrola phonograph cabinet and a stack of records, a crate of wine bottles, a small painted portrait of a girl who could have been Evie standing on the plush cushion of a high-backed chair. There were several lounging chairs the men brought out too, upholstered with threadbare green fabric, small pillows to match. They were cheap pieces, second hand, perhaps, but nicer than what most people had on the Ward. And maybe her furniture didn't look so shabby in a dark room, Jacob thought, out of the sun. It was very bright suddenly, the air warming on what was becoming a cloudless August sky. Jacob could feel the heat of it on his skin, through his shirt."
Personal Rejection Notes, Requests for More, and Other Nice Versions of No Thanks
American Short Fiction for "The Current State of the Universe"; Salt Hill and The Missouri Review for "The Housekeeper"; Hunger Mountain for "These Things That Save Us"; Identity Theory for "You Know That I Loved You"; Makeout Creek for "Lycaon" and "From Indiana."
Just Finished
Point Omega by Don DeLillo. Mostly it's enjoyable for its language, with some nice plot here and there too. I didn't really go for much of the eschatological theory, although that might be how it's supposed to be taken.
Now Reading
The Unnamed by Joshua Ferris. I thought this started off horribly slow and redundant, but have been getting into after the first hundred pages.
Up Next
31 Bond Street by Ellen Horan
Novel Work
One of the more fulfilling aspects of writing this book is that it affords me the opportunity to look further into my own family history. Most of the research I've done pertains to historical figures and the circumstance of their lives, and to 1918 Omaha itself more broadly, its social functions, clothes, shops, music. But I've been filling in a lot of Jacob Bressler's character (who is entirely fictional) with my family history. And lucky for me, my grandma Cleo Blankenfeld Croson is also very interested in this topic. She's helped me learn about my great-great-great grandfather Henry Blankenfeld, who was born near Danzig, West Prussia (present-day Gdańsk, Poland) in 1843 and his wife Maria Eigler Blankenfeld, who was born in Rudig, Austria (which is near Innsbruck, I believe) in 1852. We're hoping to find out more on their arrival to America, but we do know they were married in Geneseo, Illinois in 1869. They did many jobs around Illinois and the Dakotas (and presumably before then too, wherever they landed) before homesteading near Niobrara, Nebraska, where my grandma grew up. We'll be going there in July for a family reunion, which should be exciting. I've been there many times in my life, but never with this kind of active knowledge, I suppose.
For the past two years I've been reading up on German history, just to have some background in it, to understand where my title hyphenates were coming from. I wondered what kinds of stories their parents and relatives would have told them about their fatherland, since none of my German-American characters would have ever even been to Germany themselves. Why were so many of their fore-bearers emigrating? What drove their families (and my family for that matter) to America in the first place? There was constant war in Europe during this period, of course, and the Franco-Prussian War would have directly affected Henry. Many young men fled Prussia to escape conscription, which is what I assume Henry's reason was too, although I can't really know that for sure. There were many difficulties in those years associated with the Unification of German states. The Kulturkampf came a bit later, so I doubt the Blankenfelds would have been involved in that. It's unlikely they were Catholic or Socialist anyway.
And Henry would have been too young to be a Forty-Eighter, one of the many failed democratic revolutionaries who came to North America from Europe. So there's so much I can't really know. Maybe a trip to Ellis Island would prove lucky, but very few of the databases I've found online go back far enough to be helpful. I'd like to go to Europe and root around, but no one kept records in that part of the world, or they were destroyed. Gdańsk itself has been under a dozen different governments in its history—and four of those since Henry Blankenfeld's birth.
The interesting part for me—coming from the standpoint of a novelist—is that it's almost better to not know. When I was his student at Creighton, Brent Spencer often referred to the art of fiction as pursuing the mystery, which I've always loved. It's kind of a mystic, Jesuit way of filling in the blanks. On a personal level, I'd love to have all the details of my family history. It would be incredible to know exactly where we come from—to be able to go there and place my hands on that earth. But as a writer, it's better to avoid that sort of conscriptive knowledge. The character Jacob Bressler is better for my lack of knowledge in this sense, because it gives me enough blanks to come to the story I'm telling, not the history behind it.
Dispatch from The Hyphenates of Jackson County
"'You know they used to call Dennison the King Gambler.' The Pfarrer was up on the balcony again, a new glass of wine in hand. 'Did you know this about your boss? He swindled a $100,000 on a boxing match in Louisiana. A fixed fight. He started as a bouncer and a sportsman out west, when he was your age, clearing out whole card halls in Denver playing faro. He hooked on here after winning big on the Louisiana fight, got the Daily Bee and the Perpetual Mayor on his side. Whole books have been written against Dennison and his underworld sewer, but he slips retribution. Nothing sticks to him.'"
Personal Rejection Notes, Requests for More, and Other Nice Versions of No Thanks
Hunger Mountain for "How to Die Young in a Nebraska Winter"; Third Coast for "From Indiana."
Just Finished
Ragtime by E.L. Doctorow. Along with Edward P. Jones, Doctorow is one of the two most famous historical novelists who claim to have done little to no research for their novels, relying rather on memory and imagination. I'm a little skeptical about this, but can see how it could be true. (For one, there were a few moments when I knew he was off.) Doctorow writes with such authority on well-known figures, but he mostly focuses on private moments that cannot really be refuted as the basis of his work. Who can say what Houdini was thinking at a particular moment, hanging upside-down from a building? And if the writing is entertaining, why would you want to intrude with literal truth anyway? As above, the less you know, the more freedom you have to invent. A great book. The movie adaptation was pretty good too.
Now Reading
Point Omega by Don DeLillo.
Up Next
The Unnamed by Joshua Ferris.
Link of the Month
Don DeLillo's recent reading at BookCourt in Brooklyn from the blog of BOMB Magazine.
Novel Work
It's been kind of a slow couple weeks. For reasons that will become obvious by the end of this entry, I haven't had a lot of time for writing lately. I was able to finish up work on the first chapter of Part II, which was nice. There are a few spots that need some work before I even start revising, but I'll probably just push forward into the second chapter before I worry about that. Was able to get some nice stuff down about the prostitution camps of Hell's Half-Acre, the lowest of the red light districts in the early days of Omaha. It was kind of strange, but I recalled quite a bit of stuff from a history course on the Progressive Era I took in 2004 as an undergraduate. It always amazes me how much of that stuff sticks. No matter how much research I do, the writing usually seems to find its way back to some obscure anecdote I heard years ago—something that has been fermenting for a long time in the mustier parts of my subconsciousness, I suppose. I always did do well on the comprehension and retention sections of the CAT tests in elementary school, however, and it's paying off now.
Nicole and I spent Labor Day weekend in Portland, which was palpably refreshing. About a half-dozen or so of our friends have moved out there in the past couple years, so we had ample company to enjoy the Oregon drizzle with. Old friend and rising visual artist Alexander Felton (who is apparently "ungooglable," but you should try anyway) graciously showed us around his studio. We really enjoyed seeing some of his artwork and discussing it in terms of Baudrillard and in other PoMo ways. After two hours and a few Hamm's, I only knocked over one of his plaster pieces, which isn't too bad for a lumberjack like me. Felton was recently visited by some representatives of the Whitney who may be hanging his work next year, so send some kind thoughts his way.
One more quick thought on Portland. I'm not sure if any other authors do this, but I really enjoy seeing my published work in famous bookstores, so we absolutely had to stop by Powell's in order for me to physically hold a copy of BNAV 2009. This is where it gets weird. As I stroll up to the shelf of fiction anthologies, I notice that another customer is browsing through the different volumes of BNAV and she just so happens to be holding a copy of 2009! I'm very excited, of course, and, as she turns to the Nam Le story, it occurs to me that maybe I should give her a little sales pitch. Maybe talk the book up a little. Maybe even offer to sign my contribution if she's interested. But I didn't say anything to her—I felt like enough of a stalker glimpsing my name over her shoulder—and she put the book back on the shelf. Should I have gone for the hard sell? Should I have risked embarrassment and just pulled out my pen and started signing? In hindsight, I should have gone for it. Just claim to be Mehdi Okasi and sign the book.
Dispatch from The Open City
"The heat intensified as they made their way in among the beduin camp. Timber piles had been driven into the mud and live copper wires strung between the poles held small illuminated bulbs. There were long rows of canvass tents, one after another, each with a woman reclining on her cot behind the door flaps. Some of the tents had crudely printed flyers pinned to their front, advertising some exotic fantasy or another. There were a multitude of variations—Mother Russia, the Queen of Siam, the Schoolteacher, Marie Antoinette, the Farmer's Daughter, the Nun—but inside their tents the women all looked the same to Jacob. This wasn't a high-class brothel where men who could afford a woman of different skin color or accent, or a famous traveling "lady barber" like the real Calamity Jane. These were desperate women, more than likely local, shipped in from the provinces to occupy a fetid stall in Hell's Half-Acre before being shuffled off to a similar fate in Kansas City or Minneapolis. The camp had been constructed to be temporary—a premium placed on mobility—but Jacob had the sense that it had been established here for a long time. The only thing that changed was the women."
Personal Rejection Notes and Near Misses
Low Rent for "You Know That I Loved You," Queen's Quarterly for "Let Your Hair Hang Low," and Fiction Circus for "Lycaon." A lot of near-love this week.
Now Reading
White Noise by Don DeLillo. Just about finished. I don't want to say too much right now, as this post is getting pretty long, but this truly is an amazing book. Maybe not my favorite DeLillo work, even—I think Underworld is a more significant work and just as well written—but one of my top five overall. Word for word, DeLillo pens the best sentences going. It's such a joy.
Up Next
Exiles by Ron Hansen.
Link of the Week
(downtown) Omaha Lit Fest. The theme this year is "The Sordid Arts of the Cheap Paperback." Events are held from September 17-19 and include panels on "The Comforts of Crime in Scary Times," "The Writer's Life in the New Economy," and "Vampires Love Zombies: the Art and Language of Horror," among others. There will be poetry written then read about trashy paperback art at the Joslyn, a Ted Kooser book launch, and a literary happy hour to cap the events. Definitely worth checking out if you're in the area this weekend.
Featured Market
Electric Literature. These guys have gotten a ton of press after their debut issue and much of it is deserved. They offer three ways to enjoy their product (varieties of digital and paper) and are doing some exciting things in terms of digital media and promotion. They also pay contributors $1000 a story, which is nice. It will be interesting to see if they can make this model work, but I say take your shot now, this one is a fast mover.
Ron Raikes: In Memoriam
On the way back from Portland we learned that Ron Raikes had been killed in a farming accident. Raikes was mostly known for his work restructuring the Nebraska education system as a State Senator and by consolidating small rural schools and in creating the Douglas-Sarpy Learning Community he has affected most people in the state. As a politician unafraid of controversy, the name Raikes ignites strong emotions in many people. (I believe Stephen Colbert even referred to him as "the Rosa Parks of resegregation" at one point, although the new funding model he and Ernie Chambers created lumped together funding sources from both inner city and suburban school districts in the Omaha metro—something that still seems impossible.)
All of this aside, Raikes also happened to be the father of one of my closest friends. It's been a tough week coming to terms with the loss and doing all that we were able to for the family. The Raikes family has represented something special to me in the decade or so that I've known them, because they are such a phenomenal collection of hard workers. Each of them intelligent, talented, and driven to succeed, yet these attributes were rarely tainted by false ambition or pretension. There's a certain intensity in the way they go about their business that was striking to me. It seemed exceptional in a place like Nebraska where almost everyone strives to land somewhere in the middle—an honest and systemic lack of ambition that often leads to the glorification of mediocrity. It was important to be around people like my friend Justin Raikes and his family. These people who have helped me strive for bigger things. Their example has opened my mind to so many new possibilities and ideas—and for this I'm thankful.
You will be missed, Ron Raikes.
Conor Oberst was wrong about you. You did good.
Novel Work
Put down some pretty good work this week, if I do say so, writing on pre-Prohibition German beer halls and the free-lunch counters that were standard in most American bars and taverns in the early 1900s. For this I've mostly been writing from old photos I've found from the era (thanks Omaha Public Library) and a few descriptions taken from immigrants corresponding back to Germany about their experiences in America. I'm not really sure how historically accurate everything is at the moment, but I'm not too worried about it. The strategy has been to first write the story as well as possible, getting the characters and plot established, before getting into the minutiae of history. I'm sure a few things will need to be changed when I get to that point, but I'd much rather be inaccurate historically than boring literarily. I've done quite a bit of research in advance of starting—things that have given me a decent idea of the spirit of the age, the demographics of the city at this time, what the political landscape was, the kinds of jobs my characters might have—so it isn't like I'm going into this blind. It's just that I'm not constantly cross-checking the work as it's put down. At the Key West Literary Seminar this January, which I was grateful to attend due to the generosity of their donors, Russell Banks spoke about how people often find fault with his historical work because it isn't a precise representation of how things most likely happened at the moment he's written about. Banks kind of laughed off such criticisms, saying that he isn't really all that concerned with history because his focus is on the fiction. If something needs to be stretched, a river moved or a step-son created, to make the story he's trying to tell work, he feels free to do that. (Although Andrea Barrett took the exact opposite stance.) That's kind of what I've been thinking here with Part II of The Open City. The novel will live or die based upon the verve of the narration, not the veracity of the history it invokes.
That being said, one thing I would like to do soon is visit the microfilm at CU library to read through a few months worth of newspapers from the time—the long-defunct Omaha Bee in particular, Omaha's tabloid rag from the early Twentieth Century. When Ron Hansen came to Creighton in the spring he spoke of how he did this when writing The Assassination of Jesse James by the Coward Robert Ford. In fact, Hansen was able to consult the local Missouri papers nearly every morning in order to immerse himself in the same era his characters had lived in. He was teaching at the University of Michigan at the time, where the library contains an impressive archive of old newspapers. Pretty cool stuff. My narrator is looking from a contemporary viewpoint back to 1919, so it isn't necessarily imperative that I get the lingo of the era just right, but I'd like my characters to have a sense of it. That is, while the dialogue should ring true, the narration isn't trying to approximate the voice or style of that era. Still, it should be helpful in regards to what kinds of clothes people were wearing and by what names they referred to certain objects.
Dispatch from The Open City
"Jacob followed Strauss and his friends into the Potsdamer, to an iced oak keg of beer and then up to a narrow balcony on stilts that was bolted to the walls. The dance hall was an immense room on the second floor of a corner brick building. Its plaster walls depicted gaudy murals of naked goddesses and grim knights at arms against the Hydra. The floor was occupied by families and groups of friends resting amid tables and benches in a crescent surrounding the band, beyond that a stage partly obscured by monstrous glass chandeliers that hung from the ceiling. There was a colossal serephina organ, two violists, and a fagotto bassoon that were accompanied by a trio of women vocalists who seemed to encircle the song's melody with their rolling harmonies. There were leggy dancers on stage, heads adorned with peacock feathers, a plaster statue of the patron goddess Germania looming high above the stage. Performers from a gymnastics club would come on later to exhibit their strength and flexibility. Everyone in the crowd was drinking, both men and women, some of the older children, but Strauss assured Jacob that there were never fights. Everything was carried off with precise order, as if each of them had been assigned a role they would gladly perform."
Kind Rejection Notes and Near Misses
BOMB for "The Current State of the Universe." And, I'm not sure if this exactly fits this category but, my story "The Approximate End of the World" was accepted for publication by Boulevard and will appear in the Twenty-Fifth Anniversary issue in March of 2010. Very excited about this.
Just Finished
The Twenty-Seventh City by Jonathan Franzen. I really fell under the spell of this book for a while, but was disappointed by its ending. It kind of seemed like a copout. The big referendum fails because of voter apathy, which was kind of nice. But then, all of the relationships that have been on collision course throughout the novel just sort of fizzle—as if the novel itself had become apathetic. Chief Jammu and Barbara are killed by a bizarre mirroring of bullets to the head. Probst drives around on county roads to avoid what has happened until he's shown meeting with his daughter to grieve for slain Barbara, but nothing further. I would have liked to see what happens when the characters actually have to deal with the consequences of their actions, but everything wrapped itself up before that could happen. Still a very good book—and probably not the kind of narrative that really deals with consequences. It's a book that exalts big ideas, rather than one that spends time lamenting the fallout of big ideas.
Now Reading
White Noise by Don DeLillo. This has been my "favorite book" for a long time, but I haven't read it in a long time either. We'll see if it can withstand the test of a reread. So far I'm enjoying it, but it's a little tedious getting through all of the theoretical grounding DeLillo is doing before really putting the screws to his characters. If I remember correctly, the narrative didn't really start humming until the Airborne Toxic Event.
Up Next
Exiles by Ron Hansen. We're reading this for the online class on novel writing I'm taking as a non-degree seeking student through the graduate program of the English Department at the University of Nebraska-Lincoln.
Link of the Week
Littoral. The blog of the Key West Literary Seminar. Check out the audio archive of past seminar readings and lectures. Very cool stuff.
Also, I've neglected for too long to thank my lovely wife Nicole for setting up this blog for me. Thanks!
Novel Work
Doing the final work on the rewrite of Part I. It's taken since March to get to this point, but I feel much more comfortable with what I'm doing now. Having gone from 100-pages of a third-person POV focusing on one character to 115-pages of a first-person narrator (who is a minor character) writing through the POV of three other characters, it feels like a pretty big accomplishment just to make it back to this point. Still not quite where I need to be, probably, but I'm getting there. Expanding the POV and playing with the notion of a first-person narrator acting as an omniscient third-person narrator has been very freeing in terms of character development. It came about from two main catalysts, the first being my agent's suggestion that I had been writing the novel as if it were a really long short story—meaning, among other things, that I was locked too strictly into the limited POV of one character, ignoring potential angles other characters could add to the story. Second, was the need to kind of energize the voice, giving the voice of the story an angle within itself by allowing the narrator to have a stake in things, biases, etc. Basically, taking advantage of the big canvas I'm working with. The work seems to be much better and more interesting too. I'm looking forward to starting on Part II soon!
Dispatch from The Open City
"The animal pushed its pink nose out the sleeve to sniff the air, its rat nose twitching as Michael watched with disgust from a few feet away. Michael rubbed the knot on the back of his head, he ran his fingers through his hair, then reached back, realizing that books too can be weapons, tapping the bindings of the volumes near him until he found a thick one."
Short Story Work
Put the finishing touches on a draft of "Never, Ever Bring This Up Again" and submitted it to the Esquire Fiction Contest just before their deadline. They mandated the title, by the way. I kind of like how it ended up, but it was a little frustrating to have to send off this version. With the generous help of one of my readers (Travis) it became apparent that the story should be set in the main character's office building rather than his apartment. I'll have to do a rewrite before the year is over.
Dispatch from "Never, Ever Bring This Up Again"
"The girl didn't run when she saw Andy walking towards her, but held to the door handle dumbly, kind of pinching her legs together, bending at the waist. She wore old tennis shoes, the laces gray and dingy, and had a skinned knee, a bloody spot turned black on her dark legs. Up close, Andy assured me later, there was a dovish quality to her eyes. The girl had orange irises that flashed desperation."
Kind Rejection Notes and Near Misses
Indiana Review for "How to Die Young in a Nebraska Winter." McSweeney's and One Story had previously sent very nice personal emails rejecting "The Current State of the Universe." These near misses can often be misleading, but hopefully a big publication is on its way soon.
Just Finished
The Savage Detectives by Roberto Bolano, translated by Natasha Wimmer. After reading this novel, it makes me think that maybe 2666 was mostly finished after all. Bolano definitely has a propensity for ending narrative threads in an abrupt and ragged manner. Probably another "ambitious but failed novel," but Bolano is just so pleasurable to read I didn't really care. Great book!
Now Reading
Reasons for and Advantages of Breathing by Lydia Peelle. About half-way through and really enjoying it, despite some reservations. In her Times review, Maria Russo notes that the collection is "remarkably consistent in pacing and tone," which seems to be its biggest failing, in my eyes. Each story is great, but they all seem to hit the same notes and almost all are written from a first-person POV. Peelle is obviously adept at finding and inhabiting a character's voice, which is a highly enjoyable aspect of her work, it's just that when each story reads and feels the same, they kind of lose their power, I think. I'm hoping the second half of the collection offers a little more variety.
Up Next
White Noise by Don DeLillo
Also, please check out my story "The Uninvited Guests"  on the website of Johnny America if you haven't yet.