You are currently browsing the tag archive for the 'David Philip Mullins' tag.
Some exciting news to pass along this week: The Southern Review has accepted my short story "The Missing" for publication!
I'm beyond thrilled about this. First, because The Southern Review has felt like it might be my white whale as far as lit journals go. A journal that is nearly unrivaled in its strong contemporary reputation and oft-cited tradition. (Robert Penn Warren and Cleanth Brooks were famously among its first editors in 1935.) For a few years now my stories have felt like they were getting closer and closer without getting there, despite some very nice feedback and encouragement from former editor Cara Blue Adams that kept me trying. Thanks so much to fiction editor Emily Nemens for taking a chance on the story.
Second, I'm very pleased to find such a good a home for "The Missing," a story that marks a more ambitious path for my work, begun last year with this story (after Key West) and continued while writing a new novel of a similar bent during my fellowship at Akademie Schloss Solitude. More episodic and fragmented, voice-driven, stylized prose used as characterization, and, in this case especially, writing candidly about the anxieties of fatherhood. There are much bigger risks to take in life than writing a new way, of course, and much bigger tragedies than having your work being poorly received. But, still, I worried, and am ecstatic to have this story on board with TSR.
A bit about the story: "The Missing" follows a young father who runs off to visit a friend in El Salvador rather than face the prospect that both his wife and daughter-to-be could die during childbirth.
Here's an excerpt:
Worthy told him wild stories about El Salvador. Bus rides up chuck-holed alleys into ghettos where even police were afraid to go because gangs controlled that territory—that San Salvador was the murder capital of the world, no matter what claims were made by Kabul or Baghdad or Tegucigalpa. Worthy told about getting drunk on something called coco loco. And girls dancing in clubs where the Salvadoran Geddy Lee played bass with one hand and keys with the other. And girls dancing in clubs who were on the hunt for American men, for the green card, but were often left behind in San Salvador if pregnant, and there was little recourse for a woman of that kind. In long phone calls Worthy told about girls dancing in a nudie bar called Lips that had a taco bar next door that was also called Lips. Worthy was persuasive. Even the plastic baggies filled with soft, slimy cheese that Worthy bought on the street, that was called queso fresco, even that sounded attractive when Worthy talked about it. Even when the Mrs grabbed the phone and told Worthy that if anything bad happened she'd know who to hold responsible.

Do you understand? the Mrs told Worthy. If he doesn't come back, I will come down there and fuck you up.
This will be my 26th published short story, and joins a group of forthcoming publications for 2015 that includes "Shame Cycle" in Gargoyle, "Attend the Way" in Heavy Feather Review, and "Forget Me" on Cosmonauts Avenue, along with the February release of On the River, Down Where They Found Willy Brown, a chapbook published by Edition Solitude. Things are going to be busy.
Special thanks to CCB, Amber Mulholland, Dave Mullins, Ryan Borchers, Drew Justice, Amy O'Reilly, Charlotte Spires, Felicity White, and everybody else who helped this story along.
Cheers!
This is going to be short and late. He's a recap of what went down here on The Uninitiated in March. It was eventful. Still recovering.
-"On a Train from the Place Called Valentine" was published in Boulevard! Read the recap here.
-"Shame Cycle" was short-listed for the PRISM Fiction Contest. Final word should be coming down any time now. Eagerly awaiting the results.
-My review of David Philip Mullins' Greetings from Below was published in the new Prairie Schooner.
-I interviewed Sigrid Nunez for the Prairie Schooner blog.
-We had a baby! More photos of Clara Lynne Wheeler and family can be found here.
Personal Rejection Notes, Requests for More, and Other Nice Versions of No Thanks
Five Points for "Forget Me"; Massachusetts Review for "Attend the Way"; One Story for "Impertinent, Triumphant"; and, of course, "Shame Cycle" is a finalist for the PRISM Fiction Contest.
Just Finished
The Sojourn by Andrew Krivek. Pretty good. Character deaths seemed to occur at very convenient times, plot-wise. A small thing that is quite common, but it wore on me in this novel. Maybe because death was so frequent.
Signed, Mata Hari by Yannick Murphy.
Now Reading
The Missing of the Somme by Geoff Dyer.  A fascinating examination of the mechanisms of remembrance in relation to war.
Up Next
Flatscreen by Adam Wilson.
The Spring issue of Prairie Schooner has been released, which means my review of David Philip Mullins' Greetings from Below is out too!
I love this cover.
This marks my third review in Prairie Schooner, and my tenth overall. Reviews of Lydia Peelle's Reasons for and Advantages of Breathing and Nadifa Mohamed's Black Mamba Boy previously ran in PS.
Excellent books all.
Just in case you missed it, here's what happened on here in September:
-I took a few weeks off from working on the novel–using the time to clean up a few new short stories for submission–but am now reading and editing my first complete draft. It's a lot of fun to read so far, seeing how things come together, and where they don't.
-The Uninitiated released its comprehensive and authoritative rankings of MFA and PhD programs in creative writing. The University of Texas at Austin took the top spot.
-My review of Rahul Mehta's Quarantine was accepted for publication by The Iowa Review Online, and will appear shortly in the month of October.
-My review of David Philip Mullins' Greetings from Below—previously accepted for publication by Prairie Schooner—has been scheduled to run in the Spring 2012.
Dispatch from The Hyphenates of Jackson County
"The noise was so frightening that Jacob couldn't stand still. He had to move his feet, around in the crowd, or he felt like someone was going to take a shot at him. A block over there was a nervous cop who sprayed shotgun fire into the air whenever someone approached the car he guarded. The cascading noise of tumbling glass was punctuated by the fraught screams of woman in jeopardy. Or maybe that wasn't it at all, what Jacob thought he heard. Maybe that was the sound of a woman's prurient cheer as government windows were smashed to shards. There was the roar of voices, people fighting and being hurt. The flash of small arms erupting. The police sirens, their barking orders. The steam valve had been blown clean off and Jacob couldn't stay where he was. He had to run into it, into the noise and fighting. He had to see everything, to document it in his mind. Speeding cars rushed into the crowds. Young men jumped on the sideboards of cars to swing around to where the action was. There were cars with Sicilians, Lithuanians, Greeks, Serbians. Once word of the melee spread, anyone who wanted to take a swing at a cop made a bee-line to Scandal Flats. A gang hijacked a streetcar and plowed into the mess, clanging the bell to announce their audacity. Teenage boys and musky husbands rushed out of houses with whatever hammer or club or bat they could lay hands on, and then hopped in a taxi to get there fast. A mechanical rumble filled the atmosphere. Roadsters and jalopies, homemade in Little Italy garages, swung recklessly around the blocks. They swerved to miss people and each other. Jacob couldn't always see the cars but he could hear their pop-pop motors hammering at full throttle a block away, spreading echoes between buildings, echoes that bounced back from the high-rises of downtown. Trucks, commissioned or otherwise, hopped hot over the pavement to load up with furniture or produce or women's clothes. Taxis slumped cockeyed and labored up the hills, packed full inside, passengers on the footboards.
"People shouted out to groups of strangers any news they heard. There was lots of talk in the mob about the smutty details of the rape—conjecture about Will Brown's body in relation to the girl's. They made him out to be huge, a towering man, arms like a gorilla's, legs like a mule's. They talked about Agnes Loebeck as if she was a little girl, pious and pure, like she only ever wore little white Sunday dresses, like she picked berries in a pristine field, like she'd never even heard of anything like a dick before."
Personal Rejection Notes, Requests for More, and Other Nice Versions of No Thanks
Bomb for "Shame Cycle."
Just Finished
Atmospheric Disturbances by Rivka Galchen. Eh.
My Antonia by Willa Cather. I really enjoyed this
book, and can see why it's often noted as Cather's finest. I was surprised at how Modernist this novel is, it's really quite innovative, as I'd always thought it was more of a Victorian, continental-style book for young women than anything. I stand corrected. A masterful work.
Also, if you haven't heard this NPR piece by Bradford Morrow on My Antonia, you should really check it out. Here's part of what Morrow has to say:
What's interesting about My Antonia is how it manages to function as a perfectly inviting story for young readers, and how an adult willing to revisit it with a more developed critical eye can appreciate it for the subtly sophisticated narrative it truly is. In this regard, it's not unlike a wildly different book, Alice in Wonderland. Great fun for kids, psychologically captivating for grownups.
Now Reading
Shadow Traffic by Richard Burgin.
Up Next
Bohemian Girl by Terese Svoboda.
An update today too, and some good news, as my review of David Philip Mullins' short story collection Greetings from Below has been scheduled to run in the Spring 2012 edition of Prairie Schooner. The review had previously been accepted, but had not been scheduled yet.
I've been working on a few new short stories lately, but the majority of May was devoted to beginning the initial drafting process for Part 5 of my novel The Hyphenates of Jackson County—the final section of the book. It's all kind of a big mess right now, but it's good to get into it. This always happens after I spend a couple months in revision, and this time was no different. The writing comes tough, in small amounts, 500-1000 words a day. It's mostly blocking scenes, organizing notes, working out important descriptions and finding where symbolism might emerge. It takes a while to build some momentum and get a feel for how this part of the story should be told.
The narrative style I use is pretty steady throughout the book—third-person, through the point-of-view of my main character Jacob Bressler, although I'm experimenting with some brief first-person sections, too—but the main issue comes from the time scope of the book. The present-time thread of the novel takes place over three years, from 1917-1919, or starting when the United States declares war on Germany in 1917 and ending with the Red Summer and Omaha Race Riot of 1919. It's not a huge amount of time for a novel, gratefully, although there is a lot going on, and it's a challenge to account for the lost, un-narrated time between parts. Particularly in first drafts, I think I pay too much attention to what's happened in the time gaps, instead of just getting into the action at hand. A lot of that will be eliminated soon enough, most of it in the initial edits. But it makes things a little clunky and difficult in the first draft.
Anyway, I'm really excited to be this close to finishing a draft of my first novel. I hope to be done with a rough version of Part 5 by the end of the summer. And since I've been editing the other parts as I've gone along, there isn't a tremendous amount of work yet to be done, relatively. (I've been working on the book for about two years now.) If all goes well, I should have a decent draft of The Hyphenates of Jackson County finished by Spring 2012. Here's hoping anyway. It's not like I'm on deadline or anything.
In other news this past month:
-"The Current State of the Universe" is featured in the new issue of The Cincinnati Review. The story won their Schiff Prize for Prose last year, and I'm very excited to make it into this journal.
-Prairie Schooner accepted my review of David Philip Mullins' Greetings from Below for publication. This will be my third review for PS, where I'm also currently a senior fiction reader.
-On cue, my second review for Prairie Schooner—of Nadifa Mohamed's Black Mamba Boy—appears in our current summer issue. Check it out. It's a pretty good one. (The issue, I mean. (The review is okay too.))
-In April we learned that Kwame Dawes was coming in as the new Editor of Prairie Schooner; in May we learned that Managing Editor James Engelhardt was leaving. James secured a position as the acquisitions editor for University of Alaska Press, and leaves for Fairbanks early in June. (Actually, today I think.) I owe a great debt to James for all he's done for my editing and reviewing career, if I can call it that. James took me on as a reader after I received my MA from Creighton. I was looking to maintain some involvement in the literary world, and volunteering for Prairie Schooner has been a great anchor for me. After a year-and-a-half, I made my way up to a senior reader position; PS accepted my first book review, after some editorial help from James; my first two trips to AWP came with funding assistance from PS as well. I feel very grateful for what Prairie Schooner has done for me, in giving me the opportunity to work, particularly as someone who isn't otherwise involved in the English Department at the University of Nebraska—and I owe much of that gratitude do James, I believe. Best of luck to him and his family on their Alaskan adventure! (And additional thanks for the fact that now, when I think of Alaska, I won't think of Sarah Palin.)
-Nicole and I celebrated our fifth anniversary in San Francisco!
-This blog featured a longish post about researching the lynching of Will Brown, and coming across a great NPR feature about the execution of Willie McGee and his granddaughter's quest to find out the truth about him many decades later.
Dispatch from The Hyphenates of Jackson County
"Jacob returned to Omaha the same morning President Wilson arrived from St. Paul. It was only partly coincidental it happened that way. Jacob was planning on coming back to Omaha that week anyway, to visit his friend Reinhold Bock, and then he read in the papers that Wilson was to arrive by train to the Union Station early Monday morning, before giving a speech on the League of Nations that afternoon. A parade route was planned out where Wilson's car would meander the city. When Jacob read this, he went down to the station in Lincoln and got a ticket to Omaha for the next morning. He bought himself a suitcase too, at the store there that sold them. It was something simple, with cardboard sides, that didn't lock. It wouldn't have to last forever. Jacob didn't know what he was going to do—he had no plan for the next year, or month, or for the next three days for that matter—but he wanted to see the president. He'd find a spot on Scandal Flats and wait for Wilson's car to pass by. It felt like it would be significant to do that. Jacob didn't know why. He just felt he needed to see the man. He needed to see the man as a man, that was it."
Personal Rejection Notes, Requests for More, and Other Nice Versions of No Thanks
West Branch for "On a Train from the Place Called Valentine"; Southeast Review and Conjunctions for "Attend the Way"; Missouri Review for "Shame Cycle."
Just Finished
The Cailiff's of Baghdad, GA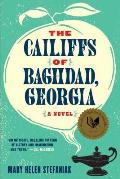 by Mary Helen Stefaniak. An excellent historical novel about racism and confronting the Other in depression-era Georgia, with a detour to the more famous Baghdad in ancient times. Very well done.
Quarantine by Rahul Mehta. I really enjoyed this collection—which revolves around the lives and loves of second-generation, homosexual, Indian-Americans—and will be reviewing it.
Now Reading
The Names by Don DeLillo.
Up Next
The Call by Yannick Murphy.
Some news to report today, as Prairie Schooner accepted for publication my review of David Philip Mullins' debut short story collection, Greetings from Below. The collection comes from Sarabande Books, and was selected by the fabulous David Means as winner of the 2009 Mary McCarthy Prize in Short Fiction. It's really a pretty good book, by an Omaha writer–he's ours now, anyway–and I urge you to check it out.
Unless things move quicker than normal, the review should appear in an issue early next year. This is my eighth review selected for publication, the third that will appear in Prairie Schooner.
-April turned
out to be something of an uneventful month for me, which isn't so bad. After all the good news and happening of March, it was nice to have a little more mental space to work in. I took a week off work and did a big revision of my short story collection, How to Die Young in Nebraska. A few stories were cut, I combined a few into a novella, and rearranged all of what was left into something kind of new. I took part in the initial screening for the Prairie Schooner Book Prize this year, and I tried to apply the lessons I learned from that experience as a screener/editor to my own collection. Hopefully it's much better. I think it is. It's a little shorter than before, the overall quality is a little more consistent, and the sense of narrative flow has been enhanced. We'll see if there's much of a response, as I have it out to a couple contests and small presses now.
-One thing I did a little different in my editing of the collection was to let myself revise older, published stories. My old agent was usually against this practice, maybe afraid that I would undo the magic of a piece by tinkering with it after it had already been edited and published. There's a certain logic to that, but I felt it was time to make some smaller changes. My main motivation was thinking that I'm not exactly the same writer I was two or three or five years ago, and that the collection read a little too much like a fossil record of my stylistic changes over the period that I've been working on the book. Since I didn't like that, I tried to make the book more consistent in style as well. That seems to make a lot of sense. Common sense even.
-Speaking of PS, Kwame Dawes was officially announced as the new Editor of Prairie Schooner. The last two years have been a little uncertain, as we looked for someone to replace longtime editor Hilda Raz, and I'm excited how it turned out.
-Darren and Lacey had their wedding this past weekend. Congrats to the Keens!
-I finally framed and hung a piece (see photo) that I made when I was at the Kimmel Harding Nelson Center for the Arts in March 2010. It's pretty simple: an original Sunday supplement insert from the Omaha Daily News, from August 1912, on which I inked different descriptions of women that I wrote during my residency at KHN. I found the newspaper at an antique shop down the street from the arts center. It only took me a year, but I finally got the thing up on the wall, and I like it.
-Flatmancrooked officially called it quits in April. Here's what I had to say about it.
-Looking ahead to May, The Cincinnati Review featuring my prize-winner, "The Current State of the Universe," will be out on newsstands and in mailboxes. So get ready to hear more about that.
Personal Rejection Notes, Requests for More, and Other Nice Versions of No Thanks
"Attend the Way" was named a finalist in the Summer Literary Seminars' Unified Fiction Contest. Kind of a slow month for rejections. I don't really have that much stuff out there right now.
Just Finished
Greetings from Below by David Philip Mullins. A very nice collection that I'm in the process of reviewing. The final three stories are exemplary, and they make for a knock-out conclusion to the book. I can't recall another collection that sprints to the finish as much as Greetings from Below does. Usually it's more of a ruminative, self-reflective inching forward that gracefully puts an end to the proceedings, but GfB doesn't really follow that format too much, which is good.
My American Unhappiness by Dean Bakopoulos. I'm still not really sure what to make of this book. It's kind of chick-lit for thirty-something men, if that makes any sense. There are long stretches of great, interesting writing, but the first-person narrator is very glib and kind of a frustratingly clueless person at times. MAU will probably reignite some of the debates about unlikable lead characters that raged last year with the release of Jonathan Franzen's Freedom.
Now Reading
The Cailiffs of Baghdad, Georgia by Mary Helen Stefaniak.
Up Next
Quarantine by Rahul Mehta.
-We had out first flowers of the spring pop up mid month. The first sprouts we had were daffodil; the first blooms were crocus. Last year I was doing my residency at the Kimmel Harding Nelson Center for the Arts in Nebraska City when we had our first flowers, and I was pretty sad to miss them. Our winter wasn't nearly as hard as the last one was, but it's still pretty nice to be here to see things change. Our house was built in 1905, so we have things pop up pretty much everywhere too. Between the patio pavers, in the middle of the yard. It's awesome.
-Tomorrow my wife Nicole's new promotion and raise go into effect. She's so smart. Although, being promised a raise on April Fool's Day isn't all that promising.
-The Royals lost their Opening Day game against the Angels this afternoon. It was a pretty good game, especially after LA starting pitcher Jered Weaver was pulled. KC should have one of the best, most exciting, and youngest middle relief corps in the majors this year. Too bad they'll be pitching from behind most of the time.
-"How to Die Young in a Nebraska Winter" was published earlier this month in The Kenyon Review. It looks like they're still running a friends-and-family special at this link, for anyone who's interested in a discounted current issue or subscription. It was some pretty exciting stuff being in a TKR. I've had a few of these bigger publications now, and it's really something a guy or gal could used to.
-I was also interviewed by The Kenyon Review Online in anticipation of the release.
-Then, to cap off a crazy week, Confrontation accepted my story "The First Night of My Down-and-Out Sex Life" for publication. I haven't heard anything for sure, but, judging from the contract verbiage, I'm hoping it will run in November.
Personal Rejection Notes, Requests for More, and Other Nice Versions of No Thanks
Bat City Review and Missouri Review for "On a Train from the Place Called Valentine"; Ploughshares for "Shame Cycle"; and New Letters for "These Things That Save Us."
Now Reading
Greetings from Below by David Philip Mullins. Still reading this, kind of. I've been knee-deep in book prize manuscripts for pretty much the whole month. I will be finishing up my recommendations next week and then will be back on to published books again. I'm very much looking forward to it.
Up Next
My American Unhappiness by Dean Bakopoulos.