You are currently browsing the tag archive for the '"Attend the Way"' tag.
This is going to be short and late. He's a recap of what went down here on The Uninitiated in March. It was eventful. Still recovering.
-"On a Train from the Place Called Valentine" was published in Boulevard! Read the recap here.
-"Shame Cycle" was short-listed for the PRISM Fiction Contest. Final word should be coming down any time now. Eagerly awaiting the results.
-My review of David Philip Mullins' Greetings from Below was published in the new Prairie Schooner.
-I interviewed Sigrid Nunez for the Prairie Schooner blog.
-We had a baby! More photos of Clara Lynne Wheeler and family can be found here.
Personal Rejection Notes, Requests for More, and Other Nice Versions of No Thanks
Five Points for "Forget Me"; Massachusetts Review for "Attend the Way"; One Story for "Impertinent, Triumphant"; and, of course, "Shame Cycle" is a finalist for the PRISM Fiction Contest.
Just Finished
The Sojourn by Andrew Krivek. Pretty good. Character deaths seemed to occur at very convenient times, plot-wise. A small thing that is quite common, but it wore on me in this novel. Maybe because death was so frequent.
Signed, Mata Hari by Yannick Murphy.
Now Reading
The Missing of the Somme by Geoff Dyer.  A fascinating examination of the mechanisms of remembrance in relation to war.
Up Next
Flatscreen by Adam Wilson.
I've decided to fly in the face of Leap Day and post my review of the past month a day early. (Try to have a safe holiday out there today, folks. We don't need a replay of four years ago, with all the accidents and alcohol poisonings. Use the extra day wisely!)
February was a month of good news. There was my appointment as Web Editor at Prairie Schooner. I'm still not sure my family believes that I actually get paid to work for a literary journal now. Actually, I'm not entirely convinced myself yet, direct deposit aside. The job has been a lot of fun, although a bit frustrating at times. It's been a long time since I started a new job. There's a lot to learn. Hopefully I'm picking it up right.  …  Next came word that two of my published short stories will be mentioned among the "Thirty Other Distinguished Stories" in the New Stories from the Midwest anthology series. "The Approximate End of the World" (Boulevard, Spring 2010) will be noted in the back of the 2011 edition. "The Current State of the Universe" (The Cincinnati Review, Summer 2011) will be noted in the back of the 2012 edition. This is a new series, but one that looks very promising. I'm excited to break through in some small way with them. Hopefully it's only the start of bigger things.  …  That same weekend I learned that my review of Yannick Murphy's novel The Call was accepted for publication in the Pleiades Book Review. This is my second review Pleiades has taken, and it will run in their Summer 2012 issue.
March brings a lot of promise. There's AWP in Chicago. Spring is here, apparently. (Our daffodils have breached!) ZZ Packer is the writer in residence at UNL and will make a couple public appearances in Lincoln. Also, lil' Clara Lynne is due to join us.
Dispatch from The Uninitiated
"Sometimes I scuffled with Neal Davies and his brothers. I ran track with the two younger Davies boys. They weren't so brazen about what they said, not like Neal had been outside the store. Mostly it was Neal who mumbled something, standing off to the side to watch us run. Neal Davies was short and podgy. He had blonde hair that laid very flat and smooth on his round skull. His brothers looked at me and laughed when Neal made remarks. I'd tackle one of them into the grass, the Davies brother who was slowest getting out of the way. A punch or two would be thrown, but that was all. Other kids would break it up. Whatever happened was chalked up to bad blood. Since I didn't know what they said, there was nothing more I could say about it. There was lots of bad blood in Jackson County in those years, the war years. It was wrong of Davies to tease me about the ways my folks died, I'm certain. I'm not certain if I would have teased him about such a thing if the roles had been reversed. I might have. I had to give him that in my calculations. He still had his parents, if nothing else. I did not. Sometimes we believe these things are so for a reason."
Personal Rejection Notes, Requests for More, and Other Nice Versions of No Thanks
Alaska Quarterly Review for "Forget Me"; Indiana Review for "Attend the Way"; and "Lycaon" by Midwestern Gothic.
Just Finished
The Painted Bird by Jerzy Kosinski. A remarkable book about a Gypsy boy's travels and travails in Eastern Europe during the Holocaust, based upon Kosinski's own life story. A remarkably brutal book.
The Third Reich by Roberto Bolaño. About the ways people confront (or confronted, it was written and it is set in 1980s Spain) the lingering presence or (non)presence of Nazism in European culture. It's not quite in the stratosphere like 2666 and The Savage Detectives, but is still very good.
Jonah Man by Christopher Narozny. A very solid first novel about murder, drugs, and the intrigue of 1920s vaudeville performers. It comes out in May. I will be reviewing it.
In Our Time by Ernest Hemingway. A rereading of this classic after hearing George Saunders and Robert Stone talk about it at the Key West Literary Seminar.
The Snows of Kilimanjaro and Other Stories by Ernest Hemingway.
Now Reading
The Sojourn by Andrew Krivak.
Up Next
Stay Awake by Dan Chaon.
My year in review post will be coming shortly, so I'll try to keep this brief. The month was more or less uneventful, so brevity shouldn't come too painfully.
-I finished the second revision of my novel late in December. The book should be in something close to its final shape now, as this cycle included half a dozen rewrites of chapters and sections (plus a couple new chapters) that I hope don't need to be completely rewritten again. I guess I'll see if this holds up under the next reading-revision cycle. Assuming I can fit in five work days a week, it takes about a month to revise the whole novel. They key will be getting that time down a little bit. If there's less and less that needs changed, I should be on the right track.
-The Kenyon Review's December newsletter featured reading recommendations from contributor's and staff, including my recommendation of Yannick Murphy's The Call. It's such a good book! Go buy it now!
-The new issue of Confrontation was reviewed on BookFox. Here's a little of what was said about the issue:
Paul Zimerman's "Full Remittance," a kind of anti-Rakolnikovian story, is excellent, as well as a shortish story by Theodore Wheeler with the titillating title of "The First Night of My Down-and-Out Sex Life," which ends up being more somber than you'd expect.
-With the help of some friendly archivists, I was able to track down a bunch of information about the different places Tom Dennison used to live in Omaha. I wrote a bit about it here. In the coming months I'll have more on the real historical places that are featured in my novel.
-My first real author interview was published on the Prairie Schooner blog. Thanks to Nuala Ní Chonchúir for her generosity and fine responses.
-Happy New Year!
Dispatch from The Uninitiated
"Tom Dennison grinned at me again, like I was being stupid. And I was being a little simple about the election. What I'd described is how it always works in this business, yeah? It's always a matter of offering more than the other guys and making sure you manage things well enough to get your folks to a poll on time. It was still new to me, and it's all novel to a guy who doesn't know what he's doing."
Personal Rejection Notes, Requests for More, and Other Nice Versions of No Thanks
Iowa Review for "Forget Me" and Crazyhorse for "Attend the Way."
Just Finished
A Flag for Sunrise by Robert Stone. I love reading books like this—ones that must have been incredibly timely and topical at the time of their publication, and are still great reads even if they aren't so relevant now. This is a very engrossing novel that shows through a split narrative how an attempted revolution in a banana republic comes together. (There are some sexual escapades with a hot nun too, fyi.) Also, I'll be part of a workshop led by Robert Stone at the upcoming Key West Literary Seminar. So excited for this.
Omaha: A Guide to the City and Environs compiled by the Federal Writers' Project. This is so great: the WPA funded study of Omaha from the Depression. Not only does it feature the most complete and concise history of the area I've found, there are fantastic gems throughout, like how much beans and coffee cost at a cafe at the time, and how much streetcar fare to the airport was, or where to find the best Chow Mein. There are also a half-dozen walking tours guides of the city, which is really very helpful in understanding how the city was laid out during this period. I was very geeked to find this.
Now Reading
Bohemian Girl by Terese Svoboda.
Up Next
The Third Reich by Roberto Bolaño.
Let's go with a little bullet point action this time around:
-So I've decided to switch up the title of my novel with the title of it's first part. The novel will now be The Uninitiated. Book 1 will be The Hyphenates of Jackson County. Any objections?
-I think two that I'll combine Books 1 &2 of the novel into one, as they are of similar content and tone. The novel as a whole is coming together much more clearly now that I've gone through a draft of the whole book. I'm working my way through a long list of edits and rewrites now.
-I began work as Blog and Social Networking Editor for Prairie Schooner. Here's me welcoming myself to the blog.
-The newest edition of Confrontation (Fall 2011) came out, with my story "The First Night of My Down-and-Out Sex Life" included. Read more here.
-I turned thirty early in November, and reflected on the experience.
-We learned that Kid B will be a girl. For right now, at least, we're leaning toward Clara Lynne for a name.
Dispatch from The Uninitiated
"Evie stayed with Jacob until he was better. It was two days. She was an impassioned nurse. She held cool rags to his forehead while she told him stories; she covered and recovered his kicking limbs in Afghans; she changed his sheets if the chamber pot spilled; she kissed his burning cheeks incessantly, even though there was a chance he might make her sick too; she soothed him, she promised he wouldn't die, and that she wasn't going to leave him. Somehow Marie Eigler tracked down a crate of oranges—which was a miracle, really, given the rations—and Jacob had to drink their juice, even though it burned his throat. It was a simple matter of whether or not Evie could keep up his strength. She made him drink turnip broth and a beaten raw egg every hour. Evie kept Jacob in line too. She didn't let him forget for a second that was being taken care of, and that he was going to be fine. And then, suddenly, after two days, he was."
Personal Rejection Notes, Requests for More, and Other Nice Versions of No Thanks
Southern Review for "Forget Me" and A Public Space for "Attend the Way"
Just Finished
Shadow Traffic by Richard Burgin. A solid collection of stories from front to back from one of our mainstay fiction writers.
Best American Comics 2011, Alison Bechdel, ed. A pretty good showing this year, the best edition since the first two. My favorites were Manifestation by Gabrielle Bell, St. Ambrose by John Pham, Nov. 3, 1956 by Joe Sacco (this one was particularly enlightening and horrifying), Soixante Neuf by David Lasky and Mairead Case, Jordan W. Lint to the Age 65 by Chris Ware, Browntown by Jaime Hernandez, The Pterodactyl Hunters (in the Gilded City) by Brendan Leach, Abby's Road by Noah Van Sciver, The Mad Scientist by Jeff Smith, Winter by Danica Novgorodoff, Benjamin Percy and James Ponsoldt, and Weekends Abroad by Eric Orner. Maybe it would have been easier to just say the whole thing is awesome?
The Unbearable Lightness of Being by Milan Kundera. A classic. Read it for three minutes and you'll see why.
Upstream Metropolis: an Urban Biography of Omaha & Council Bluffs by Lawrence H. Larsen, Barbara J. Cottrell, Harl A. Dalstrom, & Kay Calame Dalstrom. An interesting history of the city and surrounding area. There's so much overlap in these local histories, but this one seems to have a little new and interesting information at least.
Now Reading
A Flag for Sunrise by Robert Stone.
Up Next
Bohemian Girl by Terese Svoboda.
June turned out to be all about new short stories for me. I completely reworked one short story, wrote a new one, and put the final touches on yet another. I'd planned on drafting new material for the novel this month, but was really swept up in the short form for a few weeks and had to put off any new writing for the novel. It had been so long since I had much passion for writing short fiction, I didn't want to miss the opportunity. It felt pretty good to pump out a few stories in a small period of time, after working on one project for nearly two years now. To hear some new voices, to deal with different types of problems—those faced by married people, by people alive in this century, by those from the middle class—was kind of nice. It will also be nice to have some new stories to send out to journals this fall, which hasn't been the case for a while.
In other news this past month:
-Mixer Publishing released my short story "The Housekeeper" on Amazon, available for download on Kindle or PDF. The story was originally published on Flatmancrooked earlier this year, but they have apparently taken down their entire site. That sucks.
-And if you're already on Amazon, you might as well download the spring issue of The Kenyon Review, which features my short story "How to Die Young in a Nebraska Winter."
-A story that just so happened to be reviewed on the blog Perpetual Folly as part of its Short Story Month 2011.
-Also, The Kenyon Review released their summer reading recommendations, including two of my picks.
-My review of Richard Burgin's novel Rivers Last Longer appeared in the Pleiades Book Review.
-In other review news, The Millions will be running my review of Suzanne Rivecca's debut short story collection Death is Not an Option sometime this month.
Dispatch from "Impertinent, Triumphant"
"We talked about marriage for a long time. About the good stuff, then the bad, then the qualifications and excuses of what we'd said before. Something happened to Anna, she was emotional, she calmed down, something else happened a few weeks after that, and it wasn't until later that she remembered the first thing, the original outrage, and by then it was too late for her to do something about it. My stories were the same, structurally. Eventually we turned listless and bleak, hearing about each others' marriage wounds. They lacked finality. We wanted firm endings, closure, but that wasn't possible."
Personal Rejection Notes, Requests for More, and Other Nice Versions of No Thanks
Florida Review for "Attend the Way."
Just Finished
The Names by Don DeLillo. I've read nearly all of DeLillo's work now, and this is by far the most underappreciated novel of his I've come across. It's really pretty good. One from his espionage meme, with a domestic twist, about a spy for the CIA who doesn't know he's working as a spy for the CIA. The only thing I can think of to explain its lack of recognition is that The Names, for one, comes from DeLillo's first period of work, before he was famous, and, secondly, that it covers a lot of similar ground as some of his later intelligence novels, like Mao II, Underworld(my favorite!) and, to some extent, Libra.
Now Reading
A Visit from the Goon Squad by Jennifer Egan.
Up Next
The Call by Yannick Murphy.
I've been working on a few new short stories lately, but the majority of May was devoted to beginning the initial drafting process for Part 5 of my novel The Hyphenates of Jackson County—the final section of the book. It's all kind of a big mess right now, but it's good to get into it. This always happens after I spend a couple months in revision, and this time was no different. The writing comes tough, in small amounts, 500-1000 words a day. It's mostly blocking scenes, organizing notes, working out important descriptions and finding where symbolism might emerge. It takes a while to build some momentum and get a feel for how this part of the story should be told.
The narrative style I use is pretty steady throughout the book—third-person, through the point-of-view of my main character Jacob Bressler, although I'm experimenting with some brief first-person sections, too—but the main issue comes from the time scope of the book. The present-time thread of the novel takes place over three years, from 1917-1919, or starting when the United States declares war on Germany in 1917 and ending with the Red Summer and Omaha Race Riot of 1919. It's not a huge amount of time for a novel, gratefully, although there is a lot going on, and it's a challenge to account for the lost, un-narrated time between parts. Particularly in first drafts, I think I pay too much attention to what's happened in the time gaps, instead of just getting into the action at hand. A lot of that will be eliminated soon enough, most of it in the initial edits. But it makes things a little clunky and difficult in the first draft.
Anyway, I'm really excited to be this close to finishing a draft of my first novel. I hope to be done with a rough version of Part 5 by the end of the summer. And since I've been editing the other parts as I've gone along, there isn't a tremendous amount of work yet to be done, relatively. (I've been working on the book for about two years now.) If all goes well, I should have a decent draft of The Hyphenates of Jackson County finished by Spring 2012. Here's hoping anyway. It's not like I'm on deadline or anything.
In other news this past month:
-"The Current State of the Universe" is featured in the new issue of The Cincinnati Review. The story won their Schiff Prize for Prose last year, and I'm very excited to make it into this journal.
-Prairie Schooner accepted my review of David Philip Mullins' Greetings from Below for publication. This will be my third review for PS, where I'm also currently a senior fiction reader.
-On cue, my second review for Prairie Schooner—of Nadifa Mohamed's Black Mamba Boy—appears in our current summer issue. Check it out. It's a pretty good one. (The issue, I mean. (The review is okay too.))
-In April we learned that Kwame Dawes was coming in as the new Editor of Prairie Schooner; in May we learned that Managing Editor James Engelhardt was leaving. James secured a position as the acquisitions editor for University of Alaska Press, and leaves for Fairbanks early in June. (Actually, today I think.) I owe a great debt to James for all he's done for my editing and reviewing career, if I can call it that. James took me on as a reader after I received my MA from Creighton. I was looking to maintain some involvement in the literary world, and volunteering for Prairie Schooner has been a great anchor for me. After a year-and-a-half, I made my way up to a senior reader position; PS accepted my first book review, after some editorial help from James; my first two trips to AWP came with funding assistance from PS as well. I feel very grateful for what Prairie Schooner has done for me, in giving me the opportunity to work, particularly as someone who isn't otherwise involved in the English Department at the University of Nebraska—and I owe much of that gratitude do James, I believe. Best of luck to him and his family on their Alaskan adventure! (And additional thanks for the fact that now, when I think of Alaska, I won't think of Sarah Palin.)
-Nicole and I celebrated our fifth anniversary in San Francisco!
-This blog featured a longish post about researching the lynching of Will Brown, and coming across a great NPR feature about the execution of Willie McGee and his granddaughter's quest to find out the truth about him many decades later.
Dispatch from The Hyphenates of Jackson County
"Jacob returned to Omaha the same morning President Wilson arrived from St. Paul. It was only partly coincidental it happened that way. Jacob was planning on coming back to Omaha that week anyway, to visit his friend Reinhold Bock, and then he read in the papers that Wilson was to arrive by train to the Union Station early Monday morning, before giving a speech on the League of Nations that afternoon. A parade route was planned out where Wilson's car would meander the city. When Jacob read this, he went down to the station in Lincoln and got a ticket to Omaha for the next morning. He bought himself a suitcase too, at the store there that sold them. It was something simple, with cardboard sides, that didn't lock. It wouldn't have to last forever. Jacob didn't know what he was going to do—he had no plan for the next year, or month, or for the next three days for that matter—but he wanted to see the president. He'd find a spot on Scandal Flats and wait for Wilson's car to pass by. It felt like it would be significant to do that. Jacob didn't know why. He just felt he needed to see the man. He needed to see the man as a man, that was it."
Personal Rejection Notes, Requests for More, and Other Nice Versions of No Thanks
West Branch for "On a Train from the Place Called Valentine"; Southeast Review and Conjunctions for "Attend the Way"; Missouri Review for "Shame Cycle."
Just Finished
The Cailiff's of Baghdad, GA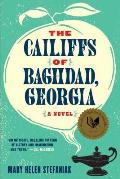 by Mary Helen Stefaniak. An excellent historical novel about racism and confronting the Other in depression-era Georgia, with a detour to the more famous Baghdad in ancient times. Very well done.
Quarantine by Rahul Mehta. I really enjoyed this collection—which revolves around the lives and loves of second-generation, homosexual, Indian-Americans—and will be reviewing it.
Now Reading
The Names by Don DeLillo.
Up Next
The Call by Yannick Murphy.
-April turned
out to be something of an uneventful month for me, which isn't so bad. After all the good news and happening of March, it was nice to have a little more mental space to work in. I took a week off work and did a big revision of my short story collection, How to Die Young in Nebraska. A few stories were cut, I combined a few into a novella, and rearranged all of what was left into something kind of new. I took part in the initial screening for the Prairie Schooner Book Prize this year, and I tried to apply the lessons I learned from that experience as a screener/editor to my own collection. Hopefully it's much better. I think it is. It's a little shorter than before, the overall quality is a little more consistent, and the sense of narrative flow has been enhanced. We'll see if there's much of a response, as I have it out to a couple contests and small presses now.
-One thing I did a little different in my editing of the collection was to let myself revise older, published stories. My old agent was usually against this practice, maybe afraid that I would undo the magic of a piece by tinkering with it after it had already been edited and published. There's a certain logic to that, but I felt it was time to make some smaller changes. My main motivation was thinking that I'm not exactly the same writer I was two or three or five years ago, and that the collection read a little too much like a fossil record of my stylistic changes over the period that I've been working on the book. Since I didn't like that, I tried to make the book more consistent in style as well. That seems to make a lot of sense. Common sense even.
-Speaking of PS, Kwame Dawes was officially announced as the new Editor of Prairie Schooner. The last two years have been a little uncertain, as we looked for someone to replace longtime editor Hilda Raz, and I'm excited how it turned out.
-Darren and Lacey had their wedding this past weekend. Congrats to the Keens!
-I finally framed and hung a piece (see photo) that I made when I was at the Kimmel Harding Nelson Center for the Arts in March 2010. It's pretty simple: an original Sunday supplement insert from the Omaha Daily News, from August 1912, on which I inked different descriptions of women that I wrote during my residency at KHN. I found the newspaper at an antique shop down the street from the arts center. It only took me a year, but I finally got the thing up on the wall, and I like it.
-Flatmancrooked officially called it quits in April. Here's what I had to say about it.
-Looking ahead to May, The Cincinnati Review featuring my prize-winner, "The Current State of the Universe," will be out on newsstands and in mailboxes. So get ready to hear more about that.
Personal Rejection Notes, Requests for More, and Other Nice Versions of No Thanks
"Attend the Way" was named a finalist in the Summer Literary Seminars' Unified Fiction Contest. Kind of a slow month for rejections. I don't really have that much stuff out there right now.
Just Finished
Greetings from Below by David Philip Mullins. A very nice collection that I'm in the process of reviewing. The final three stories are exemplary, and they make for a knock-out conclusion to the book. I can't recall another collection that sprints to the finish as much as Greetings from Below does. Usually it's more of a ruminative, self-reflective inching forward that gracefully puts an end to the proceedings, but GfB doesn't really follow that format too much, which is good.
My American Unhappiness by Dean Bakopoulos. I'm still not really sure what to make of this book. It's kind of chick-lit for thirty-something men, if that makes any sense. There are long stretches of great, interesting writing, but the first-person narrator is very glib and kind of a frustratingly clueless person at times. MAU will probably reignite some of the debates about unlikable lead characters that raged last year with the release of Jonathan Franzen's Freedom.
Now Reading
The Cailiffs of Baghdad, Georgia by Mary Helen Stefaniak.
Up Next
Quarantine by Rahul Mehta.
(Note: This isn't a baseball entry.)
For the past month or so I've been toying with point-of-view in my novel, first going from a close third-person to first-person narrated by Jacob Bressler, my lead character. I'm not really sure what my goal for doing this was. Something just didn't sound right with the "voice" telling the story and I wanted to try something different. Some of the feedback I've received from potential agents spoke to Hyphenates being a book focused on history and setting, rather than story and character, and I'm trying to break that hold. So I figured that Jacob could tell his story more succinctly, since it's all he would care about. He wouldn't obsess over Omaha history or factoids of the era as much as I do, certainly, and sometimes it's easier to slip those lovelies in while in third-person. I needed a more discerning eye. It's like how you don't realize how embarrassing something is until you say it out loud to another person, or post it in online. But once you open your mouth, you can see things so much more clearly and objectively.
The experiment didn't really work. Conventional wisdom says that novels shouldn't be written exclusively, or even largely, in first-person, and I think that's probably good advice. Around page fifty of the rework, it got pretty annoying to keep seeing and hearing that "I" all over the place. To be unable to break out of Jacob's voice even for a minute is a problem, especially since
he's the focus of the book. But, even though I'm now in the process of reworking it back into third-person, I do think the exercise was worthwhile. It helped me see cuts and edits, and gaps where new work is needed, that weren't apparent before. While it seemed acceptable to have a third-person narrator go into a page-and-a-half diatribe on the condition of organized labor in Omaha in 1917, having Jacob do the same was absolutely ridiculous. There were more than a few instances of this, where the scholarly, professorial voice would dominant for longish periods—and they all needed to be cut. The writing is much cleaner now, more focused and edgy in a way similar to my contemporary-set fiction.
I'd only made it through about a quarter of what I have drafted in the transition to first-person rework, but it may be worthwhile to push through the rest of it, even though I know that I'll want it in third-person eventually. (I'll probably want this.) I have used this technique in spots for the last year or so anyway, in fact, trying to tie the narration as closely to Jacob's experience as I could. So much of the writing, especially in Part II, has already been rewritten, for my own benefit, in Jacob's first-person. There's just so much good that comes from writing around things like this. I imagine it's similar to filmmakers shooting a scene from ten different angles, hoping to get one that looks and sounds and feels right. The dispatch below is a part I wrote new while in Jacob's first-person, and it's something I don't think the third-person narrator could have come to. So there's that.
Dispatch from The Hyphenates of Jackson County
"The bank was open when I left the saloon, it was two o'clock, but I still didn't go there and ask for a job. The weather was nice. Again I walked downtown, but it was boring this time. No women brushed against me. My clothes disgusted them, my face was filthy. I waited out the day and then returned to the Courthouse lawn in the evening to sleep. It was warm and I'd been safe there the night before. I knew at what time to cops would come to roust me, and would make it a point to leave before they came out with their cudgels. It seemed simple. But I was arrested anyway, after midnight, for vagrancy, and put in the overnight with the drunks and other indigents. I wasn't disappointed to be arrested, however, after I was released. At least there was black coffee this way, and in the morning a bowl of white beans with a couple pieces of fat. Otherwise I wouldn't have eaten that morning. The whole night I wished that I'd gone to the bank that day, however. There was plenty of time for regrets in the overnight, because the drunks couldn't keep quiet. I thought of everyone I might have wronged in my life up to this point. Any pocket of guilt that had been waxed over was reopened. I thought of you that night, Evie, and why it was you had to leave Jackson those many years before. I thought you took off on your own. It never occurred to me that they'd run you and your mother off. Not until they ran me off too."
Personal Rejection Notes, Requests for More, and Other Nice Versions of No Thanks
Southern Humanities Review and Hayden's Ferry for "Attend the Way"; Electric Literature for "On a Train from the Place Called Valentine"; and West Branch for "The First Night of My Down-and-Out Sex Life."
Now Reading
Bad Marie by Marcy Dermansky.
Just Finished
One of Ours by Willa Cather. A really great, Pulitzer Prize-winning novel set mostly in Central Nebraska and Lincoln, in the late 1910s. I was lucky to pick this up at the National World War I Museum in Kansas City this fall and it's become a fantastic resource for me. The focus of the book is even a family named Wheeler! (I've gone over this before, I know. Indulge me.) The final third of the book, when Claude goes over to fight in the war, is pretty sentimental and Cather panders more than a little bit to jingoistic reactionism in these parts. But overall I really enjoyed the book. Cather has never disappointed. Plus, as an added bonus, there are a bunch of good old-timey ideas for home gardens in Nebraska, for all you green-thumbs out there. We're going to try growing gourd vines up our pergola trellis this summer, and we have Cather to thank for that.
The Best American Comics 2010, edited by Neil Gaiman, Jessica Abel and Matt Madden. My favorites include "The Lagoon (Hiding in the Water)" by Lilli Carré, "The Alcoholic" by Jonathan Ames and Dean Haspiel, "Asterios Polyp" by David Mazzucchelli, "The War on Fornication" by Peter Bagge, "The Flood" by Josh Neufeld, and "Fiction versus Nonfiction" by Chris Ware. Ware also had a lengthy section of his ongoing series "Acme Novelty Library" reprinted, which I had seen some of before. In 2007 he gave a standing-room-only lecture at the Sheldon in Lincoln that Nicole and I attended, and a comics pamphlet featuring some of the comic reprinted here was given out as an example of his work. It was pretty cool to get the work then and is outstanding to see the longer version reprinted in a Best American. To make it even better, the comic is set in 1950s Omaha and uses the old Omaha World-Herald building (where Nicole worked when as first moved here) as a backdrop. There have been quite a few notable artists who have come out of Omaha in the last decade, but none of them have really attained giant-status in their field like Chris Ware has. It's something that should really get more local recognition than it does.
Rivers Last Longer by Richard Burgin. A solid literary thriller with meta-fictional treasures abound. I'm currently writing a review on this now.
Up Next
Greetings from Below by David Philip Mullins.
-For my birthday this week, Nicole took me to the National World War I Museum in Kansas City. We had a pretty engaging afternoon there and really enjoyed the experience. None of the exhibits had a ton of specific relevancy to the novel I'm working on—besides general period details—but it's always nice to be immersed in the subjects and obsessions of the era. And for someone who loves history, it's an awesome way to spend an afternoon.
The museum itself is pretty interactive for what is still largely an objects-behind-glass arrangement. There are life-size models of multiple trench scenes, from a well-engineered German one of concrete and lumber, to a French one of mostly sticks collapsing in the mud; a steady soundtrack plays in the background of what it would sound like in the trenches; and a walk-through crater show the devastation caused after a 17-inch howitzer shell explodes on a French farmhouse. There is also a special exhibit on display now regarding the experience of German soldiers in the war, which was interesting. In general, the museum is noteworthy for presenting a more balanced perspective on the war years—rather than tilting too strongly toward an Allies-centric point of view—and this is something I really appreciated. For anyone interested in the era, I highly recommend visiting the museum. And for anyone interested in antique elevators, the ride up in the Liberty Memorial is not to be missed!
-One of the more pleasantly surprising parts of the museum was finding the Willa Cather novel One of Ours (1922) in the gift shop. For a long time I've been looking for sources that depicted the time and place I'm writing about in my novel, and for the most part coming up empty. For some reason it never occurred to me that Cather would have given some treatment to the Great War in her writing. And not only did she write a novel about a family of Nebraskans during the war years, but the surname of the book's protagonist is Wheeler! Beyond that, I feel pretty stupid for not knowing more about this novel, as Cather won a Pulitzer for it too. I've read a few Cather books and some of her short stories–but have always suspected that this wasn't nearly enough, and that my ignorance would come back to haunt me some day. I better get to work rectifying that.
Further: what other novels am I'm not thinking of that are set in Nebraska in the years 1916-1920?
-I've been meaning to post a reflective piece on here regarding my story "The Housekeeper" being selected for publication in the forthcoming Flatmancrooked 4 anthology. However, the story is still a finalist in their current fiction contest and I'm waiting on the results before posting anything more about it.
Dispatch from The Hyphenates of Jackson County
"Jacob knew all the stops would be pulled here on the River Ward in the pursuit of a margin big enough to overcome the rest of the city. They had to win by a landslide here because the other districts were going to swing the other way. There could be no parity in this district that Dennison controlled. Voters on the payroll of the Pendergast machine in Kansas City would arrive throughout the morning to cast their ballots, along with others recruited for this purpose from towns in Iowa like Red Oak, Glenwood, Griswold, and Walnut. Every barroom in the Ward was rented and stocked with liquor. Bootleggers who owed their survival to Dennison saw to these private parties. The booze was reserved for those who held both a slip that proved they'd voted and a card printed with the names of the Square Seven. It was all about mobilization and efficiency, making sure that each and every favor handed down over the past three years was called in during polling hours. If a family received coal over the winter, if their grocery bill or bar tab was covered, if they were granted leniency from a judge—then a car would appear outside their home on Election Day to shuttle them to a poll.
"It was up to Jacob to oversee the operation on Clandish from a polling station in the basement of Mecklenburg's Saloon. When he returned from Iowa, the barroom was already half full of voters and more were coming in all the time. Mecklenburg's would be packed by 6am; nickel beer was discounted down to a penny. It was an amazing operation to watch, its controlled chaos exhilarating. Trucks lined up at the curb, back from Iowa in the middle of the night with two dozen voters packed on their hay-strewn flatbeds. The street cars were running already too, full of Pendergast's men from the train stations, recent arrivals from Kansas City. Johann and Reinhold lined them up inside and meted out the booze. His suitcase still in hand, Jacob stood back and watched it all until it was time to instruct the voters. In groups of ten, Reinhold escorted them to the basement of Mecklenburg's. Jacob and Johann followed them down the steps, into the dug out space under the barroom. There were two rooms separated by a narrow doorway. The basement had been an afterthought, one dug out roughly and bricked in. Jacob recognized the work, a former tunneler himself. A light hung from a rafter, its wire snaked in from a hole drilled in the barroom floor above them."
Personal Rejection Notes, Requests for More, and Other Nice Versions of No Thanks
Cream City Review for "Attend the Way"; Painted Bride for "The First Night of My Down-and-Out Sex Life"; n+1 for "Shame Cycle"; and Barnstorm and Camera Obscura for "You Know That I Loved You." Florida Review and Harvard Review also sent nice notes along after I withdrew manuscripts that had been accepted elsewhere, which is very much appreciated. Plus, "The Housekeeper" was selected as a finalist in the Flatmancrooked Fiction Contest, and will appear in the anthology Flatmancrooked 4, and my review of Nadifa Mohamed's debut novel Black Mamba Boy was selected to appear in a future edition of Prairie Schooner.
Just Finished
Death is Not an Option by Suzanne Rivecca. A very strong collection. I plan on writing a review of this very soon.
Now Reading
One of Ours by Willa Cather.
Up Next
Rivers Last Longer by Richard Burgin.
I promised more on the Cincinnati Review Schiff Prize, so here you go.
First, let's do the numbers.
This is my 11th short story selected for publication.
…the 13th short story publication.
…the 17th publication overall, counting four reviews.
…the 2nd contest won.
"Attend the Way" is the 5th honorable mention in a contest.
Of all the contests I've entered, 4% of the stories have won.
…12% have received some sort of recognition.
Also, the very nice editors of the Cincinnati Review asked me to pen a commentary piece for their blog about the process of writing "The Current State of the Universe." Fiction Editor Michael Griffith has this to say about the story:
The piece is a fantastic example of a high-concept story that manages to do wonderfully playful, inventive things without ever feeling like a riff or a vehicle for an author who's showing off his chops. Wheeler perfectly and poignantly balances the psychological plight of his protagonist with the high-wire act of the story's conceit.
The only thing I'd add to the linked commentary is to mention that "Current State" has gone through quite a few incarnations
over the past few years. One early morning in the fall of 2007 I woke suddenly with the first few lines of the story and somehow convinced myself to rise before dawn and start up my laptop—which was a fifteen minute ordeal of loading and errors at that point. I'm not a morning person, so I didn't write for long, probably less than an hour. As mentioned in the TCR blog, this was a story I'd been kicking around for a while and was just something I wanted to play around with. I did come up with a three or four page vignette that I thought was kind of funny and quirky. It wasn't really something I thought would turn into a whole story though. The following spring, for the first night of a Susan Aizenberg-led graduate workshop at Creighton University, we were directed to bring in a short piece of our work as a means of introducing ourselves to the group. I brought the vignette because it was funny—plus it's better to save the dark, rape-and-stabbing-filled material for later in the semester, as to gain some sense of normalcy in the minds of fellow workshoppers before trying to scare them later on with insights of mankind's dark side. (That's just a joke, I never actually did anything like that.) To my surprise, the small start I had received a very warm reception. So I kept at it.
This was also the semester when Maddie Annie was born, so this story has some larger significance for me. There were more than a few nights spent in the nursery chair with my laptop working on this story all night, listening to our newborn sleep. There are so many pleasant memories of those wonderful and difficult months: the blue luminescence of her jaundice-fighting lights, playing The Freewheelin' Bob Dylan on repeat because Maddie would sleep if it was on, and being dead tired all the time but having the will to fight through it and work past what used to be the point of no return.
Dispatch from "The Current State of the Universe
"The real trouble started after I left for college. A string of MIPs and DUIs followed my initiation into a fraternity and occasioned my expulsion from the same institution. My grades were adequate but my moral certitude was flagging. My father was a strong believer of so-called 'small town values.' He believed in the agrarian movement and intimated that maybe the Capital City, or a libertine school, wasn't the best place for me. But I didn't agree and was eighteen years old. It was important I learned to stay out of trouble on my own, I insisted, then remained in school because it wasn't his decision.
"It wasn't until eight years later that I saw my father again. He bulged around the middle, but the rest of him was sickly, thin and weak from worry. He was bald then, with just a few whispers of red hair that still hung around the sides of his head and failing mustache. He'd heard a rumor from one of his parishioners about a McCook girl who was forced by circumstance to drop out of college and move back to her parents' house. This gossip had the stain of sexual misdeed.  A freshman coed tricked into dangerous situations by an older man, tempted with alcohol, and, eventually, shuttled to an abortion clinic. I've forgotten some of the things they accused me of but they were all true. She was a student at Wesleyan, a confused thing when I found her. A hippie redneck invested in tie-dye tee shirts, hemp purses and cowboy hats. I never saw her again after the termination.
"When he cornered me on it, I told my father that I would never embarrass him again, something neither of us believed."
Personal Rejection Notes, Requests for More, and Other Nice Versions of No Thanks
Colorado Review and Hunger Mountain for "Attend the Way" and Slice for "The Housekeeper." Of course, "The Current State of the Universe" was first-prize in the Cincinnati Review's Robert and Adele Schiff Prize for Prose, and "Attend the Way" received honorable mention in the same contest.
Just Finished
All Quiet on the Western Front by Erich Maria Remarque. This is really a great book.
Sometimes you read a classic and kind of wonder why it enjoys a lasting reputation of high standing, and I must admit that I've long been dubious of All Quiet—in no small part owing to the fact that Ernest Borgnine and Richard "John-Boy" Thomas are featured on the cover of my paperback edition, which was released after a CBS "Hallmark Hall of Fame" adaptation. But the book does not disappoint. Pretty powerful stuff.
German Workers' Culture in the United States, 1850 to 1920 edited by Hartmut Keil. This is mostly about Labor movements in Nineteenth Century Chicago and New York, but there were more than a couple things I can probably use in my book.
Now Reading
Death is Not an Option by Suzanne Rivecca.
Up Next
Sister Carrie by Theodore Dreiser.