You are currently browsing the category archive for the 'writing' category.
Congrats to FiveChapters Books and editor David Daley on their recent great news. Just in case you haven't heard, the small house released two debut fiction collections last fall–and last week both were short-listed for highly coveted PEN Literary Awards! Two for two. Very impressive.
Nina McConigley's Cowboys and East Indians is a finalist for the PEN/Open Book Award for the best 2013 book by a writer of color.
Ian Stansel's Everybody's Irish is a finalist for the PEN/Bingham Prize for the best 2013 debut collection of short fiction or novel.
The winners of all PEN awards will be announced on July 30.
The serialization of my story "Impertinent, Triumphant" on Five Chapters began tonight! Look for Part 2 on Tuesday, and so on, throughout the week. In lieu of making five posts, I'll just update the links here. Let's get started:
All five parts are posted here.
I wrote a bit more about the story back in November when it was accepted, and you can read that here if you're interested.
It's exciting to see this story go up on such an interesting and vital venue. Be sure to click around in their archives too while you're there. 5c has really put out some remarkable work. Thanks again to David Daley for taking the story.
Cheers!
A couple weeks ago Google alerted me to the fact that a new review of my story "Welcome Home" had been posted on the blog I Read a Short Story Today. While it's somewhat rare to see an individual short story mentioned in a review–less so if it's been anthologized, this one has been mentioned a few times before–it's more surprising to see this come more than five years after Best New American Voices 2009 was released. It's nice to see the anthology is still kicking around out there, and got me wondering what the other writers in this edition have been up to since its publication. Maybe it's a bit indulgent, but here's what my fellows in BNAV 09 have been up to, those I could find info on anyway, just running through the TOC.
Baird Harper, "Yellowstone" – teaches writing at Loyola University and The University of Chicago, pubs in Tin House, Glimmer Train, Mid-American Review.
Will Boast, "Weather Enough" – his story collection,
Power Ballads, won the 2011 Iowa Short Fiction Award, and his memoir, Epilogue, is forthcoming this fall from Liveright.
Anastasia Kolendo, "Wintering" – has lived all over the world and is finishing a novel.
Mehdi Tavana Okasi, "Salvation Army" – pubs in Iowa Review, Guernica, Glimmer Train, was Carl Djerassi Fiction Fellow at the University of Wisconsin-Madison.
Suzanne Rivecca, "Look Ma, I'm Breathing" – her story collection, Death is Not an Option, was published by Norton in 2011 (reviewed by me for The Millions) and was really quite remarkable. Since then she's been traveling all over on prestigious international fellowships and has a much-anticipated novel in the works. For my money, Suzanne is the best young American writer out there and I'm really excited to see what she'll produce.
Kevin A. González, "Statehood" – has published short fiction all over and published a book of poetry, Cultural Studies, as part of the Carnegie Mellon Poetry Series. Looks like he also teaches at Carnegie Mellon.
Theodore Wheeler, "Welcome Home" – this guy spends most of his time reading about Notre Dame football and walking a little jerk of a dachshund. Read more about him at his website.
Nam Le, "Love and Honor and Pity and Pride and Compassion and Sacrifice" – his short story collection, The Boat, was quite a sensation in literary circles when it came out four years ago from Vintage, and a followup novel is in the works.
Otis Haschemeyer, "The Fantome of Fatma" – pubs in The Sun, Missouri Review, and Alaska Quarterly Review.
Lydia Peelle, "The Still Point" – her short story collection, Reasons for and Advantages of Breathing, was published by Harper Perennial and greeted with great enthusiasm by reviewers, at least this one. As of the last time I bugged her publicist at Perennial, she has a novel due out in the next couple years.
–
I should mention too that guest editor Mary Gaitskill has published Bad Behavior and Don't Cry in the mean time.
Also, series co-editor Natalie Danford published three books: a novel, Inheritance, along with The Complete Idiot's Guide to Cooking Pasta and perhaps the favorite book in the Wheeler household, The Veselka Cookbook: Recipes and Stories from the Landmark Restaurant in New York's East Village.
Looks like people have been busy!
The Millions published their highly-anticipated "Most Anticipated: The 2014 Book Preview" today! As I'm generally out of the loop, this preview is something I look forward to. There are always a few books that were already on my radar and more than a few that I didn't know I should be anticipating yet. You should check out the feature for yourself, but here are a few of the titles that caught my eye:
The Secret History of Las Vegas by Chris Abani; A Place in the County by W.G. Sebald; The Swan Gondola by Timothy Schaffert; The Snow Queen by Michael Cunningham; To Rise Again at a Decent Hour by Joshua Ferris.
And a few I need to add to my list:
The UnAmericans by Molly Antopol; All the Light We Cannot See by Anthony Doerr; MFA vs NYC: The Two Cultures of American Fiction edited by Chad Harbach.
Anything I'm missing?
THE BOY ORATOR OF THE PLATTE
It was in the Chicago Convention in '96 that the prizewinning boy orator, the minister's son whose lips had never touched liquor, let out his silver voice so that it filled the gigantic hall, filled the ears of the plain people:
Mr. Chairman and gentlemen of the convention:
I would be presumptuous indeed to present myself against the distinguished gentleman to whom you have listened, if this were a mere measuring of abilities; but this is not a contests between persons. The humblest citizen in all the land, when clad in the armor of a righteous cause, is stronger than all the hosts of error.
I come to speak to you in defence of a cause as holy as the cause of Liberty…
a youngish bigmouthed man in a white tie
barnstormer, exhorter, evangelist,
his voice charmed the mortgageridden farmers of the great plains, rang through weatherboarded schoolhouses in the Missouri Valley, was sweet in the ears of small storekeepers hungry for easy credit, melted men's innards like the song of a thrush or a mockin' in the gray quiet before sunup, or a sudden soar in winter wheat or a bugler playing taps and the flag flying;
silver tongue of the plain people;
…the man who is employed for wages is as much a businessman as his employer;
the attorney in a country town is as much a businessman as the corporation counsel in a giant metropolis;
the merchant in a crossroads store is as much a businessman as the merchant of New York;
the farmer who goes forth in the morning and toils all day, who begins in the spring and toils all summer, and who by the application of brain and muscle to the natural resources of the country creates wealth, is as much a businessman as the man who goes upon the board of trade and bets upon the price of grain;
the miners who go down a thousand feet in the earth or climb two thousand feet upon the cliffs and bring forth from their hidingplaces the precious metals to be poured in the channels of trade, are as much businessmen as the few financial magnates who in a back room corner the money of the world.
The hired man and the country attorney sat up and listened,
this was big talk for the farmer who'd mortgaged his crop to buy fertilizer, big talk for the smalltown hardware man, groceryman, feed and corn merchant, undertaker, truckgardener…
Having behind us the producing masses of this nation and the world, supported by the commercial interests, the laboring interests, and the toilers everywhere, we will answer their demand for a gold standard by saying to them:
You shall not press down upon the brow of labor this crown of thorns, you shall not crucify mankind upon a cross of gold.
They roared their lungs out (crown of thorns and cross of gold)
carried him round the hall on their shoulders, hugged him, loved him, named their children after him, nominated him for President,
boy orator of the Platte, silver tongue of the plain people.
But McArthur and Forrest, two Scotchmen in the Rand, had invented the cyanide process for extracting gold from ore, South Africa flooded the gold market; there was no need for a prophet of silver.
The silver tongue chanted on out of the big mouth, chanting Pacifism, Prohibition, Fundamentalism,
nibbling radishes on the lecture platform, drinking grapejuice and water, gorging big cornbelt meals;
Bryan grew gray in the hot air Chautauqua tents, in the applause, the handshakes, the backpattings, the cigarsmoky air of committeerooms at Democratic conventions, a silver tongue in a big mouth.
In Dayton he dreamed of turning the trick again, of setting back the clocks for the plain people, branding, flaying, making a big joke of Darwinism and the unbelieving outlook of city folks, scientists, foreigners with beards and monkey morals.
In Florida he'd spoken every day at noon on a float under an awning selling lots for Coral Gables…he had to speak, to feel the drawling voices hush, feel the tense approving ears, the gust of handclaps.
Why not campaign again through the length and breadth to set up again the tottering word for the plain people who wanted the plain word of God?
(crown of thorns and cross of gold)
the plain prosperous comfortable word of God
the plain prosperous comfortable midamerican folks?
He was a big eater. It was hot. A stroke killed him.
Three days later down in Florida the company delivered the electric horse he'd ordered to exercise on when he'd seen the electric horse the President exercised on in the White House.
—
The 42nd Parallel by John Dos Passos
(Note: the formatting was all messed up, so this isn't exactly how it appears in the book. I did my best.)
[Please excuse any and all verbal cheersing-myself that may occur in the following.]
More great news to share, as I've been awarded the Marianne Russo Award by the Key West Literary Seminar!
Here's the official announcement on Littoral, the seminar's blog. (Also, you can read more about the KWLS scholarship program here if you're interested in applying next year, and you should be. No entry fee=no worries.) As if ten days in Key West during January wasn't enough, the prize includes tuition to both sessions of seminars and workshop programs, airfare to and lodging in Key West, and some spending cash, along with the opportunity to present a reading of my work during the conference (on Sunday, January 19, at 11:40am, to be exact, if you happen to be in the neighborhood). It's really a very generous award and a great opportunity. I'm thrilled to be headed back, this time with a little hardware waiting for me.
I feel like I'm telling people all the time what a great experience KWLS is. It truly is the best there is and an indispensable part of our American literary culture, as far as I'm concerned. Thanks so much to Miles Frieden (Executive Director of KWLS) and Arlo Haskell (Associate Director), who do such a great job every year. This will be my third trip to KWLS. (Here's what happened last time I was there.) My first seminar dealt with historical fiction, the second with speculative fiction. This time the theme is "The Dark Side: Mystery, Crime & the Literary Thriller."
The schedule includes events with Robert Stone, Percival Everett, Joyce Carol Oates, William Gibson, Carl Hiaasen, John Banville, among many others. I'm not really all that familiar with crime writing, frankly, and that makes this even more exciting. I wasn't really all that interested in historical fiction when I attended my first KWLS–and certainly didn't anticipate ever spending half a decade writing a historical novel myself.
While odd-numbered years can often be a cruel mistress, 2013 has without a doubt been good to me. There have been contest wins, publications (here, here) and acceptances (here, here), honorable mentions (here, here, here), an international fellowship to summer abroad, travel (here, here), along with the fact that we moved into a new house and love living in Dundee. I've enjoyed myself quite a lot this year and am not exactly looking forward to a new calendar, knowing how things tend to turn around. The party has to end sometime, right? Luckily, some more good luck has come along that guarantees, if nothing else, my 2014 will begin in style.
Thanks so much KWLS. See you soon!
-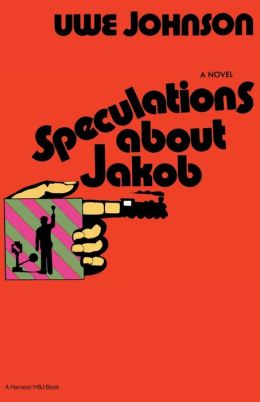 "…drugged with heat I lay in the brown grass of the forest, half in the shade of a fir, while Jakob pulled the horses evenly, and something from inside me suddenly asked Is it true Jakob about the concentration camps? days I've never been able to think of as: yesterday, and tomorrow it will have been the day before yesterday, or: that was ten years ago; in the meantime, I've learned much more about monopoly capitalism as a form of imperialism and can look at the past with the eyes of today. Those days never pass. Every minute I'm thirteen years old before Jakob's wide-spaced motionless face with the half-closed lids, and I hear him say Yes it's true. Impossible to live with that. It's useless. How can you answer for that? How does it fit with the wet rustling beech leaves under our feet, with the swaying circling fir tops overhead against the gray night sky, with my wretched life, with Jakob whom I can't see in this black high-walled ravine, he shouldn't walk so fast, is this how I wanted it? that's how I wanted it. That's what is worth wishing. What had it to do with Jerichow that was lying at our feet as we emerged from the thicket on top of the hill and halted, Jakob and I standing silently side by side: a somber lump in the hollow, its church tower pointing and a light on in my father's house: what did I want in my father's house?"
Mutmassungen über Jakob by Uwe Johnson (translated by Ursula Molinaro).
Some excellent news to share on this Friday, as the marvelous online journal Five Chapters has selected my short story "Impertinent, Triumphant" for publication!
If you're not familiar with Five Chapters, it's a pretty unique publication, as they serialize a single short story every week, running the piece in, you guessed it, five chapters, one per day, Monday to Friday. And they've been doing so since October of 2006. (Read an interview of FC Editor David Daley here for more info.) To go along with that impressive consistency, FC's authors include a who's-who of young writers, winners of the Pulitzer Prize, National Book Award, PEN/Faulkner award, among others, like Jennifer Egan, Ron Rash, Lauren Groff, Julie Orringer, Nam Le, Rick Moody, Peter Orner, Ben Greenman, Samantha Hunt, Patricia Engel, Lori Ostlund, Dean Bakopoulos, Jami Attenberg, Marcy Dermansky, Teddy Wayne, Jacquira Díaz, Molly Ringwald…really, so many great writers it's foolish to try and list them all. You get the point: a very high quality fiction publication on a small scale. I couldn't be happier that "I,T" will find its way into these ranks in a few months, sometime around March.
As for the story itself, "Impertinent, Triumphant" is sort of a newish one. I haven't put as much time into my short fiction the past few years as I used to, as the novel took more and more of my focus. That being said, I did manage to give a good deal of attention to this a few other stories along the way. This one in particular was fun to write, as it started off as an homage to Chekhov's "The Lady with the Dog," a style of drafting I've never really tried before.
Here's an excerpt:
"She looked beautiful, of course. She had a long neck and a small face, lovely gray eyes. That's why I kept looking. Her hair was wavy from some chemical treatment, and a dull, dull orange meant to be blond. She wore a terrycloth shirt, khaki shorts and leather sandals. She was really quite common. Modest chest, soft legs, a little bump where her stomach rose. I'd never seen a grown-up look so bored before. She was childish. I thought she was stunning.
"There was a toy radio she listened to at her table, a tier below me on the hotel terrace, three patio umbrellas over. I noticed because the radio wasn't an iPod. It was just a yellow plastic toy with a drawstring that fit over her hand, black rubber grips, and built-in speakers so everyone had to listen to what she played, a political call-in show.
"I couldn't turn away. Her face was round. Baby fat on her cheeks made her look younger than she was. She was nearly thirty, I'd learn. Her skin was firm and limpid as she sipped an Arnie Palmer with lips imperceptibly open."
More on this later, of course, when the story starts to go up. Special thanks to David Daley for selecting the story, along with Amber Mulholland and Country Club Bill for their help in pounding this story into shape.
As part of my making acquaintance with the German-language canon, this week I've been reading Franz Kafka's The Castle. And while my choice of novels isn't directly in response to the on-going federal government shutdown, Kafka does provide a pretty cathartic read given the recent sanctification of bureaucratic dithering. One brief line in particular (bolded below) from The Castle stuck out this morning that I'd like to share, along with a longer contextual set up.
'This letter is in no sense an official communication, but only a private letter. That can be clearly seen in the very of address: 'My dear Sir.' Moreover, there isn't a single word in it showing that you've been taken on as Land-Surveyor; on the contrary, it's all about state service in general, and even that is not absolutely guaranteed, as you know; that is, the task of proving that you are taken on is laid on you. Finally, you are officially and expressly referred to me, the Mayor, as your immediate superior, for more detailed information, which, indeed, has in great part been given already. To anyone who knows how to read official communications, and consequently knows still better how to read unofficial letters, all this is only too clear. That you, a stranger, don't know it doesn't surprise me. In general the letter means nothing more than that Klamm intends to take a personal interest in you if you should be taken into the state service.'
'Mr. Mayor,' said K., 'you interpret the letter so well that nothing remains of it but a signature on a blank sheet of paper.'
–
A great line, isn't it?
"At the time, I felt nothing but hatred for him, and hatred shines too bright a light on things, depriving them of relief. I saw him merely as a vindictive, wily rat. Now I see him above all as a young man playing a role. The young can't help playacting; themselves incomplete, they are thrust by life into a completed world where they are compelled to act fully grown. They therefore adopt forms, patterns, models–those that are in fashion, that suit, that please–and enact them.
"Our boy commander too was incomplete, and he suddenly found himself at the head of a group of soldiers he couldn't possibly understand; if he was able to come to grips with the situation, it was only because so much of what he had read and heard offered him a ready-made mask: the cold-blooded hero of the cheap thrillers, the young man with nerves of steel who outwits the criminal gang, the man of few words, calm, cool, with a dry wit and confidence in himself and the might of his own muscles. The more conscious he was of his boyish appearance, the more fanatical his devotion to the role of superman, the more forced his performance.
[...]
"Youth is terrible: it is a stage trod by children in buskins and a variety of costumes mouthing speeches they've memorized and fanatically believe but only half understand. And history is terrible because it so often ends up a playground for the immature; a playground for the young Nero, a playground for the young Bonaparte, a playground for easily roused mobs of children whose simulated passions and simplistic poses suddenly metamorphose into a catastrophically real reality."
-from The Joke by Milan Kundera
–
Also, I love this quote on the cover of my copy, from John Updike's review:
"A thoughtful, intricate, ambivalent novel with the reach of greatness in it."
Doesn't that sound like the perfect novel? Or what to strive for, anyway.