You are currently browsing the monthly archive for August 2010.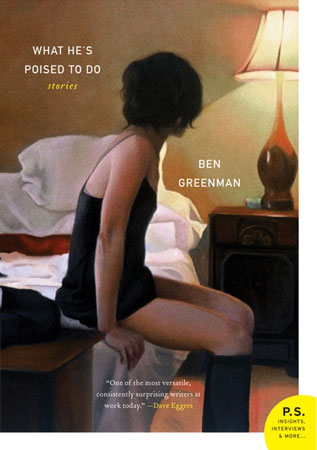 My review of Ben Greenman's new collection, What He's Poised to Do, is live on The Millions today!
Check it out and let me know what you think. This is my fourth published review and the third to be featured on The Millions.
-I made some progress on some of the peripheral research surrounding the novel in the last couple weeks. Notably, Sister Joy, an archivist with the Servite Sisters, supplied a very informative response to my guess that Tom Dennison's mansion might have been turned into one of the buildings that now make up the campus of Marian High School. (In the comments of this post.) However, as Sister Joy illuminated, this was not the case. I'm still not sure where the Dennison estate stood, but the land where Our Lady of Sorrow Convent would be built was purchased in 1920,
and mass first celebrated in the building in 1925. Dennison was still active in Omaha at the point, and would be for nearly another decade. So my shot in the dark was wrong. I've narrowed it down to either the southwest or southeast quadrant of the intersection, though. And that's something.
I've also been trying to find out more about Dennison's grave site, but Forest Lawn Cemetery has not been as forthcoming as Sister Joy, unfortunately.
-After nearly a month of research, I jumped back into finishing up the drafting of Part II of Hyphenates this week. Even though I'm a little further behind now than I'd hoped to be, it was my goal to finish drafting by the end of the summer and will still meet that soft, self-imposed deadline. Hyphenates Part II has been somewhat more difficult to write than Part I was, with the principal reason being that I'm now working more intimately with the real life characters than I did in the first 125 pages. It's one thing to just search around and make up some backstory for Jacob Bressler—my lead character, who isn't a historical figure, and is only a composite of real people—but it's completely different to do so for Tom Dennison, a well-known figure in regards to political machines and local history, or Josie Washburn, a turn-of-the-century prostitute and madam in Omaha who published one of the initial first-hand account of life in an American brothel. I'm not really comfortable just making it up when it comes to real people, so I needed to go back and get a handle on the history before I moved on.
That being said, it almost always amazes me how consistently research pays off—and this has been one of the most heartening things in writing a historical novel. Whenever there's a gap in the story I'm telling, or some inconsistency in character, there's usually something to be found in an old newspaper or biography or diary that satisfies the gap and shows how the story—both mine and the composite historical record—both makes sense and is fascinating. I won't get into too many specifics, but, in the case of Washburn, I was able to write a scene wherein she gives an anti-Dennison speech in a Little Italy meeting hall at a critical juncture of the story. It's pretty awesome.
-As a consequence of said research needs, I've been spending some quality time in the microfilm room at the downtown Omaha library reading newspapers of 1917 and 1918. This also happens to be the golden age of comics–which leads to many distractions, of course, but also some really great cartoons. Two of the best, and most affecting, are posted. Both are from the Evening World-Herald.
Dispatch from The Hyphenates of Jackson County
"Jacob walked down Pacific with his crew, where traffic had been cut off by the crowds, and he tried to ignore the coalitions around him. Every word spoken by a stranger sounded like an insult to Jacob, some vindictive joke that cut close to his heart. A dozen Russian warehouse workers rested against the hall to eat a quick dinner and they seemed to be talking about Jacob, laughing at him in their native cackle. They wore overalls and denim jackets, floppy felt caps
made heavy with sweat and dust. They bit at sandwiches wrapped in newspaper, hunks of cheese and onion pressed between slices of cottage white with black smears of soot rubbed in from their fingers. A tin cup sat between each of their thighs, brimming over with the sudsy head of a beer. Some boy dug into his parents' secret supply to flit along with a frosted clay jug hugged to his belly, making wisecracks to the men. These were thick-chest serfs whose mouths closed in satisfaction over their food, wiry ones whose clothes puffed over sinewy bodies. The lean ones looked the meanest, lips curling venomously under blood-shot eyes. Jacob thought this as he glanced at them. They were sizing him up, he could tell this. They imagined how much it would take to claim a win in a fight with Jacob and his men. And when one of them whispered something to another, when they leered at Jacob and laughed, he too dreamed how it would go down in a brawl."
Just Finished
Political Bossism in Mid-America by Orville Menard.
Now Reading
Black Mamba Boy by Nadifa Mohamed.
Up Next
Death is Not an Option by Suzanne Rivecca.
This last weekend we spent some time in Niobrara, Neb. at the Blankenfeld family reunion. As you may know, I've been working with my Grandma on some ancestry projects over the past year, and it was nice to share some of the fruits of that labor. I've also been using some of the Blankenfeld family lore as a model for Jacob Bressler in my novel-in-progress The Hyphenates of Jackson County. In this regard, the trip was especially significant for me.
We were able to visit the original Blankenfeld homestead site, where Jacob and Maria settled in 1885. Although no structures remain—there was a hill where the original dugout had been—it was pretty cool to just stand there and appreciate the terrain. The area hadn't seemed especially rocky and hilly before, in my previous trips to the area, until I imagined trying to cultivate it by hand. Later, we stopped into a museum of sorts that was made from the preserved farm of my Great-Great-Grandfather Henry Blankenfeld. He's the model for Jacob in the novel–visually, and some of his history as the son of immigrants–so it was really exciting to walk through the house and barn he built himself, to eat an apple from a tree he planted, to descend the staircase his wife descended on the day they were married.
It's always difficult to appraise how valuable experiences like these will be to my work. For one, who knows where the writing is going to take me. Will I need to know what the grass smells like? The flora? The fauna? Or how the sky there has its own unique blue, the air a particularly humid cloyingness? Also, in Hyphenates, Jacob comes from a different part of the state, one with a terrain closer to Omaha's than Niobrara's. So it isn't like I can just sit down and make a sketch of the landscape to use in the novel.
Mostly it's just helpful to be there, to be put in a spot that's loaded with memories specific to my family, and where events took place that were crucial to my very existence. I've always had the kind of memory that retains periphery details well, so it's a great benefit to just listen to stories, especially while smelling the grass and listening to the leaves in a tree. It isn't that I necessarily came away with anything specific that I can add to the story—and I'm not saying I didn't, I just don't know yet—but it feels like I've gained a much better appreciation of what it was like to be alive in a time other than my own, even if it isn't the exact era I'm writing about. And that's something that can't really be replicated in an archive or by looking at old photographs. It's getting caught up in other people's memories, and not just that, but doing so while standing on the very ground where things happened.
Dispatch from "Shame Cycle"
"Anna was sixteen when she approached you at a downtown record store and you began seeing her not long after that. This was the summer before your freshman year of college, when she invited you to a party and claimed possession of your body, parading you around the smoky rooms of parties. You considered it a move up in social scene from the part-time Nu Metal rebels you knew in high school to this career class of punks. The hard-drinkers, veteran sludge rockers, and sometimes transients who pocked the city so visibly in those days. These were people Anna exposed you to, her friends. They hitchhiked to New York and ran drugs from the Mexican border for South Omaha gangs, they bought a tattoo gun to save trips to the parlor, they had shaved-in mullets and handlebar mustaches, they screamed swear words into ice cream parlors as protests against capitalism. These people were the real deal as far as you were concerned then—or as close to it as one could get in Omaha."
Personal Rejection Notes, Requests for More, and Other Nice Versions of No Thanks
BOMB for "On a Train from the Place Called Valentine"; Zoetrope: All-Story for "The Current State of the Universe"; Cincinnati Review, Hayden's Ferry Review, and Indiana Review for "The Housekeeper"; Caketrain for "The First Night of My Down-and-Out Sex Life." My story "Shame Cycle" was a finalist for Matrix Magazine's LitPop Awards, but it did not end up winning. There was no consolation prize.
Just Finished
What He's Poised to Do by Ben Greenman. An outstanding collection. Highly recommended. I liked it so much that I've written a glowing review of it, one that will hopefully be published soon.
Now Reading
Black Mamba Boy by Nadifa Mohamed.
Up Next
Death is Not an Option by Suzanne Rivecca.